Carlos Boozer never has been to this stage before. He doesn't know what to expect, he's not quite sure how to play it, he doesn't know how to feel. The situation isn't like what he went through at Duke. "In the NCAA Tournament," he says, "you're one and done. Here it builds."
It has built to a point where he has to have the best game of his career in order to play another game. Then he has to do it again. Then one more time. Ever hear the saying about playing every game like it's your last? Well, beginning tonight in Game 5 of the NBA Western Conference finals in San Antonio, Carlos Boozer will have no other choice.
No one saw him coming. No one thought a brotha from Juneau, Alaska, via Aschaffenburg, Germany, who came into the League five years ago under Elton Brand's Blue Devil shadow, could elevate himself to Team USA member status. But the question is, did he? When he got drafted in the second round as the 35th overall pick, when he left Cleveland for Utah controversially after two seasons (declining to be Pippen to LeBron's Mike), when the hamstring injury took away most of last season making everyone question (even Jazz owner Larry Miller) whether the Jazz made the right offer to the wrong player. Making people wonder like Maroon 5.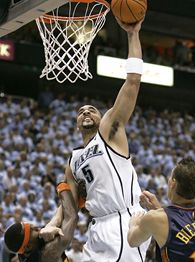 AP Photo/Jeff Chiu
Boozer is averaging 24.4 points per game in the playoffs.
"Am I surprised? No," he says of self and game. "Not at all. I knew I was capable of doing what I'm doing now. I just needed to get to the playoffs and have some success."
His conversation at this point is all about he and Deron Williams. The new two of the NBA. Batman and Robin, Green Hornet and Kato, Biggie and Puffy. They say the playoffs expose everything about players and teams. If that's true, then Boozer and Williams have exposed themselves (and they hate this, trust me) as the remix of Karl Malone and John Stockton. The Jazz revolve around them the way threequels are revolving around movie theaters this summer.
"It comes down to us. I'm talking about me and D-Will," says Boozer, who has averaged 24.4 points and 12.2 rebounds over Utah's 16 playoff games. "We need to put our team on our backs and if we get some help the way we did in Game 3 we have a chance to win the whole thing."
But it is Boozer who has the most pressure. Another thing that has been exposed in this series is that D-Will can have great games and the Jazz still can lose. The same cannot be said about Boozer. If he plays great (i.e.: Game 7 against the Rockets, 35p/14r), the Jazz almost assuredly will win. And Carlos knows this. Which is why he's not quite sure how to feel.
A few days ago he spoke about his life in the context of what it's like to win one game against the Spurs, what it's like to battle against Tim Duncan, what it's like to make a name for himself doing both. He talked about his swag, and how he'll never lose it; he talked about how different his life would have been had he stayed in Cleveland; he talked about tying the series.
He talked about being the pulse of what happens to this team. How he's the rah-rah guy and the one who keeps everyone on an even keel. "That's the [Mike] Krzyzewski in me," he said. "Knowing when the team needs an emotional lift and knowing when to keep it cool, to stay focused."
But more than himself he talked about the team -- his team. What they were capable of doing, how far they could go. And even though he also talked about what he was going to say to the team before they walked on the court if they were down 3-1, I don't think it ever entered Carlos Boozer's mind that he'd have to give that speech.
Not many know him. They don't know he met his wife CeCe on one of his first days at Duke, they don't know he's the reigning NBA Live video game champion of the NBA, they don't know that his Air Force 25 game trumps all others in the League, they don't know that the tats on his body tell parts of his story.
But to know Carlos Boozer all you had to do was be there after the Jazz's sole victory (so far) in this series. Boozer summed himself up by one incident that happened at the podium. D-Will -- the John Stockton remix -- was asked if he thought the playoffs for those who haven't seen him play has shown them that he is one of the "elite, elite" guards in the League.
Williams, being the unpretentious young fella that he is, gave the perfect non-arrogant, politically correct answer. He politely dodged the question with humbleness.
So Booze simply leaned over to the mic in front of D-Will and said, "As his teammate, I can tell you that he is one of the elite guards in this league."
Boozer is the leader of this Jazz team, regardless of the fact that Mark Jackson put D-Will as the second-best point guard in the game right now. And "in Williams we are all watching a star emerge before our eyes" seems to be heard more than "shawty" in the ATL, regardless of postgame questions that are asked at podiums.
Derek Fisher has three rings, but still.
In Carlos Boozer's mind, it's all on him in Game 5. And he wouldn't have it any other way. Even if he was still playing with LeBron.
"I'ma tell you," he says, "as soon as the ball gets thrown up I'm going to have to step up for us to have a chance."
And that's the only chance the Jazz have left.
Scoop Jackson is a columnist for Page 2 and a contributor to ESPN The Magazine. He's also the host of ESPN Original Entertainment's "NBA Live: Bring It Home". Sound off to Scoop here.