He didn't want it to go this way, but he had no choice. Betrayal makes us do things we normally would not do, things we never thought we'd do, things we don't ever want to do. Say things we don't really mean.
Yesterday, Kobe Bryant finally reached the point of no return with the Los Angeles Lakers. He went on Stephen A.'s radio show and basically said, I'm done.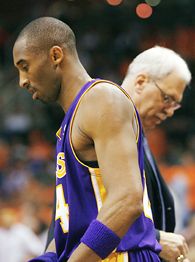 AP Photo/Ross D. Franklin
Kobe Bryant and Phil Jackson already parted ways after the 2003-04 season, but it won't happen this time.
For years he has been dealing with the public perception of him being the "bad guy" (a--hole, to some) in the downfall of the Lakers, but once a Lakers "insider" told an L.A. Times columnist that Bryant was to blame for all that went wrong -- that it was "Bryant's insistence on getting away from O'Neal that prompted the trade to Miami" is how it was put -- in the Lakers organization, Kobe lost it. He had played this game long enough, and now it was no longer a game … it was personal.
"It's a trust thing," he told KLAC radio in L.A. "They said nothing to me about a long-term plan -- absolutely nothing. They told Phil [Jackson] one thing, and they told me another. Actions speak louder than words."
Bill Simmons has a great word for this that I can't use in this column. It explains everything, puts incidents like this in accurate perspective. Basically, it's a word used when big business screws the little guy. Now I know it's strange to look at a $136 million-dollar athlete as the "little guy," but when you are dealing with one of the top four iconic franchises in American sports history (Yankees, Celtics and Cowboys are the others) you are as small as Emmanuel Lewis in a layup line at an NBA All-Star Game.
So now the truth has finally found Kobe. The truth that "inside" the Lakers organization they don't love him any more than they loved Shaq. And even though this truth is coming to light as we speak, the larger truth in this is that despite the "love lost," Kobe will not be traded. Not today, not by the beginning of the season, not anytime soon.
Keep your Sunday-only, Staples Center-only white Jack Bauer jerseys, it's going to be at least two years before they become collector items.
Why won't Kobe be gone from LA? Simple, because that's the nature of business inside professional sports. Yes, the Lakers' situation since he has been with the team has been a little different from most, but at the core, it's still the same. As I've said many, many times before: The "B" in NBA stands for business, not basketball.
And in this business, people get hurt, feelings get crushed and lies are told. Everyone's a victim at some point or another, and for the most part it's on you -- the superstar, the franchise player -- as to how deep you let that scar dig into your soul and spirit.
This is Kobe's first scar of betrayal. It's deep, it hurts, and this is his scream. The radio shows, the interviews, the "demand" (which was really more like a request, but you know how we in the media like to sensationalize things) for a trade, his conversation with Phil to calm him down and see the light, his "backing off" wanting to leave LA on Dan Patrick's show, all are his intentional and immediate reaction to the pain.
Will it change? Yes. As the pain of this subsides, so will a part of Kobe's feelings and in that time period (if he is smart), Jerry Buss will have taken care of the drunk driving situation, removed that particular "insider" who threw his organization under the J.B. Hunt truck, had several conversations with Jerry West about coming back and saving the ship Mr. Logo built from sinking, offered West "David Beckham" money, settled the Phil Jackson situation, offered Jackson "Larry Brown" money, moved Mitch Kupchak to VP of "something" inside the familia, made the trade for Jermaine O'Neal, found a way to do that without losing Lamar Odom, acquire Daniel Gibson from Cleveland to replace Smush Parker, and explained to Kobe that (like Magic Johnson) he'd like for him to have part ownership of the franchise when he retires and convince him that this whole thing was just a "sloppy" period of business in his life and that he's back to the JB of old, the one who was running things when Kobe first came into the league.
And the reason this will happen (has to happen in Buss' case) is because if we take the time to remember it was Buss' non-proactive, hands-off involvement in the Shaq trade that turned this soap opera into must-see ESPNews in the first place. His refusal to return from vacation to "handle" the trade spoke volumes. Loud and not just clear was the fact that Buss didn't care about the Lakers the way he once did. For the first time in a long time, he began to treat it like a business. And this latest episode is the backlash of that. Which is why I'd be very surprised if he let something like that happen ever, ever again.
If Buss is brilliant, he'll take the fall for this. And that alone will be enough to make Kobe change where his mind is right now.
So there's some work to do in L.A. Spin control and damage repair. Typical Lakers drama. But even with Shaq's backings and beliefs ("I believe Kobe 100 percent"), Kobe is not not going to be in a Lakers uniform anytime soon. This is all talk -- real talk -- but talk.
As Kobe himself said, "Actions speak louder than words." The actions Buss and the Lakers take in this latest chapter of what L.A. Times columnist Bill Plaschke called "one of the biggest sports scandals in this city's history," will determine the outcome of what happens with Kobe. And in the end, it will be Buss' actions that will be the reason Kobe will stay a Laker.
But Kobe has to remember one thing: They don't love you. It's always business, son -- never personal.
Scoop Jackson is a columnist for Page 2 and a contributor to ESPN The Magazine. He's also the host of ESPN Original Entertainment's "NBA Live: Bring It Home". Sound off to Scoop here.