LeBron has made the NBA Finals. What does that mean?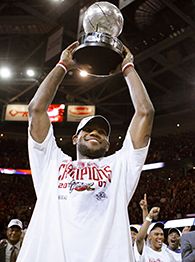 AP Photo/Tony Dejak
LeBron got to hoist one trophy for winning the Eastern Conference -- will he get to hoist the big one?
It means the city of Cleveland can breathe. Breathe in a way it's never breathed before. It means Art Modell, Earnest Byner, Craig Ehlo and every member of the '97 Indians can breathe.
It means tanking games works. Sometimes.
It means so many of us were so right for so long, and so wrong at the same time. It means he made us look like fools for doubting him after Game 1. It means we can't doubt him again until he fails. It means Game 5 is bigger now than it was last week. It means the haters have been silenced. For now.
It means the NBA is not dead. Not yet. That, for the casual yet fickle basketball fan, there's something of interest in these Finals. That someone outside of the die-hards will be watching. It means, even though hardly anyone is going to watch much of Game 2 because it's at the same time as the final episode of "The Sopranos," the ratings won't be as bad as if the Pistons had won. It means he might save the game anyway.
It means the "We are all witnesses" poster, the collection of Zoom kicks that bear his LBJ23 logo, the gear, the commercials, etc. -- the total "plan" -- was worth it. It means $90M was not a bad investment.
It means he might be He.
It means he's grown up. He is no longer a kid, and we can no longer mention his age when we talk about him. It means, if he is "like Mike," then this is only the beginning. It means he can say to Dwyane Wade, "I got there without Shaq." It means the league has the savior it's been looking for since … the original He retired.
It means there's hope. Like an India.Arie song. There's hope for the game. Hope there will be a future as long as he plays, that all is not lost. There's hope that NASCAR, the PGA, Ultimate Fighting, the X Games and all the other sports that seem to have passed the NBA in popularity might have to start paying attention. Because the days of old, the game Jordan built, may be coming back.
It means -- as great as LeBron is -- he won't be the best player on the court in these Finals. There will be nights in this series when the world will see how great Tim Duncan really is. That will push LeBron not to settle. It will remind him that, although he is the league, he is not yet the game.
It means the East is that bad. (But we can't blame the Cavs for that.) It means, years from now, we might look back at LeBron's first trip to the Finals as being more about how bad the East was -- like when Iverson took Philly to the Finals six years ago.
It means he will further ascend, beyond basketball, into that area of pop culture reserved for the chosen few. It means LeBron-mania is here, and bootleggers will have his face on more shirts, songs will be sung in cafés, lyrics will be dropped on freestyles, poems will be written by fans and sent to columnists, to further our belief in him. It means Skip Bayless will have to stop calling him Prince James, and Peter Vecsey will have to stop calling him LeBrat. It means the Spurs might not be the underdog in this series, but the nation will consider them the enemy. It means (more) millions will fall deeper in love with him.
It means, for the next two weeks, the NBA Finals will mean something. More than just two teams fighting for world supremacy. It means the world will be paying attention -- that every move, every turnover, every basket, every decision will be scrutinized. There will be story lines and subplots. There will be a bigger-than-life quality to the Finals that hasn't been there in years. One that the game desperately needs.
It means ESPN can keep running that commercial with LeBron and Scott Van Pelt. It means he has (again) surpassed the hype. It means finally, for right now, at this very moment in time, it's good -- really, really good -- to be the King.
Scoop Jackson is a columnist for Page 2 and a contributor to ESPN The Magazine. He's also the host of ESPN Original Entertainment's "NBA Live: Bring It Home". Sound off to Scoop here.