Cubs win, Bears lose. In Chicago people are being pulled like Jennifer Jason Leigh in "The Hitcher." Champagne one day, castor oil the next. It's enough to make someone rather be in South Bend. Or in a beer-less bar watching a "Happy Hour" marathon than to have to live like this. Last week was great, last weekend horr-i-ble. This week, hell if we know. This upcoming weekend, either better or worse.
For better or worse, there are truths we have to live with. Truths that we don't want to face or own up to on both sides. Our team that went to the Super Bowl last season is tied for last place in the NFL's worst division. Our team, the one that hasn't been to the World Series since Don Zimmer had hair, has a legitimate shot at winning it all.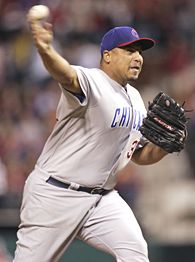 Jeff Roberson/AP Photo
In direct contrast to 2006, the Cubs are the beloved team in Chicago -- not the Bears.
We digress and progress simultaneously.
Truth About Cats: They are sneaky animals.
Truth About Dogs: Hush Puppies really are not made from them.
Truth About Cubs: We are excited but not yet totally committed. Even the die-hardest Cubs fans aren't Bruce Willis right now. Eighty-five wins isn't anything to get Kanye (arrogant) about. But we watched what our enemies, the Cardinals, did last year with a squad that won only 83. So there's hope, even though we're keeping faith on the low like Eddie Murphy did Johnny Gill. But still, the feeling is … how do I explain this? … Chicago with the Cubs making the postseason is like a man standing at the altar waiting for his future wife to walk his way. He knows he loves her, he knows he's in love with her, knows that this woman is the best thing that ever happened to him, but he's standing there wondering if he wants to do this. That "I do" is a whole 'nother type of commitment. It's not about her, it's about the situation. That's the Cubs. It's not the team, it's about the history. We know better. Because the last time we were standing at the altar waiting to get married, Steve Bartman came walking down the aisle.
Truth About Bears: It won't get any worse … only because it can't. But it won't get any better. The team is not that good, Denny Green was just a year ahead of the fact. All of the talk about the ineptness of Rex Grossman was just a smoke screen for what's really going on, what's about to be reality in two more weeks: "Peyton Brady" couldn't save this team. Thirteen fumbles in four games, with five of those being recovered by the opposing team. Nine interceptions. The 82-30 difference in scoring that has occurred in the second halves of games so far this season will be the norm. The contagiously injured defense, the same one that was the best in the NFL over the past two seasons, will continue to break down. Because the Bears offense is about as dangerous as Tony Dungy's old Buccaneers offense used to be in the playoffs, teams will just wait until the 30-minute mark of games, pull off the brake and push down on the accelerator at the 45-minute mark. Look at what the Chargers did (14 second-half points after a scoreless first half), look at how the Cowboys played it (31 points in the second half after a three-point first half), look at what happened last week against the Lions (34 points in the fourth quarter!). From zero to 60 the second the fourth quarter started. This is the formula everyone will use against the Bears. Formula One meets formula won. Which means that those of us in the city have to settle for this reality for the first time in years: The Bears' season is over before the Cubs' season.
Truth About Cats: People that own cats are sneaky.
Truth About Dogs: Therapy doesn't help them.
Truth About Cubs: Management is the reason they are here right now. Jim Hendry, knowing that new ownership was coming in at the end of this season, finally decided not to be cheap. He spent the house's money. Four hundred million dollars of it. Big dollars for Lou Piniella, big for Aramis Ramirez, big for Carlos Zambrano, their version of A-Rod money for Alfonso Soriano. They all paid off. (And replacing Andy MacPhail with John McDonough as club president didn't hurt either.) But more than anything Cubs management did to get the team where it is now, management removed the black cloud known as Prior and Wood as the team's saviors. Once the organization was mentally past that three-year mental block, everything began to fall into place. No major injuries that took players out (like Derrek Lee last year). No inconsistent play of leadoff hitters like Juan Pierre. No disgruntled superstars that ruin an entire season the way Nomar Garciaparra did a few seasons ago. All of that is gone. Now the Cubs are operating like someone who just got out of rehab and wasn't sent back to live in the same neighborhood where he used to get high. Slate clean, system clean. But still, history will not allow any comfort. The darkness may have disappeared, but the Billy Goat Curse is still hovering over the squad like Dusty Baker's toothpicks.
Truth About Bears: Management is the reason they are here right now. The fact that they are already the 2007 version of the 2005 Eagles boils down to one thing, one name, one player: Thomas Jones. How does Jerry Angelo not keep a player who kept the entire offense honest and operating? It's like wondering why it took the courts so long to take Britney Spears' kids away from her. A player who gave them 2,500-plus rushing yards over the past two seasons -- when the quarterback situation was, at best, how can this be put? … at Bears games you would still hear, "Where's Cade McNown?" being yelled from the stands. Here's how this all connects: Because of the brilliant decision to keep Cedric Benson instead of Jones, a decision strictly made on the insufferable pride of justifying him as such a high draft pick, the Bears' best offensive player is someone who is used primarily on special teams (Devin Hester), and he can't break into the starting lineup at wide receiver. Now they have to wait for the other team to score in order put themselves in position to score. Because Jones is gone, Brian Griese will probably average 52 attempts a game -- and three INTs and be sacked six times. Because Jones is gone, the defense is on the field so often the Packers' offense is jealous. Because Jones is gone, every team that plays the Bears (until Benson runs for at least 50 yards in consecutive games) will line up four and spread seven wide, making it impossible for any of the Bears' receivers to get single coverage or get open enough to get thrown to with confidence. Because Jones is gone, our 16-game reality is going to be more like a season of "Flavor of Love" than "Amazing Race."
Truth About Cats: Still the name dudes over 50 call their boys on the South and West sides of the Chi. "What's happenin' Cat Daddy!" can still be heard on the regular. Especially at a place called Lem's and in alleys around the United Center.
Truth About Dogs: Still the name dudes under 40 call each other … everywhere in America. (But soon to be phased out of urban and hipster vernacular due to overuse by one Randy Jackson.)
Truth About Cubs: With no truly dominant team in the National League, they could be the odds-off favorite to win the World Series. If "Z" can find a way to stay in Greg Maddux mode instead of acting like MLB's version of Rasheed Wallace, Ted Lilly and Ryan Dempster can (maybe) carry the pitching staff until they play whoever comes out of the ALCS. And all they have to do is get to the World Series and the city's covert commitment phobia will vanish, and no one in Chicago will care that the Bulls will have more wins than the Bears by Oct. 24 -- and the Bulls will still be in preseason. The city will be blue in color, not mind-set; and the world will finally get a chance to fully understand the difference in passion this city has for the Cubs than it has for the White Sox. Old school chased with Old Style. Ninety-nine years is a long time for fans to hold their breath … waiting … hoping … praying to a baseball god that must have a personal beef with Ernie Banks, Harry Caray and Jose Cardenal's afro. The sign you'll see in Wrigley at every game this October: "Once a century even the sun will shine on a Cub's behind." Chicago knows fate can no longer be this cruel. Just because we are "lovable losers" does not mean we love losing.
And speaking of losing …
Truth about Bears: Oh, they're done.
Scoop Jackson is a columnist for Page 2 and a contributor to ESPN The Magazine. Sound off to Scoop here.