Mote Whiting is who this is really about. At 91 years young, he assures me he'll be sitting on the edge of his bed with his glasses hanging on the tip of his nose, watching the television, house shoes 3 feet away in case he has to go to another room to get something.
He'll be watching TBS, but the sound will be off. Mute is how he'll play it. His radio, he says, will be on 670 AM, the local Cubs station. The station he knows will live the games with him, not just catch him up to speed on what's been going on over the past 100 years.
For Mote, the national broadcasters don't really know what this means. To him, no one outside of Chicago really knows what it feels like to be here now.
This isn't about what you think. Or what you've read, heard, seen or been told. This isn't about being in the bleachers at Wrigley, standing inside the Cubby Bear during a game, owning a "Sox Suck" T-shirt or being the best team in baseball this year. This isn't about Carlos Zambrano.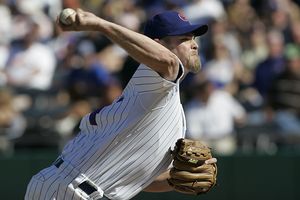 AP Photo/Morry Gash
If the Cubs are to win it all, closer Kerry Wood will have to come up big in October.
This isn't about a Cubdom, a Wrigleyville or a Cubs Nation. This isn't about the love of losing or the 36 bars that wallpaper the neighborhood around the ballpark. This isn't about goats and black cats and cows that knocked over lanterns or fans in headphones intercepting foul balls. This isn't about Leon Durham.
This isn't about national magazine concepts where Cubs and White Sox players share the cover or big stories about "The Party." This isn't about John Madden saying that Chicago is the "greatest sports town" in America. This isn't about standing on Waveland Avenue for hours waiting for home run balls to fly out of Wrigley or paying hundreds of dollars to watch a game from a rooftop across the street. This isn't about Sammy Sosa.
This is about the soul inside everyone that Mote Whiting represents. All the people in this city who have never even been to a Cubs game, never been to Wrigley, never patronized the area, but have still been a part of the misery, the pain, the letdowns and the cruelty.
What this is about is something far deeper than 1,100 words in a column could attempt to make any of you understand. It's about being here in Chicago and living not through what the Cubs have put us through, but living with it.
This is about a city that has been beyond patient for one thing to happen. It's about the love and hate the people inside of this city have and have had with the Chicago Cubs before Fergie Jenkins was considered the poor man's Bob Gibson, since before Jose Cardenal started eating the leaves off the outfield wall. This is about a relationship -- a marriage, to be more accurate -- between a city and a team that has been more dysfunctional than Ozzie and Sharon's but more loving than Ozzie and Ruby Dee's.
This is about Ron Santo who, more than Mr. Cub Ernie Banks, embodies what the Cubs are truly about. This is about Hack Wilson, Rogers Hornsby, Billy Williams, Ryne Sandberg, Andre Dawson, Mark Grace, Don Zimmer, Shawon Dunston, Rick Sutcliffe, Mark Prior and all the other players who helped bring the franchise to this point but are too often overshadowed by whatever "incident" happened during their tenure.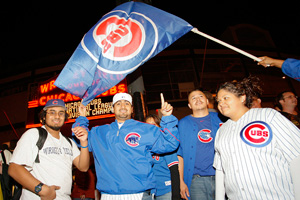 Tom Fluegge/US Presswire
The Cubs' playoff run isn't just about the fans who attend games at Wrigley -- it's about an entire city.
This is about Steve Stone as much as it is Harry Caray. Rupert Murdoch as much as it is Sam Zell. The Heckler as much as it is The Reader. This is about the Machine and mayor Richard J. Daley, the Boss who ran it. This is about Harold Washington, the mayor who invented "change" in Chicago. About the people who continue to vote the current mayor, Richard M. Daley, into office even though he's a White Sox fan. This is about Bilandic and Byrne, Bridgeport and Bronzeville, Bar Louie and bar fights. This is about "vote early and vote often," CTA, CPS, Old Style beer and Polish sausages where "everything" on it includes mustard and grilled onions only.
This is about the differences between Yummy Sandifer's Chicago story and Hugh Hefner's. This is about those who watch John Cusack movies, not John Cusack.
This is about the North Side ... and the South Side and the West Side and people who know LSD doesn't stand for an illegal hallucinogenic but a drive up the lake shore that bridges Indiana to Evanston, Ill. It's about a barbershop a few blocks away from the White Sox's home called Chine (pronounced "shine") that spells it's name with the same "C" that signifies Cubs.
This is about what it's supposed to be about: the true feelings a city has for one of its own. The Bears, the Bulls, the White Sox and the Blackhawks are all siblings reared by a city defined by athletics and politics. But this is about a city admitting that it has a favorite child; that this is the one it loves the most, the one it loves the hardest, the one it would save if it were drowning. If it had to choose.
This is all about that admittance.
This is about how the Cubs winning 11 more games will be the greatest moment that has ever happened to many people; to those who put in that undeniable, unwavering form of love, belief and faith that go far beyond saying they are Cubs fan or who claim to be part of everything that goes with being a "North Sider" during the summers; those who've never had the opportunity to sing "Take Me Out to the Ball Game" at the Friendly Confines. This is about more than the tangible; more than something that can be seen, felt, heard or observed. This is about those who have lived this -- thick, thin; hell, high water. This is what "for better or for worse" is really about.
This is about a man. A 91-year-young Cubs fan who hasn't been to Wrigley in years and doesn't live in Wrigleyville, but who over the next few days or weeks is going to sit in his room on his bed and hopefully witness something he's never seen before. This is about the stories and memories that will go through his head as he watches the Cubs and shares with others who will come and sit with him to enjoy this latest ride of hope.
"If the Cubs win, I don't know," Whiting says, almost speechless just thinking about it. "Man, I might get healthy. I've been waiting a long time for this, 60 years. And this is the first time I can remember that they really have a chance. I really think they can do it. And if they do ... boy, I don't think I'll ever stop talking about it."
Yeah, people like him is who this is really about.
CUBS TO WIN WORLD SERIES

A century of failure will be history on the North Side of Chicago because the Cubs will be the champions in 2008. Jayson Stark

• Our experts pick the playoffs
• Watch: Life of Reilly -- Cubs buzzkill
• Scoop Jackson: A city roots for its favorite child
• Jerry Crasnick: Ranking 1-2-3 playoff starters
• Page 2: Loving the postseason
• Drehs: Cubs remain optimistic