Commentary
"Sugar" tells Latin baseball experience
"Life gives you many opportunities, baseball only gives you one."
-- "Sugar" character Uncle Frank
It's a movie about a gift.
A gift believed to be had by many, but actually possessed by only a few. When he holds a baseball in his hand, when he's on a mound, when he's looking through a batter into the precise spot the catcher has placed his mitt, that's when Miguel Santos knows he is one of those chosen few.
They call him "Sugar." He says it's because he's sweet with the ladies. His friends and teammates say it's only because of his sweet tooth. But in reality, both sides know he's been appropriately blessed with that name for the same reason Robinson, Leonard and Richardson were.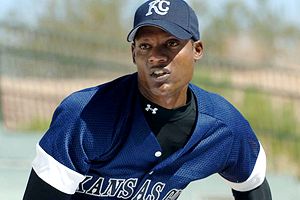 Denton Hanna/Sony Pictures Classics OriginalAlgenis Perez Soto plays lead character Miguel Santos, a talented Latin pitcher, in "Sugar."
He's Pedro in Montreal when he has the ball in his hand. He's Johan in Minnesota. He's Beckett in a World Series. Santos is latest in a long line of Latin pitching prodigies, and that is the basis of the plot in Anna Boden and Ryan Fleck's "Sugar." It's the story of a someone learning the true power of a gift … and all that can happen when that gift controls your life.
It's a movie about pride.
From the opening moment of the film, when Sugar becomes almost obsessed with teaching himself how to throw a "spiked" curveball, the one thing that remains consistent in his life is the question, "When are you going to the States?"
Because everyone in San Pedro de Macoris, Dominican Republic, knows he's got next. The people in his life throw his future in his face when they see him. "Have the States called?" "What team are you going to play for in the States?" When he walks in the door, his mother asks. When he's checking in on his younger sister, she asks. After making love to his girl, she asks. When he's chillin' in the streets, watching the locals play dominos, everyone asks. It subtly becomes his life's question. And without noticing, it serves as the core of what will eventually happen to his life.
Through the character of Sugar, the story of Latin baseball's migration to America is told. It's the story of a promised land previously thought unattainable by the masses.
When Sugar's closest friend, Jorge, tells him, "Sugar, you worry too much," it hits home that of all the things that could bring his career down before it even starts, this likely would be it.
As a film, "Sugar" comes off as a documentary. The script: loose and slow. As much as it is about baseball, it seems to hide behind the game trying to be another film. More than anything, it uses the sport to offer insight into the struggle, pain, fear and panic which can take over anyone's life when there's only one thing that defines it. In Sugar's life (and seemingly most of the people around him), baseball is that one thing. He is skilled at carpentry, but that career isn't considered a viable option in his life. He brags about his 96 mph heat to a washed-up former player in the streets, only to be told the guy he's talking to -- who now sells burned-up cell phones in the 'hood for a living -- once threw fastballs at 98 mph. You see the "Could this be me one day?" look on Sugar's face and realize it's difficult for him to even comprehend anything besides baseball being his destiny.
It's a movie about happiness.
The unspoken theme in "Sugar" is the lead character's search for happiness and his need for familiar surroundings. In the process of trying to make it to the majors, he plays in the minor leagues in Iowa. He tries to learn English. He looks for love in the wrong place with the daughter of the white, conservative Christian host family he lives with. He tries to befriend the American prodigy from Stanford on his team and learns about Roberto Clemente. He tries to understand why the manager takes him out of games when he is pitching well and dreams of eventually playing for the Yankees. During this journey, his life unfolds … then folds. And once Sugar's "gift" takes a turn and he can't figure out what to do, his pursuit of happiness makes you understand the film's message.
In the end, it's the Moby song "In This World," with the haunting lyrics of "Lord, don't leave me all by myself," sung behind the final scenes of Sugar on the mound that completes the journey through a beloved game which can be merciless to those who aren't mentally prepared to handle fame. Sugar is a 19-year-old who has nothing, yet has everything to lose. "Sugar" is the story of his life and what he must endure and experience to find happiness in baseball.
It's simply a beautiful film wrapped a very unpretty story.
Scoop Jackson is a columnist for ESPN.com.
ESPN.com columnist
Columnist for ESPN.com and ESPN The Magazine
Wrote for Slam, XXL, 6 years with NBA; 4 years with Nike
MOST SENT STORIES ON ESPN.COM