Commentary
Understanding Brandon Marshall
Updated:
September 13, 2009, 8:34 AM ET
By
Scoop Jackson
| Page 2
He's been described as "disgruntled" (The Boston Globe and USA Today), a "misbehaving but talented diva" (New York Daily News); his behavior "petulant and churlish" (The New York Times) and "recalcitrant" (CBS News).
[+] Enlarge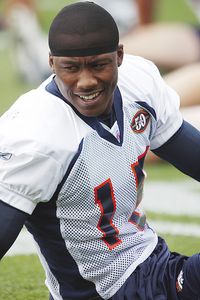 AP Photo/David ZalubowskiBrandon Marshall has taken a lot of heat in the media the past few weeks. But his story is more complex than it might appear.
On television, sports-talk radio and Internet blogs, they've run out of adjectives and adverbs to describe the NFL's latest controversial wide receiver.
Outside of the bona fide superstars (Tom Brady, Brett Favre, Michael Vick, Ben Roethlisberger), Marshall has been the talk of the NFL offseason. His behavior (caught on tape) one day in training camp -- behavior that ultimately got him suspended -- became the new standard of how not to behave on a football field. (Until the world was introduced to LeGarrette Blount).
But what seems to be missing in the story of Brandon Marshall is the truth behind why he did it -- why he put himself in position to become target practice for sports fans and pundits alike.
The general consensus has been that Marshall was unhappy because of the Broncos' unwillingness to re-do his contract and increase his salary. And that's why he asked for a trade.
Uh, not so true. Even though Marshall's behavior was unacceptable, there was more to it than just an athlete gone wild, acting spoiled because he ain't gettin' paid the way he feels he should.
The issue with Brandon Marshall is personal. Very personal. And it's not being included in the general portrait of the new poster child of petulance.
---
This summer, having already been suspended once by the NFL for domestic behavior that didn't comply with the NFL's personal conduct policy, Brandon Marshall was facing two counts of simple battery, stemming from a March 4, 2008, incident involving his then-girlfriend, Rasheeda Watley, at their condo in Atlanta.
On May 31, Watley gave her very compelling, moving and frightening side of the story on ESPN. And despite Marshall's immediate public denial, he still came off looking like Joe Jackson on "Geraldo" saying he didn't "beat them kids."
On Aug. 13, Watley testified in front of a judge and jury.
For months leading up to the trial, Marshall had been pleading his innocence to anyone and everyone willing to listen. For the most part, nobody was.
He tried to paint a different picture of himself than the one being painted by the media: that he beat women; that he was physically abusive to his fiancée and verbally abusive to her friends.
Marshall was in search of a mountaintop. Just so he could scream: "I AM NOT THAT PERSON!" It was as if a tree had fallen in the woods with nobody to hear it.
Then came Aug. 14. The verdict?
Not guilty.
"I'm just happy now that legally and emotionally we can move past this," Marshall said immediately afterward. He spoke of the butterflies in his stomach while waiting for the verdict. He spoke about how he was going to celebrate by watching his team play the 49ers in a preseason game that night. All was -- finally! -- good.
[+] Enlarge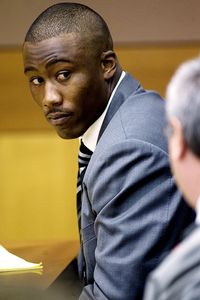 AP Photo/John AmisAfter being acquitted, Marshall was hoping to feel his team behind his back.
Then he returned to Denver, only to learn that a member of the Broncos' public-relations department had told the players after the 49ers game that they should not gloat or tell the media they were happy for Marshall about his acquittal.
For real?
Now, being politically correct is one thing. But in Marshall's mind, this was something else. He wanted (and was probably expecting) the organization to feel the same way about the outcome of his case as he did. He'd been vindicated. He was in "I-told-y'all" mode. His natural reaction (like almost anyone else's would be in his situation) was extreme elation. And now the main people he thought had his back in this were being asked to be silent about it?
To Brandon Marshall this was an act of betrayal. Orchestrated by a team he was about to suit up and play for.
That's when he lost it.
The walking off the practice field without speaking to reporters … the trade demands from his lawyer … the request for a raise in his salary … purposely knocking down passes in practice, skipping through running drills, punting balls into the middle of nowhere after being asked to give them to ball boys.
If his truculence weren't so mindless, it would have been beautiful.
But at the core of this was the feeling of abandonment eating away at Marshall's core. He simply was a young man who felt, in the most personal event of his life, that the Denver Broncos straight betrayed him. And acting like a damn fool was a direct reaction to that.
Somehow, this angle of the story has been largely ignored when evaluating Marshall's behavior. Why?
It would not have made what Marshall did excusable. But it would have made it make sense.
---
The latest news out of Denver is that the Broncos are "exploring" the possibility of giving Marshall a contract extension -- a new deal that would put him into a salary range closer to some of the guys he played with and against in the past two Pro Bowls.
Marshall is back at practice and expects to play Sunday, and his coach claims they are "looking forward to moving past" this.
But the question is: Can Marshall really do it?
He can probably forgive them. But will he ever forget?
Once a new deal is done (or a trade goes through), people will say that's all Marshall ever wanted. Some will go so far as to say he "played" the Broncos, and all they are doing is rewarding his ignorant behavior.
But everyone should know the truth. They should know that at the crux of all this -- as wrong as he was -- Brandon Marshall, himself, was wronged. And more than anything else, that's the reason a new deal between the Broncos and Marshall could be close to getting done.
In the conclusion of Chapter 19 of the "Handbook of Personality Psychology," entitled "Trust and Betrayal," the following is written: "Indeed, the central question regarding moral development here might be stated as follows: (1) how do people proceed to trust specific others given the realistic possibility that they could be betrayed? and (2) how do some people continue to trust and engage others in relationships even if they have betrayed them?"
Scoop Jackson is a columnist for ESPN.com.
ESPN.com columnist
Columnist for ESPN.com and ESPN The Magazine
Wrote for Slam, XXL, 6 years with NBA; 4 years with Nike
Nike Women's Home Game Jersey New York Jets Brandon Marshall #15 Shop »
MOST SENT STORIES ON ESPN.COM