Commentary
Going to the chapel of love, with Favre
OK, I'll take him.
I'll take him out on a date, bring him home to Mama, put a ring on his finger.
[+] Enlarge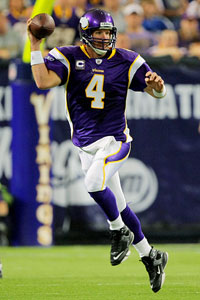 Doug Pensinger/Getty ImagesEven Favre haters must admit, No. 4 has looked mighty good this season.
A few months ago when I asked this question -- If Brett Favre were a woman, would you date him? -- I was questioning whether, in a metaphorical non-football way, he was worth it. Whether he was worth all the drama and baggage. Well, I finally have a definitive answer.
Hell yeah!
Was I wrong for asking the question in the first place? Wrong for even putting it out there like that? Wrong for questioning who he was and what he could do? Nope. But after going 6-1 and creating the magic he has in the first eight weeks of this NFL season, I have to say, Brett Lorenzo Favre has made me look like a damn fool.
This probably-one-week-too-late pseudo mea culpa was prompted by my boy Biscuit's comment after the Packers' win against the Ravens in Week 6 ("Man, not only would I make him my woman, I'd be his!"), and a column in the Chicago Tribune by Rick Morrissey about Favre haters that was so on-target, I thought he was talking directly to me. Between the two, I had to come clean like Jeru.
The damage had been done. Weeks ago. I mean, after what he did against Green Bay? He had me at Week 4.
Favre finally lost Sunday to the Steelers. So what?
It wasn't like it was his fault. He threw 51 times, completing 34 passes for 334 yards with only one INT (which also wasn't his fault). It looked as if Favre had put his team ahead late in the fourth quarter, on a touchdown pass to Sidney Rice -- but the officials took it away from him on a phantom "tripping" call on fullback Jeff Dugan. If the ref doesn't blow that call, then Favre never fumbles three plays later, when LaMarr Woodley's 77-yard fumble return gave the Steelers a 20-10 lead and basically won the game for them.
Especially after watching that entire game against the Steelers, I understand -- and accept -- everything. Is he still one of the most selfish players in the history of team sports? Of course. But now I see what he sees when he looks in the mirror. Now I know what must be going through his mind.
Mirror, mirror on the wall … The mirror knew all along. It was me who was the dumbest of them all.
So far, I haven't missed a game Favre has played this season. Can't say that about any other year, and I've been a fan since he and Sterling Sharpe were Brady-to-Moss. I'm kinda hooked now. In TV and radio interviews before the season began, I kept saying I never thought he'd get to this point. Didn't wish or want this to happen, but predicted he'd be done by Week 5. "God don't like ugly," I said over and over, figuring that a higher power would be the one to humble him, make him realize he is no better than anyone else. Not bigger than the game.
Well … now I'm thinking he might be.
Not only that, I'm thinking that going forward, he might be worth whatever psychological games he wants to play whenever he decides to retire again. New metaphor: I don't care how crazy Halle Berry might be -- would you be the fool that wouldn't take her back if she decided she wanted back in?
So, Brett, I get it.
I get you, and all that you're about. Any time someone is playing so well you can't even use the phrase "He is in rare form," then you know, if that person were a girl, she'd need to be pampered and kissed up to like her last name was Winfrey.
And after putting Brett Favre in the same context as Paris Hilton, calling him Miranda Priestly and, at the end of that column, comparing him to Aphrodite and Pamela Anderson Lee, Oprah is a fitting audible.
I sit corrected. Sit in front of a television every week and watch a man (him) make another man (me) rethink his entire perspective.
He is Brett Favre.
The diva whom, if he were a woman, I'd take to the altar.
Scoop Jackson is a columnist for ESPN.com.
ESPN Senior Writer
Columnist for ESPN.com and ESPN The Magazine
Wrote for Slam, XXL, 6 years with NBA; 4 years with Nike
NFL WEEK 8 PREVIEW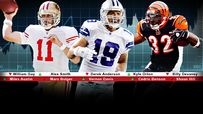 PICKS
POWER RANKINGS
MNF: Falcons at Saints
FINAL WORD
STOCK WATCH: Fallers, risers
COLUMNS/BLOG POSTS
HOT READ: Green Bay GM Ted Thompson
JOE FLACCO
HOW LONG WILL IT LAST?
FANTASY
SCOUTS INC.
PAGE 2
Nike Men's Home Game Jersey Minnesota Vikings Cordarrelle Patterson #84 Shop »
MOST SENT STORIES ON ESPN.COM