Commentary
Michael Jordan doesn't do things small
Originally Published:
November 18, 2009
By
Scoop Jackson
| Page 2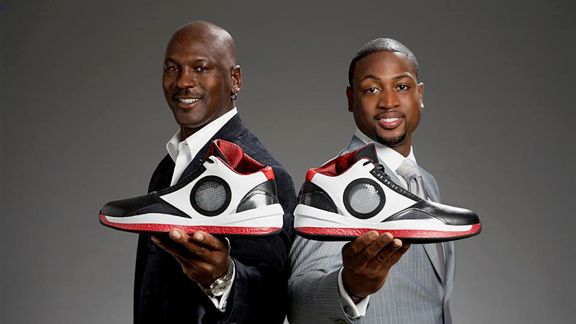 NikeA quarter-century after the Air Jordan line debuted, Michael Jordan hands the torch to Dwyane Wade.
When Michael Jordan unveils a new shoe, the event is legendary. To experience one is an experience in itself.
It's amazing just what a shoe company will do to sell a pair of sneaks. Even when it knows people will buy them anyway.
Miami was the spot last week. With this year being the 25th anniversary of the Air Jordan line, Nike decided to take the world introduction of the silver anniversary kick to a new level.
Not only did Nike's people use the ultraluxurious Fontainebleau Hotel as a two-day central locale, they also brought in the two greatest sneaker designers to tell a select group of journalists why a $400 pair of Prada America's Cup sneakers aren't what's special. Rather, that this shoe is.
Everything was kept top secret. Never leading anyone on to what was going to happen next. At one point, ESPN's Chris Broussard was wondering whether they were "fattening us up for the kill."
I told him, "I don't think so. I've survived these experiences before. This is just how they roll."
Yachts and things. Watches and rings. Champagne and chicken wings. After a one-hour Casino Royale-themed trip along the Miami harbor on a three-story, 70-foot yacht, they led the 20 invited guests into a nameless white deco restaurant. Outside, a Ferrari. ESPN RISE's Jay Corbin said, "MJ's here."
Jordan was dressed in what appeared to be the same jeans and suit jacket he was wearing two years ago when he came to this event to have us experience the XXIII.
This time he had company: Dwyane Wade.
MJ basically came through to officially pass the torch to D-Wade. In the 25 years Jordan has been in the shoe game, no one besides him has ever been given the Air Jordan shoe to wear. Other athletes, such as Carmelo Anthony and Chris Paul, have gotten other Jordan/Jumpman sneaks, but not the centerpiece of the brand. Not the Air Jordan.
Jordan came to give D-Wade that blessing.
He was in full Hall of Fame speech mode. Being his normal self.
Anyone who knows MJ knows he has the most relentless sense of humor, and if you aren't ready for it or can't stomach it, shame on you.
He had jokes. At one point, he put the whole "passing D-Wade the torch" thing in perspective by reminding us that Wade "is wearing my shoe, I'm not wearing his." He even commented about how many favorable calls Wade gets in games. Really. I wanted to scream out, "Seriously?!?"
Jordan, Wade, "Air Jordan 2010" designers Tinker Hatfield and Mark Smith took us through the ins and outs of what makes the next addition to the greatest shoe collection one of the best.
MJ actually likes the kick. There have been times at these experiences when you can tell that he's not totally feelin' the end result. But this time, his body language came off as if he wished someone would do a Bryon Russell and challenge him to come back just so he could enter the Garden and drop 55.
Dinner was served. Filet mignon. More champagne. All this for a preview of a shoe. Jordan didn't stick around for dinner. But Wade and the designers and other Jordan luminaries did.
I've known D-Wade for a while, and I don't think I've ever seen him happier. Ever. The smile on his face came from the inside. Somewhere close to his heart.
I asked him whether he was nervous about inheriting the responsibility of carrying the Air Jordan (and to a certain degree Michael Jordan's) legacy by himself. He said, "I've been waiting for this my whole life."
I knew the life Wade envisioned for himself as a child had just begun. If any of us in that room thought that shoe -- that one shoe -- was important to us, we had no idea how important it was to him.
It wasn't until then, looking at D-Wade's face, that I really realized that "Is it the shoes?" can actually be much more than a legendary tagline. It could be someone's life calling.
Scoop Jackson is a columnist for ESPN.com.
ESPN.com columnist
Columnist for ESPN.com and ESPN The Magazine
Wrote for Slam, XXL, 6 years with NBA; 4 years with Nike
MOST SENT STORIES ON ESPN.COM