"Un-De-Feat-Ed!" I heard the cry Sunday morning while driving through the far south side of the city. Caps cocked, wrists rocked, Wild Irish Rose bottles popped as brothas were getting ready to witness the only 30-0 Big Ten season since another homeboy, Quinn Buckner (actually from the south suburbs of Chicago, Thornridge HS, but he gets claimed), led Bobby Knight's Indiana Hoosiers to undefeatedness in 1976. Yeah, the Bulls are on blaze right now (despite the fact that they've lost three in a row and Eddy Curry is starting to beef) but the Stylin' Illini are the talk of this town. And believe it or not, much of the talk is not about how good this team is, but if they are better than the team in 1989 that was one Sean Higgins baseline jumper away from immortality: the Flyin' Illini.
"No way," says Steven Bardo, the PG of the '89 squad. "There's no way they would beat us." Bardo, who's become Dick Vitale's new favorite analyst, is the co-host of a radio show called "Sports Unplugged" on a Chicago/Hammond, Indiana urban music station, Power 92 (92.3 FM, WPWX). And as good ("'great' comes when you do something in the tournament") as this Illini team is, conventional wisdom inside the city is that they can't hold the jockeys for him and the team that was one game away from a place Bruce Weber's team might not see.
And this was before the Ohio State game.
"Who do they have that could guard us," Bardo spits. "Who? Who's going to guard Kendall [Gill], who's going to guard Nick [Anderson], Marcus [Liberty]? Who's going to guard Kenny [Battle]? Kenny's going to dunk on that whole squad. What about big men? Who do they have that could stop Lowell Hamilton?"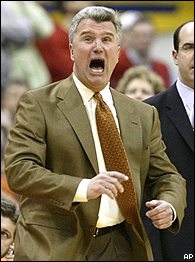 Coach Weber summed up the feeling of Illini Nation pretty well.
All of this comes back to a caller by the name of Javin, who's from Chicago, and not only claiming the Stylin' I, but also claiming that they could finish the Flyin' I off as if ifs were 5ths.
Steve looks at everyone in the studio after the on-air call is complete. None of us says anything. Can't. At least not until the end of March.
But the beginning of March brings a whole different set of circumstances. On the U of I campus, there is concern now about momentum. Talk floated all over "the Quad" that they "needed a loss," something to take the pressure off of "trying to accomplish something bigger than winning a national championship." Coeds, Abercrombie and Fitch'd up, believed that a loss would be good. Something you can't tell by the spiral of silence around Assembly Hall.
But down I-57, the silence is different. In the city of "broad shoulders and Harold's Fried Chicken," the silence of the Illini has more to do with the nine more games they must win than the one game they just lost. SI jinxes, articles in Vibe, features in Slam don't mean a damn. The Stylin' Illini are big time in Champaign, but big business in Chicago.
As I roll back through downtown to pick up my wife (who is an Illini alumnus) I peep a man selling the mid-morning edition of the Chicago Sun-Times. On the front, Ohio State's Matt Sylvester sinking a layup over Illinois' James Augustine. The truth hurts. Especially when the man with the best jump shot in the Big Ten scores only two points. Then the man selling the 50-cent product yells: "Local team loses! Welcome to March, people. A baby can make it, but a bear can't take it."
Only in Chicago.
Scoop Jackson is an award-winning journalist who has covered sports and culture for more than 15 years. He is a former editor of Slam, XXL, Hoop, and Inside Stuff magazines; and the author of "Sole Provider: 30 Years of NIKE Basketball," "Battlegrounds: America's Street Poets Called Ballers" and "LeBron James: the Chambers of Fear." He resides in Chicago with his wife and two kids.