By Scoop Jackson & Eric Neel
Page 2
Editor's note: Now that the conference finals are underway, Page 2's Eric Neel and Scoop Jackson yakked up a spirited conversation about what has happened, what's happening now and what will happen the rest of the way in the NBA playoffs. No names have been changed to protect the innocent.
Eric Neel: All right, let me begin with a bit of hyperbole offered in earnest: With these conference finals matchups, are we seeing (about to see) playoff ball at its highest level ... maybe ever?
I know I'm crazy just for asking, but am I crazy crazy?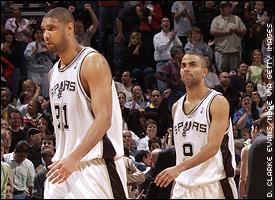 All signs still say the title goes through San Ant.
Scoop Jackson: E, you're on point like Bob Cousy in his prime. The four best teams made it through to the conference finals. Sorta like the NCAA's, where the top two teams made it to the finals.
Neel: Yeah, but I'm not talking about overall records. I'm talking about the details. I'm talking about stuff like Amare Stoudemire, who just might be the most terrifying force at full speed since the ghost of Michael Graham last showed up in Guy Lewis' nightmares, and who is a legit subject in any 2004-05 MVP discussions, maybe being not even the best frontcourt player on his own team.
And I say that even after seeing the Matrix come up stiffer than Keanu in Game 1 Sunday afternoon ...
Jackson: Amare is like the Shawn Kemp Remix, sans child support. Sunday against the Spurs was actually the game that proved to me that he could ball. I needed to see him do what he was doing against some serious D.
Forty-one and nine? He's all-world with me right now.
As far as Matrix, I'm not worried about him. If I'm Phoenix though, Q would be a big concern. He's been Swayze since game 83. Q's from the Crilla [Chicago] and he needs to get back to his roots like Common on "Be." He needs to get in Mano's grill, make him earn it. Because without Q ballin', I can't see Phoenix getting by San Antonio, especially after what I saw today.
Neel: Amen on Q. If Johnson's Reason 1 for Nash needing to step up the scoring in the semis, Richardson's Reason 1A.
I'll tell you what I'd like to see, even though I know it doesn't fit the Phoenix flow, is a handful of trips where Q makes like Quincy and gets "back on the block." He's good down there. His game hinges on confidence, and he could get some easies.
And he could lay some wood on Manu in the process.
And since you've invoked Rain Man, is it too early, historically, I mean, to start taking him back, start talking about how there was a time when he was just about unstoppable?
I'm just asking.
Speaking of misunderstood and underrated, what do you figure is the single best thing about the Spurs, who never seem to get their due?
Make like Curly, boil it down to "one thing" for me.
Jackson: The series is going seven games. And I hate to say it, but it may come down to coaching. Will Pop's experience in big games win over Beastie Boy's (Mike D) freestyle?
But I tell you, the fact that San Antonio beat Phoenix at their own game – scoring 43 in the fourth! – scared me. Was this game an indication or an aberration? Because if the Spurs can continue to score like that, the Suns can cancel Christmas. Feel me?
Neel: I think you hit on it right there. That's the one most fundamental and true Spurs thing: They'll be whatever you want them to be, and they'll be better at it than you are.
Remember that scene near the end of the first "Ghostbusters," when the guys are saying, "Clear your mind! Don't think of anything," and then Akroyd can't help but think of the Stay Puff Marshmallow Man, because the Stay Puff Marshmallow Man could never hurt him? It's like that with the Spurs, they're shape shifters. Phoenix wants to run, they'll run, and they'll run on D, too, mucking up the Suns' break while they're at it.
It's not that they have more talent than everyone else (well, yes it is), it's that they have the confidence and flexibility to have more than one identity, and to know they're purty no matter what face they're showing.
All season, D'Antoni's talked about "this is who we are, this is what we do," with the Suns' running game, but if the Spurs have one major advantage over them, and everyone else, it's that they have no "one thing."
All of which is to say, Spurs in six.
All right, let's look ahead and to the East a bit. Are the Heat dead if Shaq is less than a monster? Do you believe in a town called Wade?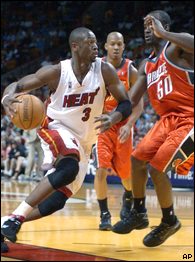 Forget Shaq for a second. Dwyane Wade is the man, too.
Jackson: I believe in a town called Wade, but I believe in a city called Detroit.
I was the first (before Ben Wallace) to say Shaq was playing possum. Not that he's not hurt, but ... you know. But when I heard they drained 100 CCs of blood from his thigh 10 days ago, I was like, "OK, dude's hurt." If he's not 85 percent, they can't handle the champs. That's real.
As for Wade, I need to see him do against Tayshaun Prince what he's done against the Nets and Wizards. It's funny, I've been hearing everyone – including Chris Rock on the NBA Minute – say that D-Wade is better than any of Shaq's other backup singers, that he's better than Kobe or Penny were. With all due respect, is everyone smoking crack? D is sick, but just like Amare, until I see him do his thang against the best in big, big games, then I can't prop him like that. Not over those two. Not yet. I think D-Wade's got a lot of people caught up right now.
Neel: Well you can color me "caught up" then, and not just this year, but going back to the way he rose up in last year's playoffs, too.
Here's my thing: The Wizards had one job: Stop Wade, muscle him, slow him, hurt him somehow, jam him at all costs. Couldn't do it. Had nothing else to think about (apologies to Udonis Haslem) and they couldn't do it.
Can Detroit do it? Definitely. But that team relies more on Tayshaun's offense now than they did a year ago, and he's going to be one tired puppy after matching up with Wade all night.
Jackson: Big $$, I've got a question for you: Who's your X-factor player? In this round?
Neel: Give me Tony P in the West. I know he's too front and center to be a traditional X-factor, but I figure the series turns on him. Will he press and push and turn the corner on Nash, not just once but a hundred times? If he does, they win.
And in the East, my X is Arroyo. Which means I guess my X is really Larry Brown.
Jackson: Funny young Sith, is it me or does it seem that as a series get deeper TP begins to slip? After Game 3 in a series, Tony seems to get lost. Last year against the Lakers? Two years ago in the finals?
If he balls throughout this series the way he balled Sunday, you can remove the X factor from his name: He's the Mizan!
Meanwhile, Udonis is my X-Man. If he does his thing, which is going to be tough against 'Sheed and McDyess, then he's the difference maker in that series. There's your Michael Graham fan.
Neel: Time for some quick hitters.
Best back court: Detroit – only two-headed monster going.
Best front court: Phoenix – Mo Marion, Mo Marion.
Best coach in the crunch: Hubie Brown – Still, "Listen, what you have in Hubie Brown is ... "
Jackson: Best back court: Smoove and Rip – Between the two of them, you have everything you could ask for. To me, if they win again, they will have to be talked about as one of the most underrated tandems in NBA history.
Best front court: Shaq – If Big is over 80 percent in this series, he's a front court all by himself.
Best coach in the crunch: So far it's been Steve Nash – No disrespect to D'Antoni, but the way the Suns played in the fourth quarter in the semis ... it's like his coaching strategy was "Steve, do you ... "
How about best dressed? Joe Johnson has been so fresh and clean on the sidelines I'm almost glad he got hurt.
Best bench player? I don't think Brent Barry will have another one of those games again. I do believe Bobby H will hit a big 3 to win a game. But the best bench player is Jim Jackson. Even though he's starting, when Joe Johnson comes back for Game 2, you'll understand Jackson's true importance.
And best city? Miami – Every media person I've talked to is pulling for Miami for the simple fact that they want to get to South Beach for that seven-day gap between Games 3-5. And they're pulling for Phoenix for the golf. Nothing to do with basketball.
Neel: That ain't right, what you said about Johnson and his injury and all – the man's face is straight out of "Requiem for a Heavyweight." That said, I guess you're right. It's not like I'm countering with Darko and the 'do or anything.
Best bench player: I will take Brent Barry. You know what Game 1 was? A flip switching.
Best city: Phoenix. The Suns are the Cubs of the NBA; close and never over the hump. Gar Heard, anyone?
Jackson: Yeah, plus Dan Majerle has that bar in Phoenix that has 72 televisions and a basketball court and a boxing ring ...
Neel: You have Wade, Nash, Duncan, Shaq, Amare, Ginobili ... and then you come to the Detroit Pistons.
Is it a good thing the Pistons have no superstar standout? Will people remember this team 10 years from now, even if they win again this year?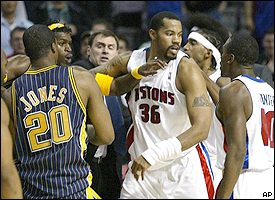 AP/Duane Burleson
When new Rasheed becomes old Rasheed -- the Pistons are over.
Jackson: That's the Question of the Year. I think everything depends on how long they stay together. And honestly, I think this is it. I think the players will be there, but I think this is it for LB. After that Lindsey Hunter's gone, Rasheed starts to not be Rasheed, Tayshaun tests the free agent market. It just all falls apart.
Neel: Right, so here's this interesting phenomenon where they are, rightly, championed for the way they've won a championship and maybe two, and yet, they may disappear from the face of the earth when their time passes. The early '70s Knicks are remembered, but they're from NY, which is different, and they've had coaches and politicians from their crew go on to talk, incessantly, about what they had. Plus they had the Willis moment. The Pistons have none of that.
Another thing I've been wondering: Is it better to have time off between games, so the players get a chance to recharge and play at their best, physically? Or would it be better to see how teams held up under physical duress by playing more often?
Jackson: I think it depends on the team. I think Phoenix could have used a break for a couple of days or a week. Detroit? Nope. They need to keep it moving. A break wouldn't be good for them.
Neel: But in general, which would you rather see: Guys performing with extra juice in their legs (more entertaining from an aesthetic standpoint) or guys performing with less juice and more heart (more entertaining from an emotional standpoint)?
Jackson: Give me heart all day, yo.
Now let me ask you this, speaking of heart: Will Eva Longoria have an impact on the series?
Neel: I'd like to see some serious intrigue on this. I'd like to see her leave Tony mid-series; hook up with Q or Amare, even Paul Shirley. Let's test this influence-of-the-girlfriend thing once and for all ...
Hey, can you think of good outside-hoops analogs for Nazr Muhammad? A late pick-up or addition who's meant a very significant upgrade for an already strong program?
I'm thinking he's a Fred McGriff All-Star. Though Jimmy Smits (who has done it twice; "NYPD Blue" and "The West Wing") is maybe an even better choice.
Jackson: You might wanna throw Nazr in the X-factor part of this. I straight forgot about him. He's the true difference maker, especially with TD not being 100 percent. The fact stands that the Spurs have not won a ring without Five-0. Tim needs to play off someone (get it? play off) in order for them to do their thing. If Nazr brings some heat and teams have to pay attention to him, that could be the soul difference (get it? soul) in San Antonio getting the chip and not getting it.
Neel: So are you picking them? Because you know you had Detroit last time we did this ...
Jackson: Don't get it twisted, I still got the Champs doubling up. I was just making a point about Nazr's impact and what it could do, not what it necessarily will do.
Neel: All right, all right. I hear you. You've got Detroit. So scout 'em for me a bit. How do/could the Spurs beat them? Aside from sending Eva to distract them, that is ...
Jackson: As beautiful as Chauncey's wife is, Eva would not be a distraction. The team has seen supreme fineness before. I just think the battle between those two teams would be impossible to dissect because they are both masters at doing two things: Stopping other teams from doing what they do best, and playing any style game the other team wants to play. When two teams like that play each other, how do you decide in an un-Vegas like manner how one team is going to succeed against the other? I can't do it.
Neel: Which brings us back to where we started, with the possibility that this may be the best month of postseason ball.
This is a topic for another day. But I will say this: I'm an optimist. I was raised that way by my corn-farming grandfather who beat back bad weather and bad luck more often than a man should have to. And I think we're doomed.
We've got San Antonio and Detroit, two of the most clever, relentless defenses we're ever going to see. We have style clashes, superstars and role players, tremendous coaching, and the return of the Gorilla to big-time playoff basketball. And none of it is going to be enough to save the league from itself.
Jackson: I hope you are wrong ol' wise one. I think the negotiations will get ugly (if not public) but they will play without missing any time. But in the meantime, I think we ought to sit down and watch the next game, and the game after that, and the game after that.
Neel: Take care of that toggle thumb. Talk to you next time.
Scoop Jackson is an award-winning journalist who has covered sports and culture for more than 15 years. He is a former editor of Slam, XXL, Hoop and Inside Stuff magazines; and the author of "Sole Provider: 30 Years of NIKE Basketball," "Battlegrounds: America's Street Poets Called Ballers" and "LeBron James: the Chambers of Fear." He resides in Chicago with his wife and two kids. You can e-mail Scoop here.
Eric Neel is a columnist for Page 2.
Scoop
Jackson
&
Eric
Neel
NBA UBER PLAYOFFS