Single page view
By Bomani Jones
Special to Page 2
My man Bill Simmons wondered why no one had written a column that questions whether Steve Nash would be an MVP candidate if he were black. Since Simmons wrote it, Nash has been named the MVP, but the question is still relevant.
I'm not sure why Simmons didn't write that one himself. He's been alive long enough to put down some qualified words on the topic, and I'd be more than interested to hear just why he feels that way – even though (especially since?) he's a white guy from Boston.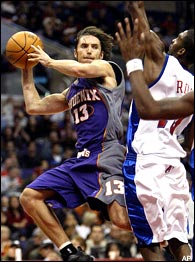 No one can deny Steve Nash has had a tremendous season.
Either way, my car's been illegally searched often enough that no one would debate my license to write something like this.
Were Steve Nash black, would he have won the MVP? No doubt about it.
Let's think about why Nash was a candidate in the first place. He was the biggest offseason acquisition of the most surprising team in the league this year, and history has shown that defying the clairvoyance of sportswriters is a great way to rack up some hardware. I figured Phoenix would be one of the few teams in the West to fall even further than the Lakers – along with the Sonics, showing just how smart I'm not. Two months into the season, it seemed like Phoenix might win 70 games, and the whispers about Nash as MVP began to spread. At the time, they seemed benign and rather cute.
Then Nash got hurt.
It's hard to gauge how valuable anything is until it's gone. The Suns were terrible when Nash missed three games in January. A team that averaged 110 points a game scored only 80 against Detroit and 79 against Memphis. Amare Stoudemire put up 16.7 points per game, nearly 10 below his season average. The Nash-for-MVP chatter, which had seemed like idle conversation until then, began to make more sense.
But that doesn't have as much to do with Nash as with the Suns' bench, which is thinner than the sheets at the Dew Drop Inn. Now that Nash has won it, he should thank Leandro Barbosa first, even before he throws one up to God.  Had the Suns gone 2-1 in that stretch – which they easily might have done with a stronger backup at point – this wouldn't even be a discussion.
<!––––––––––-INLINE TABLE (BEGIN)––––––––––->
<!––––––––––-INLINE TABLE (END)––––––––––->What's really more valuable – a Jaguar to a rich man who already has a Rolls-Royce in the garage, or a poor man's Gremlin when his next best option is his daughter's Schwinn? If the Jag breaks down, Mr. Moneybags is still riding sweet. When the Gremlin's radiator springs a leak, Broke McGee will be getting his Lance on, huffing and puffing as he tries to make it to his night shift on time.
Some things – or someone's value – can't be judged standing alone. The Suns would probably be just as good, if not better, with a handful of other point guards. However, they've got Barbosa coming off the bench, and that makes Nash all the more important.
A black man's MVP campaign three years ago also looked a lot like Nash's – an All-Star point guard placed on a recovering bottom-feeder with a young, talented power forward and a new swingman, and his team took off. That team, the New Jersey Nets, made it to the NBA Finals on Jason Kidd's back. The big difference is that Kidd was clearly the Nets' best player, while Nash is, at best, the Suns' second-best player and might not even be the third-best.