No one rooting for Duke is allowed in my home to watch North Carolina play the Blue Devils this evening. Not a soul. As long as I pay the note on this bad boy, you can come in and root for Carolina or you can kick rocks.
On a similar note, it's unlikely anyone will get into the student section at Cameron Indoor Stadium who won't be rooting for the Blue Devils. Unless you have royal blue on your shirt (or chest), there won't be room for you among the Crazies.
Not even if you're enrolled at Duke.
Allow me to explain. Although Duke and UNC are fierce rivals, they are not opposed to academic cooperation. A shining example of that is the Robertson Scholars Program, a prestigious collaborative effort between Duke and UNC that places 18 students at each school but effectively grants them entry at both institutions. Students are accepted to one school, but they may take courses at either school and must spend spring of their sophomore year at the other institution. As soon as Robertson Scholars come to school as freshmen, they are given student IDs for each school.
Coincidentally, an active student ID was all one needed to camp out in Krzyzewskiville last season to get tickets for the Duke-Carolina basketball game, which provided the opportunity for some Tar Heels to run an infiltration mission. Several of Carolina's Robertson Scholars -- some of whom were not enrolled at Duke that semester -- used their Duke IDs to line up for tickets. But once inside, they rooted for the Tar Heels from the middle of Duke's student section.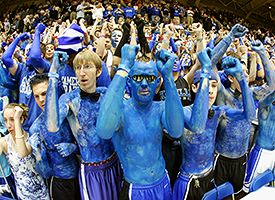 Streeter Lecka/Getty Images
The Cameron Crazies have made it clear: no Tar Heels wanted in our section.
Pretty clever stuff, but it won't happen again this year. Duke's student government added a provision to the rules of Krzyzewskiville that states "students are ineligible to tent if they were full-time students at the University of North Carolina at Chapel Hill during the fall 2006 semester."
This was a direct response to the Carolina Crazies at last season's game, according to Elliott Wolf, Duke's student body president. Last year's interlopers "made a very clear statement that they are UNC students," Wolf said in an e-mail. "K-Ville is about Duke students supporting Duke basketball, and these students have made it very clear that they are UNC students, and thus we feel it is incompatible with the mission of K-Ville to admit them."
Wolf also sees this year's rules change as a mechanism to specifically keep out the students who got into Cameron last year. "Many of the individuals who tented last year were freshmen who had never attended a class at Duke and who had never lived at Duke. Since last year's freshmen are this year's sophomores [who will be spending the semester at Duke], we are comfortable not allowing them to tent this year."
It's hard to argue with Wolf on that one. It's a bit much to say a plot of grass outside a gym has a "mission," but those students' guerrilla tactics indicated that, although they might have ties to Duke, they were Carolina students that night, at the very least. The kids who snuck through the proverbial backdoor have lots of photos from that evening on Facebook, and they appear to be as loyal to Duke as they are to Afghanistan. And since the Cameron Crazies provide the Blue Devils with college hoops' most notorious home-court advantage, it's understandable how allowing their biggest rival's die-hard fans into the sanctuary of their cult would be problematic to the Dukies.
At least one of last season's invaders sees things just as Wolf would assume he would. Hudson Vaughan, a junior Robertson Scholar at Carolina from Memphis, was in Duke's student section last year, and he definitely sees himself as a UNC student. He even wore Carolina gear while among the Crazies at the Duke-Maryland game at Cameron last season.
"I wore Carolina gear at the [women's] game, too," he says. "I never wore Duke stuff at a game. I stuck to neutral colors. Maybe a deep blue sweater."
Some fear the tenting policy will interfere with the mission of the Robertson Scholars Program. Che Ramos, a former Robertson Scholar who attended Carolina from 2001 to 2005 and was a student at Duke in spring 2003, sees Duke's decision as antithetical to the purpose of the Robertson Scholars Program. "Either you're going to be a good sport and cooperate with the scholarship program," he says, "or you're not."
Alex Snider, a Carolina Robertson Scholar who attended last year's game, said that infamous trip to Cameron was in line with the cooperative spirit of the scholarship program. "It's always fun to go against the grain and be a contrarian, especially as a college student" Snider said via e-mail. "But I also emerged with an incredible respect for the tradition of Duke and Cameron Indoor Stadium."
That would bring a smile to the face of Eric Mlyn, the director of the Robertson Scholars Program, who agrees with Ramos. "[The rule] is absolutely contrary to the spirit of the program," he says.
Though I'm a graduate of Carolina, I'm siding with the Dukies on this one. Duke and Carolina can make nice every semester, but that has nothing to do with Wednesday's game. Really, is it possible to be neutral between Carolina and Duke on the night of the biggest of all basketball rivalry games?
Mlyn paused before answering that question, then offered a wonderfully political answer. On game day, "one could be citizens of both schools," he says, but he stopped short of saying one could be fans of both on game day.
In other words -- no.
"That's a difficult question to answer," according to Wolf. "At the very least, I'd say that the Duke/Carolina basketball game is about the rivalry, and at least that night, you have to pick a side. The notion that Robertson Scholars can be students at both institutions is a very powerful one and the program has provided numerous benefits to both campuses, but on Wednesday we will all be collectively screaming, 'GO TO HELL CAROLINA!'"
Once again -- no.
Even Vivek Chilukuri, a sophomore Carolina Robertson Scholar who grew up in Chapel Hill and truly feels connected to both schools, believes neutrality is impossible when the game comes around. "The historic rivalry between the two schools is what makes their games so exciting and so unique, and to not appreciate that by staying neutral isn't collaborative," he says. "It's plain blasphemous."
Wolf and his friends might be saying "Go to hell, Carolina," but we won't be nearly as polite about Duke at my house. If hell is like the Motel 6, we'll wish the Blue Devils go to a place where the person working the desk is behind mirrored glass and rates are by the hour.
Is this new rule petty of Duke? Of course. But pettiness is all good when it comes to this rivalry. Rivalries should not be friendly. They should be full of arrogance, insecurity, profanity, provincial disdain, and outright contempt (things Carolina-Duke is loaded with). Good sense and fairness should apply only to the refs when it comes to this game. Respect for the opposition is noble and is the foundation of Carolina-Duke, but it's not so important that it should interfere with the pleasure of being petty on game day, whether you're calling in to talk radio or checking IDs at K-ville.
Mlyn believes Duke's student government "has forgotten that [the rivalry] is supposed to be fun," but it's moves like this one that make rivalries entertaining. A lot of the fun in these games is in the pettiness. Take that away, and Wednesday night at Duke would be part of a great tradition but not nearly as much fun.
So keep the Carolina fans out. Send a couple to my house, if they have nowhere else to go. Hatred for Duke and clean rap sheets will get them through my door.
Just keep the Crazies and the body paint they drip onto unsuspecting sportswriters on media row in Cameron. They're not welcome here like Carolina's Robertson Scholars aren't welcome there.
Exactly how things should be.
Bomani Jones is a columnist for Page 2. Tell him how you feel at readers@bomanijones.com.