TAMPA, Fla. -- You couldn't ask for much more than spring in Tampa. The weather is gorgeous -- too warm for long sleeves, but neither hot nor humid. Add the eye candy of palm trees, beaches and the omnipresent bay, and it's easy to see why the PGA Tour is here this weekend.
But what in the world am I doing here for a basketball tournament?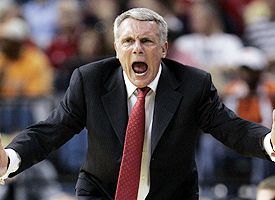 AP Photo/David J. Phillip
Gary Williams and the Terps had a short stay in Tampa.
Pass me a fishing pole, shades and a cool beverage, and I'd be in heaven any other weekend in Tampa. This weekend, however, I'm here for the ACC tournament. Held in its traditional home, Greensboro, N.C., it's a basketball bonanza and family reunion.
The tournament is out of place here, however. It's as strange as the gigantic inflated Terrapin across the street from the St. Petersburg Times Forum in front of a horizon of pastel-painted hotels.
David Hambrick and Wes Reeder, ACC fans living in Pensacola, Fla., figured things would be like that a while ago. "Before we came, we wondered 'Why Tampa?' " said Hambrick, a Duke fan. "There were plenty of other venues to choose, if they were going to take it out of Greensboro, but why here?"
Tournament director Fred Barakat credits Florida State athletic director Dave Hart with beginning the push to move the tournament to Florida. Seven years ago, discussions began about moving the tournament "around its footprint," Barakat said. Plus, there was a push to be fair to each school.
"We wanted to give each school a chance to hold a championship in its area, especially basketball."
The arena scene was tepid at times on Thursday. Florida State's noon tilt with Clemson wasn't nearly as passionate as one would expect from a game between two bubble teams, one of whom is the de facto local school. In fairness, such a scene is not uncommon for opening-day games at any site.
The most excitement was during the Duke-NC State game, largely because Florida State and Wolfpack fans were brought together by their hatred of Duke. If Duke had not played Thursday, the arena never would have approached a boil.
This is only the ninth time in the 54-year history of the ACC tournament that it has been played outside North Carolina. For the Carolina big four, having the tournament in their backyard gives them an advantage -- something Maryland coach Gary Williams has loudly criticized in the past -- so it's only fair to move the event around every few years.
Fair, however, isn't necessarily better.
Greensboro offers more of a backyard barbecue atmosphere, a cordial and communal affair. What we've got here in Tampa is a cocktail party, something really pretty but not quite comfortable.
Don't get me wrong -- this is a lovely city. It's perfect for the Super Bowl. But the Super Bowl provides is its own spectacle. They could put that game on Mars, so long as the weather's nice and traffic isn't too bad.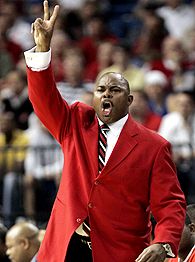 AP Photo/David J. Phillip
The magic of the red blazer is real for Sidney Lowe and NC State after their first-round victory over Duke.
This tournament needs more than that. There aren't beautiful people coming just to be seen or corporations throwing parties fueled by their own narcissism. The biggest star in attendance Thursday was Rodney Rogers, and that's just fine. The backdrop should be one that treats basketball as a cultural lifeblood, a unifying force rather than one of many things to do.
"If I went to a bar in Greensboro, all the talk would be about the tournament," said Reeder, a Carolina fan. "We just had lunch, and [the ACC Tournament] wasn't even on the TV. I can't even get the game in my hotel room."
Greensboro hosted the tournament three of the previous four years.
The exception was Washington, D.C. Hambrick said things were similar to how they are in Tampa. "They couldn't give a hootenanny about the tournament up there."
That's a far cry from Greensboro. Ken Long of Raleigh, N.C., simply says "Greensboro is the ACC."
Jeff Cameron, who hosts a popular sports talk show in Tallahassee, is a Tampa native. He thinks there's interest, but he doesn't believe this event is up Tampa's alley.
"Tampa loves sports," he said, "but it's professionally oriented, and college basketball is not its scene."
One indicator the ACC tournament isn't a hot ticket here has been a sluggish resale market. Scalpers are having a hard time.
Tournament vets in the press room said the only way to tell the tournament is here is by the "Welcome Fans" signs hanging around the Forum. That's a sharp contrast from Greensboro, where the tournament is in the air. As soon as you get off Interstate 40 and head toward the Greensboro Coliseum, the atmosphere is palpable. Scalpers are all over the city making quick cash and satisfying what seems like an infinite demand for tickets. Businesses use their marquees to welcome fans. Near the Coliseum, it's easier to find stands selling pompoms and T-shirts than it is to find a gas station.
"When you get to Greensboro," said Rick Caps, an NC State fan from Raleigh, "you know it's tournament time."
To many, this doesn't really feel like tournament time. It just feels like time off.
"People really came here to get away and make a vacation of it," said Steve Smith of Elon, N.C.
Patty McAbee, a member of Clemson's board of trustees, came to Tampa from Greenville, S.C., and is having a blast.
"The weather is wonderful," she said while she sipped a cocktail under an umbrella. "It's more of a social event this year. This is my favorite venue."
There's nothing wrong with that. Any excuse to get some rays in early March is a good one. But before being a social event, this tournament should be about basketball.
The action on the first day of the ACC tournament was incredible. All four lower seeds won close games, fulfilling the promise of unpredictability many predicted for the weekend. The area should be buzzing from the energy created by Al Thornton's great game in Florida State's victory over Clemson, cellar dweller Miami's upset of streaking Maryland, NC State coach Sidney Lowe's triumphant return to the tournament with an overtime win against Duke, and Wake Forest's exhilarating double-overtime win over Georgia Tech.
But once you leave the Forum, you leave the tournament. If the tournament comes once a year, it should last longer than a couple of hours at a time.
"I'll be honest with you," said Cameron, the talk show host. "[Interest in the tournament] is more of a reason for this city to party than it is passion for basketball."
There's nothing wrong with that, I suppose. It just doesn't feel right.
Bomani Jones is a columnist for Page 2. Tell him how you feel at readers@bomanijones.com.