Was Duncan's Ejection Justified?
Ejecting a man for laughing? Just another day at the office for NBA referee Joey Crawford.
Considered by some to be a great official, Crawford is also known for having a short fuse. He was notorious for having a temper long before he allegedly challenged Tim Duncan to fight and ejected The Big Fundamental for laughing on the bench Sunday afternoon. For several years, NBA message boards have featured complaints about Crawford's quick trigger on technical fouls, and some fans question whether Crawford believes he's bigger than the game.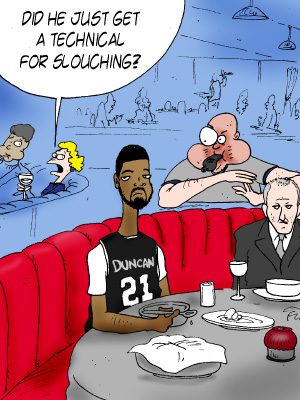 Here's a brief list of incidents, in order of magnitude, involving Crawford's quick whistle and the temper behind it:
1. May 22, 2003

In Game 2 of the Western Conference finals between the Mavericks and Spurs, Crawford ejected Mavs coach Don Nelson in the first quarter and top assistant Del Harris in the second quarter. Crawford called four technicals in the first 10 minutes, 11 seconds of the game.
"Don [Nelson] walked up to halfcourt. I never told him to sit down because that's not my job to tell him to sit down," Crawford told The Associated Press after the game. "I told him to go coach his team, and he said 'No, I'm not going to.' So I hit him with one. I said 'Go coach your team.' He said 'I'm staying right here.' So, bang, I threw him.
"Del Harris was different," Crawford said. "Del Harris came to my partner [Ted Bernhardt] at a timeout and said that he was going to get ejected, and to eject him on one [technical], which isn't unusual. This has happened in the history of the NBA where a coach has walked up to a referee and said eject me. So we eject him."
Commissioner David Stern called Crawford to his office after the incident, and the San Antonio Express-News reported that officials with knowledge of the meeting called Stern's scolding "an all-timer."
2. April 29, 2003

Eight technical fouls were called in Game 5 of the first-round playoff series between the Bucks and Nets. The first five were called by Crawford, including techs on the normally mild-mannered Ervin Johnson and Michael Redd.
"You come in here with an attitude and controlling the game. You're just here to ref the game," Milwaukee's Anthony Mason was quoted by MSG.com columnist Steve Popper. "Nobody comes to see you. This is getting crazier year after year."
3. April 22, 2006

After being knocked to the floor while fighting for a rebound in Game 1 of the first-round playoff series between Miami and Chicago, Heat forward Udonis Haslem argued the call, then threw his mouthpiece. Crawford immediately ejected Haslem. The NBA suspended Haslem for one game, deeming that Haslem threw his mouthpiece at the official.
The ejection seemed defensible, even though Haslem claimed he was throwing his mouthpiece at the ground. But Heat coach Pat Riley wonders how Crawford even saw Haslem's outburst, which was behind the play.
''I was always wondering, when the ball was going that way … why [Crawford] wasn't looking down the floor,'' Riley told The Associated Press. ''I'll leave that to you."
4. April 4, 2007

Crawford stuck Detroit's Richard Hamilton and Chicago's Tyrus Thomas with a technical apiece for jawing at each other. Hamilton then kept talking to Thomas, who said nothing in return. Crawford dished out two more techs, and both players headed to the showers.
Thomas was dumbfounded as to why Crawford handled it as he did.
"Your guess is as good as mine," Thomas told the AP. "I don't really know what was going on. I was walking away from him, and they threw me out. I think they did it just so nothing else would happen. They wanted to keep the peace."
5. October 15, 2006

In a preseason game against the Suns, Lakers guard Smush Parker received a technical from Crawford for staring. That's right -- preseason.
Bomani Jones is a columnist for Page 2. Tell him how you feel at readers@bomanijones.com.