The drum lines are rehearsing. The co-eds are back on campus. The pads are crashing.
After a summer with more scandal than sport, college football is here, and not a moment too soon. So here are 100 things to enjoy between now and the BCS Championship Game on Jan. 7 in New Orleans.
1.) Marching bands -- especially the Sonic Boom at Jackson State.
2.) The comeback-friendly 25-second play clock.
3.) Because no one will be talking about Michael Vick on Saturdays, not even at …
4.) … Virginia Tech, where the season will begin in a moving fashion on Sept. 1, the first game at Lane Stadium since this spring's campus tragedy.
5.) One week later, the Hokies travel to LSU for the first marquee matchup of the season, probably the best defensive matchup of 2007. In preparation, the Purple and Gold faithful have begun Early Times two-a-days. Speaking of which…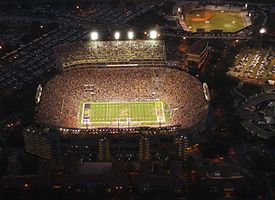 Steve Franz/LSU/Collegiate Images/ Getty Images
There's nothing quite like a night game at Tiger Stadium in Baton Rouge.
6.) … night games at Death Valley. 'Nuff said.
7.) The justified arrogance of the SEC, where each team outside Mississippi's borders has a chance at a bowl …
8.) … even Vanderbilt, led by the criminally underrated Earl Bennett, who caught more passes his first two seasons than anyone in SEC history.
9.) Still, it'll be fun to see if those blowhards stop their yappin' when no SEC team wins the national championship.
10.) Watching Arkansas' Darren McFadden, the best player in America, do his LaDainian Tomlinson impression (1,647 yards and 14 TDs rushing, three TDs passing last season) …
11.) … and his coach, Houston Nutt, who unwittingly taught us that the Freedom of Information Act belongs to everyone. And men say they don't do soap operas.
12.) Seeing if Tim Tebow can handle the rest of Florida's playbook after mastering one page last season.
13.) Locating Gators wide receiver Percy Harvin on every play, the closest most will come to being a defensive coordinator.
14.) The Swamp.
15.) Seeing all of LSU's talent, then remembering that four Tigers were drafted in the first round of the 2007 NFL draft, and trying to figure out how LSU lost a single game last season. That'll keep you busier than a Rubik's cube would.
16.) Starting a pool on Nick Saban's first meltdown of the season. Put me down for some time between Alabama's Oct. 20 grudge match with Tennessee and its Nov. 3 tilt with LSU.
17.) Laughing at futile attempts to separate the Georgia-Florida game from its rep as "The World's Largest Outdoor Cocktail Party." That's like ripping the label off a 40 of King Cobra calling it soda.
18.) Seeing how many Alabama fans will try to get into a game that actually counts for something.
19.) And how they'll cope when the Tide loses to Auburn and defensive end Quentin Groves.
20.) The Egg Bowl (Ole Miss-Mississippi State) on Thanksgiving, proving that a rivalry's intensity has nothing to do with whether the teams are any good.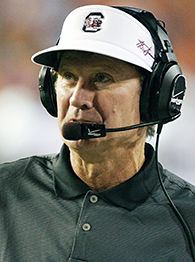 AP Photo/John Raoux
Steve Spurrier has no shortage of dislike for Georgia, dating back to that bitter loss in 1966.
21.) South Carolina at Georgia on Sept. 8. Probably the Ol' Ball Coach's most spirited performance, as he continues to avenge the loss to UGA in '66 that cost the Heisman winner an undefeated season in the SEC.
22.) Trying to find a decent quarterback in the ACC south of New England. Props to BC's Matt Ryan.
23.) Duke versus UConn, Sept. 1 in Durham, the best chance the Blue Devils have at a win this season.
24.) The first step in Miami's pistol-free return to prominence: upsetting Oklahoma on Sept. 8. The offense isn't great, but it won't have to score much as long as …
25.) … Calais Campbell, the 'Canes 6-foot-8 monster at defensive end, and safety Kenny Phillips, who's got Sean Taylor's muscle and Ed Reed's coverage skills, are on the field.
26.) Seeing who Florida State fans will blame this year if the 'Noles don't win 10 games. Bobby's boy isn't around this year to take the whippin'.
27.) Run-stopping linebacker Philip Wheeler and punishing tailback Tashard Choice, studs from Georgia Tech you might have missed while wondering why Reggie Ball couldn't just pass the ball to Calvin Johnson.
28.) Clemson breakaway threats James Davis and C.J. Spiller, the best one-two combo outside Fayetteville.
29.) Wondering if this is the year the "Bowden Bowl" just becomes a game between OK teams.
30.) Ralph Friedgen's next quarterback success story, Florida transfer Josh Portis. Yes, he and Clinton are related (cousins).
31.) Seeing if Butch Davis is really the savior he's believed to be in Chapel Hill, or just a really good football coach. A savior could pull out seven wins this year. A good coach will get four or five.
32.) At least Davis has a great return man in Brandon Tate, who took a kickoff and punt to the house in the same game last season. That's impressive, even if it was against Duke.
33.) To see if Chuck Amato will break out the red shoes, even though he's back on the staff at Florida State. They kinda go with garnet, right?
34.) Enduring the conflicting emotions of finding the Seminole War Chant offensive while singing along with the crowd.
35.) The Greatest Show on Turf: The College Years -- starring Pat White, Steve Slaton and the rest of the West Virginia Mountaineers.
36.) And, hopefully, the occasional cameo from WVU's freshman phenom, running back Noel Devine.
37.) The best bet for the most exciting game of the season -- the Mountaineers versus Louisville on Nov. 8 in Morgantown. Set the over/under at 80.
38.) The quarterback matchup of the season -- Louisville versus Kentucky on Sept. 15 in Lexington. The Cardinals' Brian Brohm is metronome accurate …
39.) … but UK's Andre Woodson (31 TD against 7 INT last season) is better. Just hope his line doesn't get the big-armed senior hurt.
40.) The mere thought of Rutgers going to a third straight bowl game.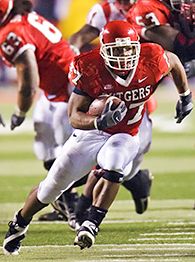 Howard Smith/US Presswire
Ray Rice has rushed for nearly 3,000 yards in his first two seasons at Rutgers.
41.) The mere thought of Rutgers having its second preseason Heisman candidate in as many years. Take a bow, Ray Rice.
42.) The agonizing possibility that New Yorkers might claim Rutgers as their own, which would turn a feel-good story into further "proof" that everything's better up north.
43.) Looking at it that way and lustily hoping Rutgers goes 0-12.
44.) Watching coach Jim Leavitt and South Florida mess up someone's dreams of waltzing through the Big East and into the BCS Championship. If you're curious, the Bulls play at Rutgers on Oct. 18.
45.) It's the Big 12! It ain't intramurals!
46.) It is, however, the best-quarterbacked conference in the country, featuring 10 returning starters and Nebraska's Sam Keller, who passed for 2,165 yards and 20 touchdowns in '05 for Arizona State.
47.) Part two of the four-year miniseries "The Legend of Colt McCoy." Tying the NCAA record for TD passes as a freshman was just the beginning.
48.) The coolest character in the game, Bevo.
49.) Texas A&M's 263-pound running back, Jovorskie Lane, the hardest man in America to bring down. Last season's 19 touchdowns attest to that.
50.) Just like 6.7 yards per carry show that the Aggies' other back, sophomore Mike Goodson, is just as hard to catch from behind as Lane is to tackle.
51.) The guaranteed offbeat yuks of a news conference from Texas Tech coach Mike Leach.
52.) This year's lesson in Oklahoman philosophy: If your receivers are great, but no one can get them the ball, will you lose to Texas for a third straight year?
53.) Yes, in fact, you will.
54.) The Bobby Reid-Adarius Bowman connection at Oklahoma State. Ask Kansas what they can do together (13 catches, 300 yards, four TDs).
55.) But don't hold it against Aqib Talib, the Jayhawks' great corner, who pulled in seven picks in spite of teams trying to avoid him.
56.) Watching Missouri quarterback Chase Daniel and the best pair of receivers in America, Chase Coffman and Martin Rucker, turn the ace formation into a high-powered set.
57.) Figuring out the last time the Big Ten was actually big. Probably back when it was actually 10.
58.) Script Ohio.
59.) Watching Michigan's loaded offense lead Michigan to an 11-0 season …
60.) … before losing to Ohio State.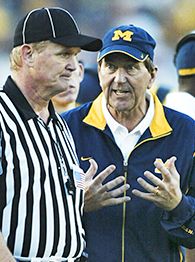 AP Photo/Kevork Djansezian
If Lloyd Carr loses to Ohio State again, the John Cooper comparisons won't be far behind.
61.) Imagining how glad Lloyd Carr preferred beating John Cooper to becoming the maize and blue version of Cooper.
62.) Illinois freshmen Martez Wilson and Rejus Benn, the keys to the excitement surrounding the Zooker's Illini.
63.) Illini quarterback Juice Williams, owner of the best name in college football for the second straight year.
64.) Wisconsin sophomore running back P.J. Hill, likely the next man to rush for 2,000 yards and not win the Heisman.
65.) 107,000-plus at Beaver Stadium in all white.
66.) Wishing Tom Arnold still paid fans to do ridiculous -- and sometimes illegal -- things at Iowa games.
67.) Giving Jimmy Clausen every bit of scrutiny he's got coming. Which, unfortunately, is more than any 18-year-old deserves. 'Tis the price of self-promotion.
68.) Seeing Charlie Weis' genius shine without being obscured by all that experienced talent on offense.
69.) Touchdown Jesus, whose presence at Notre Dame means He really does love us all.
70.) Hoping the chain gang takes its time when your team needs a quick score.
71.) Using the memory of Reggie Bush's legendary performance against Fresno State two years ago as motivation to stay up late enough to watch the Pac-10's night games … then waking up on the couch in time for the fourth quarter.
72.) Cal wide receiver DeSean Jackson's campaign to make the cover of EA Sports NCAA '09. He'll be giving defenders some of that R3 all season (18.0 yards per catch and nine TDs receiving, 18.2 yards per and four TDs on punt returns last season).
73.) The comical contrast between opposing fans at the Tennessee-Cal game on Sept. 1 in Berkeley. Yes, Vols fans, that smell is what you think it is.
74.) The transfer derby in USC's backfield, where eight backs that could start almost anywhere else just hope to get off the oak …
75.) … including freshman jitterbug Joe McKnight from River Ridge, La., who better get ready for Reggie Bush comparisons, fair or not.
76.) Another Louisianan at Southern Cal -- and the next Heisman Trophy winner -- John David Booty.
77.) The madhouse that is Oregon's Autzen Stadium.
78.) Making jokes about Oregon's uniforms, sent straight from the year 3000. However, not even Andre 3000 would want to wear them.
79.) Enjoying Jim Harbaugh's candor … until Stanford's losses start stacking up. What was refreshing tends to become annoying when a coach isn't winning.
80.) Watching UCLA coach Karl Dorrell earn a little job security with a nine-win season. And I do mean a little.
81.) Dennis Erickson's return to the big time. Either success or probation is on the way to Arizona State. Or both.
82.) Another glimpse of the Statue of Liberty.
83.) Ian Johnson, Chris Petersen, blue turf and the sound of "your Fiesta Bowl champion Boise State Broncos" over the PA system at Bronco Stadium.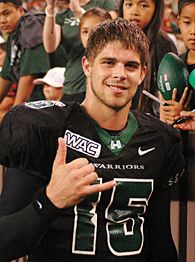 Ronen Zilberman/AP Photo
Some pundits might label Colt Brennan as a system quarterback, but 58 passing TDs in a season is impressive in any context.
84.) Purported "system quarterback" Colt Brennan's battle against the legacy of Timmy Chang. McCoy's got a cooler name, but Brennan's got the better game.
85.) Watching Tulsa, just to see if the fuss about exiled Arkansas offensive coordinator Gus Malzahn's no-huddle offense is justified.
86.) Seeing what scheme TCU coach Gary Patterson cooks up for a vulnerable Texas squad on Sept. 8. A win there could mean a BCS bowl and his program's elevation to the next level.
87.) The best player off the big time radar: the diminutive Jarrett Dillard, Rice's star receiver. The 2006 Biletnikoff finalist looks to top last season's 91 catches, 21 of which went to the house.
88.) The Miami-Florida International rematch, guaranteed to feature the best behavior of any game this season. Man, that sounds boring.
89.) Army-Navy.
90.) The greatest play ever invented -- the option.
91.) Improved highlight shows, now that kickoffs have been moved to the 30.
92.) Watching the clock start when a kickoff is received, not kicked. It's the little things, you know?
93.) Bowl games, more fun for more people than a playoff. When else could a trip to Shreveport, La., pass for a good time?
94.) Eating Tostitos during the Fiesta Bowl without feeling like a total sellout.
95.) Paying respects to Fowler, Corso and Herbstreit without feeling like a total sellout.
96.) Ordering pizza from PapaJohns.com during the PapaJohns.com Bowl without feeling like a total sellout, but only because you still can't believe such a game really exists.
97.) The Bayou Classic, still the best party around. No, it's not a Bowl Championship Series rivalry, but the bands, step shows and Friday night in the French Quarter make it as good as any I-A spectacle.
98.) The fact that the Pioneer Bowl, where Hayden Fox's Minnesota State Screamin' Eagles won a national championship on "Coach," really exists. Look it up if you don't believe me.
99.) The last year of Miami football at the Orange Bowl.
100.) Capping the season with a joyous piece of schadenfreude -- watching Les Miles eat his words when USC beats LSU in the BCS Championship in New Orleans.
Bomani Jones is a columnist for Page 2. You can reach him here.