For the Dukes of Duquesne, it was another lead they couldn't hold on to, another loss that a bounce or whistle could have turned into a win, another night on which they tried not to think about what might have been.
Duquesne lost to La Salle 82-79 in the opening game of the Atlantic 10 tournament in Atlantic City, N.J., Wednesday night. The Dukes had a four-point lead with less than six minutes to go. They had the ball in a tie game with about a minute left. But they fell just short. Ten of the Dukes games this season have been decided by five points or less -- they lost nine of them.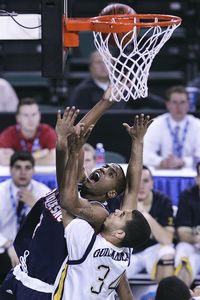 AP Photo/Mel Evans
Aaron Jackson and the Dukes couldn't quite get it done against La Salle.
Maybe they'll get an invitation to the NIT. The Dukes' 17-13 record is respectable. In fact, it's more than respectable when you consider that Duquesne won three games just two seasons ago, before coach Ron Everhart took over. Still, if a couple of rim-outs had dropped, if a couple of calls had gone the Dukes' way, it might have been a 20-win season. What might have been? That's the question most teams are asking themselves in March when they're poring over stat sheets, wishing they had a few possessions to play over.
The real might-have-beens are those who might have been there. That has been the ongoing story of Duquesne's two seasons since five of its players were shot on campus by a couple of nonstudents who crashed a dance on a Saturday night in September 2006. The program and its players have tried to move on ever since. The Dukes have tried to be just another basketball team. "I hope this season we're just a team, not a story," junior guard Aaron Jackson told me last summer.
There have been moments and even nights when they pulled it off. And when you look back on the season, you start with what happened on the floor. But you're eventually going to get around to two players who never got to play.
Stuard Baldonado was in Miami on Wednesday night, watching the game on television with his wife Rezina and his two-year-old daughter. "It was a tough game to watch," he says. "I wish I could have been out there."
Baldonado played for the Miami Tropics in the FIBA Americas League this winter. If events unfolded differently, Baldonado would have been there on the floor in the last few minutes against La Salle. It looked that way late last summer when the Dukes were practicing for an exhibition series in Toronto. At 6-foot-7 -- with a seven-footer's sleeves and a hockey player's elbows -- he was running with the second five but holding his own against the team's starting big men. Baldonado looked like a lock for the rotation, the big man who could step back and drop jumpers from the perimeter.
Although Baldonado had never played for the Dukes, it was going to be a comeback. He had left Colombia to play at a juco in Florida when Everhart recruited him during the spring of 2006. A couple of weeks into his first autumn in Pittsburgh, Baldonado was hanging out with his teammates after a dance at the Duquesne Union, which was sponsored by the Black Student Union. Most of the team stuck it out past midnight. Very few people at the dance knew the Dukes -- only two players had returned from the previous season's team -- but it was easy to make them as basketball players. Shawn James, a transfer from Northeastern, stands 6-10. Baldonado and Sam Ashaolu, another juco transfer, are a couple of inches shorter.
It was just a bonding exercise until a shot rang out.
And another. And then a scream and someone yells, "They got guns." Two kids, neither of whom were Duquesne students, pulled the weapons during an argument about a woman flirting with the basketball players and began shooting at the Dukes.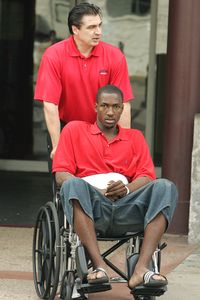 AP Photo/Gene J. Puskar
Duquesne coach Ron Everhart pushes Stuard Baldonado out of the hospital after the 2006 shooting.
Baldonado was wounded, one bullet in the back, not an inch from his spine, not an inch from paralyzing him. Jackson dragged him away from the shooters. Baldonado was on the ground, losing blood from an arm wound. Stephen Wood, a quiet freshman from Queens, N.Y., used his white T-shirt to tie a tourniquet around Baldonado's arm -- not that he had any first-aid training, but because he saw it on TV once. Then Jackson pulled up in his Honda Accord. He and Wood lifted Baldonado into the front seat and Jackson drove him to Mercy Hospital a quarter-mile away.
"I owe everything to those guys the rest of my life," Baldonado said after watching the La Salle game. "I could have died. I could have lost my arm. They were there for me. I can never pay them for that. I wish I could be there at the game, but ..."
The words stopped there. Baldonado leaves the rest unsaid. That he recovered, but his arm still bothers him. That he wanted to get in the lineup a few months after the shooting, but Everhart convinced him to redshirt. That he filed a lawsuit against the school, claiming that campus security could have prevented the shooting. That his injuries had hurt his chances for a pro career.
After the lawsuit, within a few weeks of those promising summer practices, it all came undone for Baldonado at Duquesne.
He didn't make the trip to Toronto because he didn't have his paperwork to travel. While the team was heading to the border, police picked up Baldonado -- allegedly he was working as a lookout on the street while a deal for a half-pound of marijuana went down. Police charged Baldonado with conspiracy. A day after having his bail posted, he was arrested for misdemeanor possession of marijuana. (He blamed the incident on "stress.") Duquesne officials then found out Baldonado had outstanding battery and false imprisonment charges in Florida, stemming from an incident with his then common-law wife, and expelled him. He was cleared on the two charges in Pittsburgh and pleaded to a lesser charge in Florida after he reconciled with Rezina, but that all came too late.
"I talked to Aaron Jackson the other day and Shawn James texted me before the La Salle game," Baldonado says. "It still feels like a team -- with us players, it does. [The lawsuit] is still going on but I can't talk about that. Nothing I can do about what happened with the team. Now I'm going to work on my game. Maybe I can get to Europe or maybe a NBA tryout camp. I feel good. My arm still bothers me. But I'm working on my game."
If it sounds like Baldonado faces challenges, they have nothing on those Sam Ashaolu confronts every day. Ashaolu was supposed to be a part of this team, just like Baldonado, a pair of 6-foot-7 bookends. He was the one with the better jump shot.
Ashaolu took bullets in the head. He almost died. Rev. Ray French, Duquesne's chaplain, rushed over to Mercy Hospital in case Ashaolu needed his last rites. John Ashaolu, a graduate assistant at Duquesne, thought his brother was going to need them. "I didn't think Sam was going to walk out of that hospital when I first saw him after the shooting," he says. In six weeks, Sam Ashaolu made a recovery beyond any optimistic prognosis. And days before the Dukes' season opener in November 2006, doctors let him move back into his student residence. "I went there to be priest for him," Rev. French says. "Sam turned out to be priest to me."
Ashaolu took courses over the summer and the school year. He can't remember anything from that night and struggles with his short-term memory. His daily routine took long sessions with tutors and hours of support from the school. There have been scares along the way. This past summer he forgot to take his medication and had a violent seizure -- Aaron Jackson once again came to the rescue, lifting him into a laundry hamper and rushing him to the hospital.
When I talked to Ashaolu in the summer, he didn't talk about loss. He talked about hope. He knows it will take a miracle, another one, to play in a game with more than 20 bullet fragments in his skull.
"I always wanted to wear a Division I jersey, but it's going to be hard," he said. "If it doesn't happen, I know I could have done it. I've played pick-up with the guys. I can play, but it's risky with [the injury]. I can get satisfaction from getting my degree and being with the guys. My little brother Olu got a scholarship from Louisiana Tech -- he got to meet Karl Malone and everything -- I'm going to follow him. I always want to do something with the game. It's what makes me happy."
No bitterness or frustration. No memory of the night he almost lost his life. Not even a bad word to say about the two shooters. "I appreciate things now, even just breathing," he said. "I was never the best player on my high school teams and I didn't have a problem with that. I just liked playing with my friends. Maybe that makes it easier now. I remember playing summer ball with Jamaal Magloire's brother, Justin Sheppard, who was shot and murdered. I knew guys in our neighborhood who were killed. I know people who lost everything. I didn't."
The last time they were all together, the Duquesne players and Ashaolu and Baldonado, was on a Thursday morning in late October. They sat in a courtroom at the Allegheny County Courthouse. They exchanged glances with William Holmes III, the teenager who fired his .38-caliber handgun at them. The players have told their story many times, but they weren't going to have to tell it to a jury; Holmes pleaded guilty and was sentenced to 18 to 40 years for attempted homicide and aggravated assault. Another teenager, Derek Lee, had already been handed a minimum sentence of seven years for firing a 9mm pistol that night and missing the Dukes. Reporters waited for the players outside the courthouse. No comment. Assistant District Attorney Mark Tranquilli told the media that the Dukes supported the deals. "These men showed mercy," Tranquilli says. "Everybody wants to put this behind them and move on."
They never stepped on the court together. They'll always be together in some ways. They'll always ask what might have been.
Gare Joyce is a regular contributor to ESPN The Magazine and ESPN.com.