By Tim Keown
Page 2 columnist
Nothing personal, but I'm sick of your bracket. And it's not just you, although everyone would appreciate it if you'd stop talking about it at some point between now and the title game. I'm sick of my bracket and my friends' brackets. I'm sick of the guys who call the radio shows to discuss their brackets.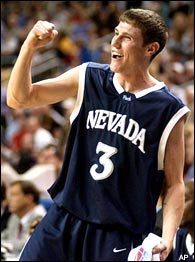 Todd Okeson and Nevada have broken many bracketologists' hearts.
And the word "bracketology?" Sick of it.
I don't want to hear about how "Nevada killed my bracket, dude." No kidding. You mean you didn't have the genius to foresee the Wolf Pack's entry into the Sweet 16? Good thing you had UAB beating Kentucky, though, or else you'd really be dust.
Everybody needs to remember one thing about this bracket stuff: You're guessing. We're all guessing. So when you get it wrong, it doesn't matter. And when you get it right, it doesn't matter, either. If you picked Nevada to get this far, you either guessed right or got drunk before you filled it in.
The picks aren't the problem. The picks are fun. The problem comes later, when everybody feels compelled to complain or brag about the damned things. Then we all become Kevin Harlan, yelling for no reason.
And besides, none of you has anything to complain about. You made your picks, so live with them. Vanderbilt, though ... Vanderbilt killed my bracket. I ought to show it to you, 'cuz I was headed straight for the big money if it hadn't been for Vanderbilt.
This Week's List
Follow me on this one, because it really hacks me off: Switching from one game to another after a commercial break, only to find the new game at a timeout, then taking the commercial break with the new game.
It might not get any better than this: UAB vs. Washington in round one.
What many of us didn't know and Billy Packer is just learning: Whatever faults it has and however weak its schedule was, St. Joseph's doesn't play afraid.
On the other hand: Stanford looked afraid to lose, so it did.
Teams that forgot: 1) Mississippi State, forgetting what it does best; 2) Kentucky, forgetting nothing was guaranteed; 3) Gonzaga, just plain forgetting.
Great moments in driving: There is nothing, absolutely nothing, better than listening to a hometown radio announcer who believes his team has been wronged by the officials in an NCAA Tournament game.
Take, for instance: The guy from Stanford, who singled out one of the officials who was particularly against the Cardinal and started saying something like, "Well, there he goes again," each time the guy made a call.
Just for the heck of it: Marty Headd.
Amazingly, the hoop was 18 inches in diameter for everybody else and approximately 6 inches for one guy: Gonzaga's Blake Stepp.
He chose the only team that could make him feel young: Warren Sapp, Raider.
There are legitimate spring-training storylines, but: The whole issue of who will be the Expos' third outfielder doesn't do much for me.
Sobering message for the powers that run big-league baseball: For once, the game can't use the home run to win back the public trust.
They could have just started a grease fire in the kitchen and saved the expense of the explosives: When Veterans Stadium exploded, my mind wandered back to the days of some of the least healthy press-box food in history.
And, of course, the eternal question: "Scrod with that?"
Two obvious observations about Syracuse: 1) Gerry McNamara can shoot like almost nobody else, and; 2) apparently Jim Boeheim can coach.
Predictable: Billy Packer gets the Wake Forest-St. Joe's assignment.
What I learned at Nike Summer Camp: Ever listened to an interview with the professionally evasive Ken Griffey Jr. and had to look twice to make sure it wasn't the professionally evasive Tiger Woods?
The solution, of course is simple -- stop being good and the hatred will cease: Anyone else think Coach K is using his poor-us, everybody-hates-Duke platform as a motivational tool and nothing else?
In the spirit of Kevin Maas and Shane Spencer, the Yankees bring you: Bubba Crosby.
Since we all seem to need a little refresher on the subject: If you throw a camera and a microphone in the face of an athlete -- oh, let's call him Steve Francis -- seconds after a play goes against him, you might hear a couple of words that aren't allowed in Grandma's kitchen.
And finally, as the weekend approaches, we might all want to take comfort in another one of life's eternal truths: Big-time players make big-time plays in big-time games.

Tim Keown is a senior writer for ESPN The Magazine.