By Tim Keown
Page 2
Kobe Bryant propped his kid on his lap to take questions during his postgame press conference Monday night, which means it's time for this ridiculous practice to stop, please. The statute of limitations has run out.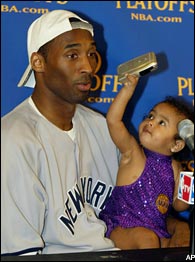 Kobe's being image-conscious by bringing his daughter to the press conference.
Shaquille O'Neal did the same thing, which means there's nothing these two won't do to make sure neither gets the upper hand.
For the sake of all the little Kidds and Bryants and Bondses out there, leave your kid in the arena day-care center until you finish working. It's not cute or endearing anymore, and it's not like you're going to undergo any big image makeover by having the kid sitting there squirming while someone asks you whether you were surprised by anything the Timberwolves did on defense.
You can almost see the image pros working behind the scenes. Anyone with a family problem or personality problem that finds its way before the public can make things just a little better by seeming to be the happy and caring family man. The kind of man who can't possibly sit through another seven-minute interview session without the presence of his little precious.
Shaq? Shaq's just keeping up.
Shockingly, we understand the reason behind this ploy. We know you're using the kid to run interference. Is there anyone out there who remains fooled by this act?
Of course, the beauty of this deal shows up later, when these guys tell everyone how hard it is for their children to live a normal life and do normal kid things when their father is so famous and public and beloved.
This Week's List
If you ever find yourself on the court during the NBA playoffs, a word of advice: If you foul over and over and over, chances are the referees are going to get used to it and before long it won't even be a foul anymore.
A question to ponder: When professional video game players are compared to professional X-Gamers -- skateboarders, stunt cyclists and the like -- which group should be insulted?
Because, if it says "CHI" and they're playing the Twins, I can probably figure it out: Am I alone in thinking "College World Series" every time I see the White Sox referred to as "CWS" in a score ticker?
Damn, as it turns out, Shaq owns the guy: A television graphic Monday night made a pretty big deal of Shaq's head-to-head history against Michael Olowokandi.
First crazed, uneducated pick of the NBA Finals: Pistons over Lakers in seven.
In the bump-and-shove-and-hack world of the NBA playoffs, this is a supreme compliment: Richard Hamilton looks like he's about to become the most delicate big star in the NBA.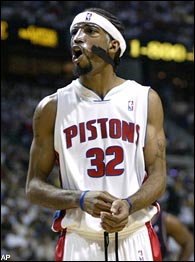 Coming soon to a theatre near you: "Freddy vs. Rip"
And not that it's any of my business, but: How long does a guy have to wear one of those facemasks before it's cool to move on?
Police said there would be nobody in the office to comment on the situation, but commenting isn't usually a problem when this guy is part of the equation: Curt Schilling helped nab a suspected drunk driver on his way home from Fenway Park last Tuesday night, then told everyone about it.
The greatest moment of the season: Diamondbacks catcher Robby Hammock bouncing out to the mound to greet Randy Johnson after Johnson's perfect game.
What made it great: Johnson looked only mildly pleased, until Hammock tried to do the Yogi Berra leap into his arms and Johnson couldn't help laughing.
What Randy's body language said: Okay, okay, so it's a perfect game, it's not like nobody's ever done that before.
Just for the heck of it: Ed Halicki.
Nostalgia corner: When will it be okay for everyone to go back to predicting that Barry Bonds really can hit .400?
They can say Rich Gannon's the starting quarterback all they want, but when the man in the white outfit says the words "vertical game" for the first time, you'll know the rest of the story: Kerry Collins, Oakland Raider.
Like we said all along: Kareem Rush, difference-maker.
It's an honor to represent your country in the Olympics and all that, but here's the bottom line: If you make $10 million or more a year, the idea of going into an uncertain situation like Athens is not very appealing.
And finally, if they'd been passing out Hee Sop Choi bobbleheads, the course of history might have been changed forever: Ken Griffey Jr. said he was inspired to hit his 494th career homer when he saw the Marlins were passing out souvenir World Series rings Monday afternoon.

Tim Keown is a senior writer for ESPN The Magazine. He is the co-author of the upcoming book "Hunting the Jackal: A Special Forces and CIA Ground Soldier's Fifty-Year Career Hunting America's Enemies," to be published in June by William Morrow.