By Tim Keown
Page 2
The experts are out this week. You can't walk to the grocery store without running into three or four of them. "The Colts are too soft," one of them says. "The Falcons' defense doesn't have the kind of speed it needs," says the guy collecting the carts. "A rookie quarterback can't take a team to the Super Bowl," the produce guy offers.
This is a big week for the insiders. They'll take you inside the huddle, behind the protective visor, chemically bonded to the facemask. It doesn't get much more inside than that. They examine and disseminate and the rest of us are better for it.
For one, it allows us to make wagers on take-it-to-the-bank GUARANTEED WINNERS, and we're giving you one pick ABSOLUTELY FREE if you call now.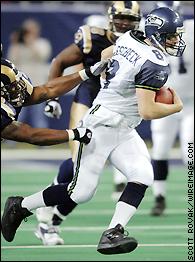 Matt Hasselbeck predicts the Seahawks will ... uhh, on second thought, he'll leave the predictions to Tim Keown.
Rams at Seahawks: Only geniuses need apply. The Back-In Bowl. Mike Martz might call three timeouts in the final five seconds of the first half, then stand there on the sideline wearing that passing-a-stone grimace. Mike Holmgren will hold that play sheet in front of his face and say, "Pass" 33 times before he allows Shaun Alexander to touch the ball once. Matt Hasselbeck wants the ball, and he's going to score.
Prediction: Seahawks 30, Rams 17
Vikings at Packers: Someone should send Jeb Bush out to Eden Prairie to fly over the Vikings, shake a few hands and assess the damage.
Prediction: Packers 24, Vikings 10
Jets at Chargers: Hoo boy, it's an old-fashioned AFL shootout. Lance Alworth and John Hadl and Joe Willie Namath. How many times will we hear that, and then wonder: Who gets the reference? By my calculations, you'd have to be at least 47 to fully appreciate any discussion of Emerson Boozer. Drew Brees to Antonio Gates, with palms swaying gently. They should hold the Super Bowl in San Diego every year, starting now.
Prediction: Chargers 33, Jets 14
Broncos at Colts: If you give Mike Shanahan five days to prepare for anybody, he'll teach his linemen to cut block and tell you a million times how Jake Plummer is better than anyone gives him credit.
Jake throws pick
Peyton gyrates like a fiend
Marvin's open
Prediction: Colts 44, Broncos 20
This week's list

Making a statement: Utah.
Making a statement of an entirely different sort: Cal.
Undoubtedly, the word Heisman will be emitted with rampant impunity: Vince Young, Texas QB.
And now for the longest-running slogan in the history of sports: I Love This Game.
I would make fun of this, but I'm holding out hope that someone's going to stand in front of a podium tomorrow and say, "Holy $#$*, you guys fell for that?": The Los Angeles Angels of Anaheim.
If you're going to defile yourself, why not go all out?: The Los Angeles Angels of Anaheim, Brought To You By Your Good Friends At Unocal.
Since it's the last game and all, it seems there's one thing that's purely optional during the bowl season: Sportsmanship.
Welcome to Operation Bright Side, where if we can't say something nice, we alays try to say something that isn't not nice: During the Warriors-Sixers game Monday night, the announcer followed a horribly missed 3-pointer by saying, "Speedy Claxton is not quite a proficient 3-point shooter, at 17 percent."
He'll either be the guy who looks a lot like O.J. Simpson or the guy in a size-9¼ Tommy Trojan hat: In an interview with the Associated Press, O.J. Simpson said he'll be in the stands for tonight's Orange Bowl, but his attorney, monitoring the call, refused to allow the Juice to reveal where he'll be seated in the stadium.
OK, show of hands: Who among you would like to see Utah play Auburn?
Just for the heck of it: Tom Boerwinkle.
There's a good chance it won't do any good, but it'll make the neighbors think twice before complaining about where I park my car: The next time I hear someone extol the virtues and purity of Bill Parcells for his decision to dump Quincy Carter because he couldn't trust him after a positive drug test, I vow to stand before the television set and scream, "Lawrence Taylor! Lawrence Taylor! Lawrence Taylor!" at the top of my lungs.
Not to go all Stephen A. on you, but: There are times when teams serve notice, and that's exactly what the Seattle SuperSonics did Monday night by winning in Miami to break the Heat's 14-game winning streak.
And finally, further proof that there simply is no escape: Isn't it just like Terrell Owens to be able to hijack the playoffs without even suiting up?

Tim Keown is a senior writer for ESPN The Magazine.