Your move, NBA. Are you going to suspend Amare Stoudemire and Boris Diaw for leaving the bench after Robert Horry checked Steve Nash into the scorer's table? Or, in an unlikely fit of common sense, are you going to assess the situation reasonably and throw down some show-trial fines and be done with it?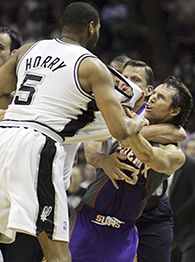 AP Photo/Lm Otero
After Robert Horry leveled Steve Nash, will the NBA level the Suns by suspending Amare Stoudemire and Boris Diaw for leaving the bench?
It's not a matter of understanding the rule. Clearly, the rule states that any player leaving the bench to join an altercation is to be suspended for a game. At least.
But we're talking about two of the Suns' best players who left the bench and never mixed it up. We're talking about the best playoff series going -- probably the best one we'll see, period.
You want to hand it over to the team that committed the cheap shot? That's what a suspension of Stoudemire and Diaw will do. The NBA is faced with flexing a little on an unnecessarily inflexible rule or running the risk of allowing Horry to win the series with a cheap, flagrant foul on one of the league's marquee players.
Diaw and Stoudemire should have known better, no question. Still, their franchise guy was down. They didn't know whether he was hurt, or how badly. They reacted, then unreacted, with the idea of sticking up for Nash.
Adding to the emotion is the behind-the-woodshed treatment Nash has received the whole series, and it's not surprising their first thought wasn't, "Oh, golly, I better stay here and let the authorities handle it."
So tough call, NBA, but not really.
Think of it this way: You're never going to have a league of competitive guys who don't react by heading toward Nash in that situation. And you shouldn't want one.
This Week's List

• One thing Horry accomplished: Made Bruce Bowen look good.
• One guy who probably watched the Nash-Horry episode and thought, "OK, maybe they'll forget about me for 24 hours": Baron Davis.
• Maybe a guy like Carlos Boozer, to put a name to a concept: Derek Fisher might not have been upset about Davis' late-game, low-class elbow throw -- Fisher's comments were gentlemanly -- but some of his teammates might have other ideas the next time Davis comes hopping down the lane.
• Right now, I'm thinking a few weeks in a glass case hovering over a London intersection would be a perfect idea: Go away, David Blaine, and take your magnets with you.
• Mehmet Okur: What Dirk Nowitzki was supposed to be.
• When Greg Oden's name is called first in this year's NBA draft, remember two things: (1) Tim Duncan against the Suns and; (2) when a guy can move and score and control the block, big still matters -- a lot.
• It's not so much a shot as a deflection: Has anyone ever shot the ball quicker and with less motion than Brent Barry?
• Nobody plays harder: Russell Martin.
• Just for the heck of it: Don Money.
• The ridiculous magic of the 84 mph fastball: Old Greg Maddux played the role of young Greg Maddux on Monday night, finishing a 96-pitch complete game after needing just 77 through eight shutout innings.
• There's command, and then there's this: Maddux didn't go to a three-ball count on a hitter until two were out in the ninth.
• Then again: The Reds haven't put up much opposition these days.
• And for those of you who prefer the Livan Hernandez motif: Dice-K needed 124 pitches for his complete game Monday.
• About as riveting as "The Cafferty File," and bringing you as much excitement as a Paul Harvey marathon, it's: The Eastern Conference playoffs, inferior every single year.
• Or you could just cast wild 3s at the end of a one-on-four "break" and hope for the best: If the Warriors want to play past Tuesday night, they might want to post up Jason Richardson on Derek Fisher every chance they get.
• At my personal sports book, "What The Case May Be" is favored by two touchdowns: Commenting on his fast recovery from finger surgery, Terrell Owens said, "I don't know if I have special healing powers, or what the case may be."
• Forgive my bad memory, but what part of "nappy-headed ho" was directed at Reverend Al? In a truly momentous question for our time, Lou Dobbs asked Al Sharpton whether he will ever forgive Don Imus.
• And finally, after the game they all hit the streets and obeyed all traffic signals: During Game 2 of the Warriors-Jazz series in Utah, they actually played "If You're Happy And You Know It" over the arena PA, and the rhythmic clapping was vigorous.
Tim Keown is a senior writer for ESPN The Magazine. Sound off to Page 2 here.