It's time for the word "pacman" to become a verb. This latest incident, in which members of Pacman Jones' entourage allegedly shot at another unknown entourage outside an Atlanta-area strip club around 4 a.m. Monday, clinches the deal. "To pacman" needs to become part of the lexicon.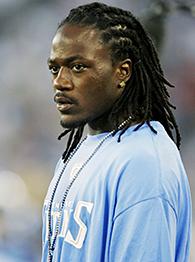 AP Photo/Mark Humphrey
Bet Pacman didn't think he'd be contributing like this to the English language.
"To pacman" means to repeatedly do a stupid thing while professing to understand its stupidity. For example:
Dude pacmanned himself when he kept going to strip clubs with his gun-toting friends even after it cost him millions of dollars.
Pacman Jones said he was going to change his life. That was a few weeks ago, and we have to be fair here -- from the time he said he was going to change his life until the early hours of Monday morning, he wasn't wanted for questioning by the police.
He is now, though, but there's a positive spin here, too. Police say that Pacman wasn't present when the shooting took place, so he's just wanted for questioning and not for prosecution.
Call it progress. It just goes to show you the power of pacmanning. You have to wean yourself off. You can't go cold turkey.
---
Baseball justice -- equal parts insanely bizarre and perfectly sensible.
Alfonso Soriano ran backward, so Derrek Lee got a fastball to the head. You got a problem with that?
This is the way baseball justice works. This is the code. The Padres could have thrown at Soriano, and there's no question they thought about it. But on special occasions baseball justice calls for "the next guy" -- Jake Peavy's words -- to get the heater to the chops.
If you hit the backward-runner, you send a message to the backward-runner only. But if you hit Derrek Lee -- one of the true gentlemen in the game -- then you hurt the whole team. You send a message up and down the lineup and all the way to the owners' box.
Hitting Soriano would have been the baseball equivalent of playground justice. Hitting Lee is advanced justice.
The two principals were not likely candidates. Padres pitcher Chris Young is a thoughtful Princeton graduate who doesn't fit the mold of a headhunter. As far as we know, he's never worn a mouthpiece while pitching or thrown half a bat at Mike Piazza. Lee is universally respected, reasonable and intelligent. He's not someone you'd expect to head for the mound with malice on his mind.
And in the end, the two guys got the same penalty -- a five-game suspension. And you probably don't have to be told that five games apiece for a first baseman and a starting pitcher is really not the same penalty, even if it's reported that way.
This Week's List
•
In other strip club/professional athlete news:
The Warriors' Stephen Jackson agreed to a plea deal for his involvement in a shooting outside an Indianapolis strip club.
• Why do I get the feeling that when this is all over, Jerry Buss is going to be sporting a big new diamond ring?: Like everything surrounding Kobe Bryant, the latest trade demand/request/hint has the whiff of bad PR.
• Call me Ishmael: Kobe began his latest blog entry by typing, "Was up again, y'all."
• It's OK -- he's probably an ag major: A sign held up by an Oregon State fan in the background of ESPN's outdoor set at the College World Series read, "Beaver Beliver."
• Rex Grossman -- unavailable for comment: At a youth camp over the weekend, Bears defensive tackle Tommie Harris said he'd like Donovan McNabb to join the Bears so they can win the Super Bowl.
• Just for the heck of it: Doug Creek.
• Either that or it was Pec Night at the local gym: Judging by Tiger Woods' shirt, he mistook the final round of the U.S. Open for a Playgirl photo shoot.
• However, since it was impossible not to notice: Tiger's body is starting to look more and more like a double for the Under Armour mannequin.
• Now he can say, "I was there, but he just didn't hit them fast enough": Bud Selig, on hand in Milwaukee to watch Barry Bonds fail to hit homer No. 749.
• Because, after all, nothing that happens before October means squat: It's been about two weeks since someone in the New York media suggested trading A-Rod for Scott Brosius and Brian Doyle, but it's probably just an 0-for-4 away.
• And finally, just wait till Lou Dobbs gets his hands on this one: Foreigners have won the last four U.S. Open golf tournaments.
Tim Keown is a senior writer for ESPN The Magazine. Sound off to Tim here.