Consider this a call to arms. Not arms, really -- violence is not the answer, of course. This thing is not a big thing, like calling for a general strike for impoverished, abused workers in a Third World country. Really, this probably wouldn't be the place to dispense that kind of information most efficiently anyway. So maybe you should consider this a small cry for a tiny shard of truth, which is a thing nonetheless.
You can't deny that.
Since there is no national championship game in college football this year, let's just stop calling it that.
Now, wasn't that easy?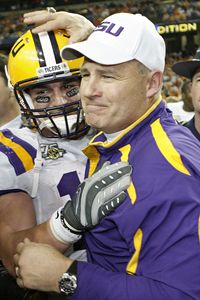 Mike Zarrilli/Getty Images
Congratulations, guys ... due to contractual obligations you might be national champions.
You didn't have to stop eating something you like, or walk to work, or feel guilty about who made your shirt.
This could be huge. It could spread virally, from common folk like us to the nation's sports editors and broadcasters. Let's give it a shot.
Here's a little story that kind of relates:
One time in the mid-'80s, a friend of mine was walking to class at UC Davis when he came across the usual cacophony of campus protests. One of them had something to do with Archbishop Desmond Tutu and apartheid, another was Campus Crusade for Christ, and a third was a shaggy group of guys walking in circles and chanting something my friend couldn't understand.
As he got closer, he figured it out: They were all yelling, "Dump The DH! Dump The DH!" It was a sophomoric backlash to all the consciousness-raising of the moment, so my friend got in line and started chanting.
This protest is kind of like that one.
There will be a game in January in New Orleans between Ohio State and LSU, and the winner will have no greater claim to the national championship than three or four other teams that finish their season with wins in January.
There is no national championship game. They're going to call it that, for contractual reasons, but that doesn't mean we have to follow along blindly.
This national championship is as mythical as every one before the BCS was invented by that drunk guy in his garage. LSU-Ohio State will not tell you the best team in college football any more than Georgia-Hawaii or Virginia Tech-Kansas or West Virginia-Oklahoma.
If you keep calling it what they want you to call it, they win. So call it something else, like the Mythical Bowl brought to you by That Drunk Guy in his Garage, or something like that.
So stand up for what's right. Speak the truth.
Oh, and the next time someone trots out an anti-playoff argument that includes any reference to the number of games or academics, tell them this:
The Pennsylvania state high school football championships will conclude this weekend. The teams will be playing their 16th game.
This Week's List
• I can completely understand the Ravens feeling they got jobbed by the refs Monday night, but they need to revise one part of their argument: Most people are not rooting for the Patriots to go undefeated.
• This could be the anti-Patriot in me talking, but: Doesn't it look like Tom Brady has become whiny this season?
• OK, so ... you're saying he doesn't need a reason?: Tony Dungy, telling Bob Costas that he didn't think his comments regarding the Patriots' video cheating had any impact on Bill Belichick's cold-shoulder handshake after the Pats-Colts game, said. "That's Bill. He's always been that way with me."
• How you know the NFL team in your viewing area is not its network's top priority: Any and all combinations involving Matt Vasgersian and J.C. Pearson.
• Isn't it a prerequisite for NFL officials to have at least a fleeting relationship with the rules? If an assistant coach, who is not allowed to call a timeout, calls one anyway, and it is granted by the official, is it really a timeout?
• It might be better than "Year of the 0-16 and 16-0": Fittingly, this NFL season is shaping up as the Year of the Timeout.
• For everyone who is saying, "See, his past caught up with him," consider this: There's no denying Sean Taylor had some issues, but is he supposed to be responsible for the actions of the acquaintances of his half-sister's boyfriend?
• Brought to you by the people who brought you such exciting innovations as graph paper and tube socks: Illinois, in the Rose Bowl.
• It's starting to look like Hank Steinbrenner is going to make his mark as the Ultimatum Specialist: Since it brought A-Rod back on his knees, the new boss of the Yankees issued a Monday ultimatum on the Yankees' trade offer for Johan Santana.
• And, on the other side, you get the feeling the trade talks ended with Mets GM Omar Minaya saying, "Yeah, whatever, just take him": The Nationals got Lastings Milledge -- an unquestioned talent with questionable personality -- for Ryan Church and Brian Schneider.
• And finally, next time that happens: I'm throwing the flag into the stands, too.
Tim Keown is a senior writer for ESPN The Magazine. Sound off to Tim here.