Everybody loves the little guy in the NCAA tournament. Or, to put it more accurately, everybody loves the idea of the little guy. Everyone lives for that moment in the tournament when Morgan State is leading Oklahoma 19-16 with 11:49 left in the first half. You know that moment, when the announcer's voice starts rising like he's starting to believe and the Morgan State guys are waving their arms as they walk off the court at the under-12 timeout. You're thinking, could it be?
MORE BIG DANCE COVERAGE
For more stories and video on this year's Big Dance, click here for ESPN.com's 2009 NCAA tournament index.
And the answer, almost always, is no it can't. The infatuation with the little guy is a waste of time. Oklahoma and Morgan State aren't playing by the same rules, and even though there's an occasional Davidson or George Mason -- teams that are significantly better-equipped to compete than the Morgan States and Binghamtons -- the NCAA tournament is a big guy's game.
So why are the little guys always included? What other championship format knowingly includes inferior teams at the expense of better ones? Why is Chattanooga in the tournament and not Saint Mary's? Why Radford and not San Diego State? This makes no sense at all.
Since advocating for a 64-team tournament that doesn't automatically include teams from the Southland or the Big Sky would be viewed as sacrilege, here are two suggestions that would add a measure of fairness while allowing the dreamers to continue dreaming:
1) Small conferences need to stop having tournaments. The Ivy League has it right -- no tournament, no chance for an inferior team to go on a three-game run and keep the league's best team out of the tournament. If conferences want to make sure they are represented in the best way possible, they need to ditch the tournaments and send their regular-season champion. (Judging by the sparse crowds at the puny conference tournaments, money shouldn't be an overriding factor in this decision.)
2) If small conferences insist on having tournaments, the selection committee should have the right to reject an undeserving team. Forget the automatic bids for the tournament champions. An 17-15 team from a tiny conference cheapens the tournament.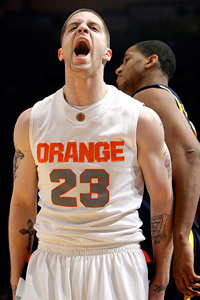 AP Photo/Julie Jacobson
You can see how Devendorf might ruffle some feathers.
The List of 65
• The one player most likely to be hated by the opposition: Eric Devendorf, Syracuse.
• At this point, it looks like the selection committee is simply operating on reflex: Arizona, 25 straight tournament appearances despite a 19-13 season, a .500 record in a weak Pac-10 and a loss in the quarterfinals of the conference tournament.
• One thing to remember when listening to the onslaught of "most important factors for championship teams" over the next three weeks: Nobody really knows anything.
• The three most important factors for championship teams: 1) overall experience; 2) veteran backcourt; 3) free throw shooting.
• The most recession-proof profession: Bracketologist.
• Upset alert! Northern Iowa over Purdue.
• This year's favorite upset pick that won't happen: Western Kentucky over Illinois.
• Did the selection committee toss rose petals across the Midwest bracket just to make it more obvious? Louisville might not face a truly good team until the Final Four.
• Three of their five starters figure to play in the NBA, but the team should be in the NIT: Arizona, with Jordan Hill, Chase Budinger and Nic Wise.
• Best second-round game: Utah-Wake Forest.
• Team most likely to be hurt by poor -- or just plain frantic -- coaching in the late minutes of a close game: USC, with Tim Floyd.
• Just for the heck of it: Harold Arceneaux.
• Player most likely to declare for the NBA draft within seconds of the season ending: Tyreke Evans, Memphis.
• In the end, Duke will be the judge of that: Binghamton coach Kevin Broadus says, "We're not just going to participate … we're going to play and give it our all."
• Best three point guards: Jeremy Pargo, Ty Lawson, Tyreke Evans.
• The man: Jonny Flynn, Syracuse.
• Upset alert! Cal over Memphis in the second round.
• Why North Carolina won't win: Can't stop anybody.
• Why Duke won't win: Not enough guys who can freelance when the game's on the line.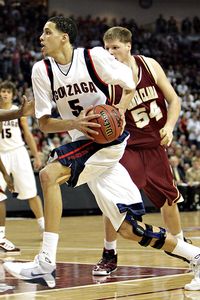 AP Photo/Jae C. Hong
Austin Daye will have a big impact on Gonzaga's tourney run.
• The one player who can play Gonzaga into the Final Four: Austin Daye.
• The one player who can play Gonzaga out of the tournament early: Austin Daye.
• Uniform most likely to make Bob Knight break out in hives: Cleveland State, stirring memories of Mouse McFadden and Kevin Mackey.
• Here's a tangent: Should a team (I'm thinking Saint Mary's) get dinged for having a poor nonconference schedule when one of the teams they scheduled and beat (I'm thinking Oregon) went from the Elite Eight last year to the bottom of the Pac-10 this year?
• The one guy most likely to come out of the tournament hoping to never hear the name "Stephen Curry" again: VCU's Eric Maynor, universally identified as "This year's Stephen Curry."
• The worst conference with the most teams: Big Ten, with seven.
• One conference that 90 percent of America doesn't know exists until the tournament: The America East, represented by Binghamton.
• And for extra credit: Quick, name three teams from the Atlantic Sun Conference.
• Existential question: If four No. 1 seeds advance to the Final Four for the second straight year, does that mean it really isn't "Madness" after all?
• Upset alert! I've got Oregon State (13-17) making the finals in my CBI bracket.
• Coach most likely to use a timeout when you least expect it: Ben Howland, UCLA.
• An idea that never made much sense: The play-in game.
• Sure he's good, but where are we going to go for our dose of dismissive curmudgeonness? Clark Kellogg, taking over for Billy Packer.
• Strictly a football conference: The team with the best record in the SEC is an 8 seed.
• And in the end, Jelani Gardner wasn't even any good: Morgan State coach Todd Bozeman is this year's feel-good comeback story for getting Morgan State to the tournament after being banished from the NCAA for paying players during his time at Cal.
• Great name, but I'm already tired of it: Chief Kickingstallionsims, a 7-foot-1 reserve at Alabama State.
• Something you're sure to learn from an announcer near you: Tyler Hansbrough plays hard.
• First-round game most likely to be a wild mess within three minutes: Memphis-Cal State Northridge.
• One reason why: Northridge can't run with Memphis, but it's definitely going to try.
• Sure to be an overused story line: Michigan State's possible "home court" Final Four.
• I'm not a coach, but I think I know what Cornell has to do to be successful against Missouri: Control the tempo.
• Just a hunch, but he probably wasn't recruited by the Ivy League: VCU sophomore center Larry Sanders was quoted in USA Today as saying, "I didn't know the CAA from the SEC when I was being recruited. When someone asked me, 'Are you going D-1?' I was like, 'Is that the highest division?'"
• If backcourt play is really so important: Bet on a long run for Villanova.
• One Southern California freshman who looks to be figuring it out at the right time: DeMar DeRozan, USC.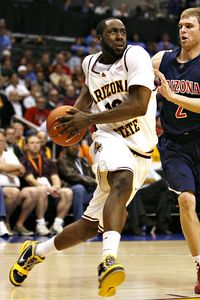 AP Photo/Danny Moloshok
James Harden will be one of the most exciting players in this year's tournament, mark it down.
• One who hasn't come close to the hype: Jrue Holiday, UCLA.
• Shame of the tourney: No Dominic James, whose presence along with Wesley Matthews and Jerel McNeal would have made Marquette a contender.
• It's like calling Obama an "up-and-coming politician": Anybody who thinks Arizona State's James Harden qualifies as a "breakout player" in the Stephen Curry mold hasn't been paying attention; Harden broke out a long time ago.
• Be wary of this guy: The guy who insists the tournament is crazy and wild and, of course, mad, even when the results don't bear it out.
• Most overseeded: Wake Forest, Oklahoma.
• Most underseeded: Washington, Temple.
• But with a CSUN degree, those guys are set for life: The basketball-player graduation rate at Cal State Northridge, as listed by The Institute for Diversity and Ethics and Sports -- 8 percent.
• Coach most likely to look like he slept in his clothes: Tim Floyd.
• Coach most likely to get credit for his team's performance: Rick Pitino.
• Coaches who don't look the part: Buzz Williams, Marquette; Matt Painter, Purdue.
• Most competitive region: The South, with North Carolina, Syracuse and Gonzaga.
• And yes, you read that right: Oklahoma doesn't match up well with any of those three.
• Best third-round game: North Carolina-Gonzaga.
• Most overused phrase to describe the possibility of two teams meeting at some point in the tournament: Collision course.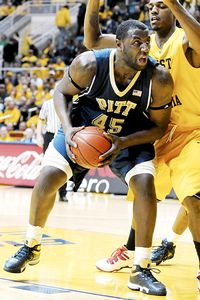 AP Photo/Don Wright
DeJuan Blair definitely likes to mix it up inside.
• According to Lane Kiffin, South Carolina's average is $7 an hour: In a survey that proves there is no end to surveys, it was revealed by USA Today that Duke graduates earn more than graduates from any of the other 64 teams in the tournament.
• One guy whose game is predicated on the leniency of the officials: DeJuan Blair, Pitt.
• One team whose game is predicated on the leniency of the officials: UCLA.
• Conference that will see the most teams go home in the first round: Big Ten.
• The predicted losers: Minnesota, Wisconsin, Michigan, Purdue, Ohio State.
• Most overrated "sleeper": Utah State, which won 29 games but came out of a dismal conference and beat almost no one along the way.
• Global reach: Greivis Vasquez, Maryland; Orlando Mendez-Valdez, Western Kentucky.
• And finally, always remember the cardinal rule of the NCAA tournament: Nobody cares about your bracket but you.
ESPN The Magazine senior writer Tim Keown co-wrote Josh Hamilton's autobiography, "Beyond Belief: Finding the Strength to Come Back," which is available on Amazon.com. Sound off to Tim here.