Commentary
The delicate balance of role-playing
Originally Published:
May 19, 2009
By
Tim Keown
| Page 2
You don't have to like a label to embrace it. The Nuggets don't like to be labeled thugs, but that shouldn't change their modus operandi Tuesday night when they open the Western Conference finals against the Lakers. Since the Lakers are labeled soft -- they don't like that one either, obviously -- the Nuggets know they have to play hard and play with an edge.
[+] Enlarge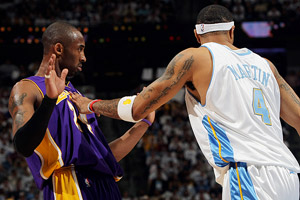 Doug Pensinger/Getty ImagesAll it takes is one flagrant foul to change this series.
Kenyon Martin is the hardest of the Nuggets' hard guys, and it's a role he clearly relishes. He's very good at what he does, regardless of how you feel about the tattooed lips on his neck. He's a rightful heir to the enforcer tradition of Maurice Lucas, Dennis Rodman and Charles Oakley.
It's an unsavory but necessary role, and it comes with a downside. Martin has a running start on this Lakers series. He's feuding publicly and continually with childish Mavericks owner Mark Cuban -- right now, as you read this, there's no end in sight. He has acted in a vile and classless way toward fans. He has gotten a national response that far exceeds his abilities as a player.
You might say Martin has outpunted his coverage, and he seems to be working toward something that will have NBA director of enforcement Stu Jackson poring over tapes before long. We've seen it before -- a guy adopts a role and gets a lot of attention for it. And then, before you know it, you're wondering how long the suspension might last.
(By the way, why are hockey goons treated with reverence while basketball enforcers -- guys who play the exact same role, except not on ice -- are loathed? They write songs about hockey goons; they write reports on basketball enforcers.)
The first two rounds of the playoffs haven't been particularly memorable, to put it charitably. Every plucky effort by the Rockets was offset by an equally narcotic one by the Hornets or Hawks.
The NBA was lucky to make it through Mavs-Nuggets with a few expletives, a mouthy owner and a couple of scenes best described as pre-riot. Lucky it was only five games.
Now, though, as the Nuggets and Lakers get ready to play at least six and probably seven (unless the Lakers can figure out how to win on the road), you can bet there are more than a few squirms in the head office. They're dreading what you're anticipating: Kobe Bryant going up against a team wanting to make a statement, and the sooner the better.
Here's the balancing act: Can the Lakers stop being soft, and can the Nuggets play just thug enough to push the Lakers around, but not thug enough to interfere with their game?
This Week's List
• And one more thing from Kenyon -- a perfectly undiagrammable sentence: Asked about Cuban's blog apology to his mother, Martin told hoopshype.com, "I ain't never known nobody apology to someone through other people."
• Your task: Find the direct object.
• Really, if enough of these pile up, we're all going to start wondering about the level of education earned by student-athletes recruited by Bob Huggins: Martin, again, about Cuban, again -- "Me and my mom ain't going to lose no sleep if we don't talk to Mark Cuban."
• The best part of any big league telecast: When the guy who isn't a former big league player criticizes a guy on the team and is met with complete silence from the former big leaguers who join him in the booth.
• Case in point: Last week Michael Kay noted that Mark Teixeira's defense has been subpar all season, an indication that he might be taking his offensive frustration onto the field, and for about a solid minute afterward you would have sworn David Cone and Paul O'Neill had their vocal cords slashed.
• Just for the heck of it: Enzo Hernandez.
• There are times in life when words simply fail, and there are times when their proper usage would be too cruel to contemplate: Steelers linebacker James Harrison won't go the White House when the Steelers are honored for winning the Super Bowl because -- by his reasoning -- the Cardinals would have been invited if the Steelers had lost.
• Once he spent some time thinking about it: He came to a realization that changed his life -- damn, the Lions never get invited to the White House.
• Maybe the only man in America who can make headlines for showing up for work on time: Terrell Owens.
• They were easily identified, though, because they were the only bikini-clad men running out of the arena with their biceps slapping their ears: At the Belgian bodybuilding championship, all 20 entrants left the stage and ran away when the drug testers showed up.
• And, finally, now that the initial shock has worn off, there's only one question anyone's asking: Will any of the 20 Belgian bodybuilders make the Hall of Fame?
ESPN The Magazine senior writer Tim Keown co-wrote Josh Hamilton's autobiography, "Beyond Belief: Finding the Strength to Come Back," which is available on Amazon.com. Sound off to Tim here.