Commentary
Practice is a spectator sport?
Originally Published:
August 18, 2009
By
Tim Keown
| Page 2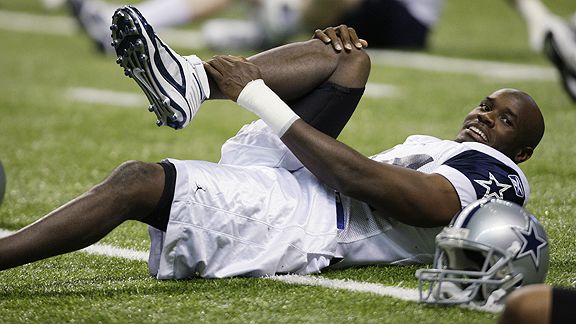 AP Photo/Eric GayPaying $10 to watch the likes of Roy Williams stretch? Welcome to the rock bottom of the sports world.
Nearly 15,000 people paid $10 to park their cars at the Alamodome on Sunday afternoon, then walked into the building and sat for several hours watching the Dallas Cowboys practice football.
(If this were "The Daily Show," right about now you would be watching Jon Stewart staring blankly into the camera, tapping his pencil.)
I missed Sunday's big crowd, but I was there Monday when about 4,000 people sat in the stands about an hour before the start of a 2:15 p.m. practice. Since I wasn't aware of the previous day's attendance, or the total attendance of more than 200,000 for training camp, I asked a security guard if this was an unusually large group.
He looked at me as if I'd questioned Roger Staubach's citizenship.
"There's nobody here today," he said. "I don't know where everybody is."
I thought, Work, maybe?
Instead, I asked, "What's a normal crowd?"
"We've had many days where the whole lower section is full," he said. "They don't charge, you know. Only for parking."
Give the Cowboys credit. Their practices are open, and not every team subscribes to that theory. The Raiders, to pick one team out of the air, allows the adoring public just one look at their team. Of course, maybe the Cowboys are less concerned the fans are going to catch a glimpse of Wade Phillips cold-cocking one of his assistants.
If anything, the Cowboys might want to protect their players from the demoralizing comments of their fans. Cornerback Courtney Brown, a converted safety, had a poor practice (cue Allen Iverson) on Sunday, sparking one fan to yell, "Cut No. 27." DallasCowboys.com had this information, along with another fan telling Brown to "keep walking to the showers" after he was beaten for a touchdown.
Wide receiver Roy Williams, who played at the University of Texas and for the Detroit Lions, understands how perfectly understandable and perfectly ridiculous it is.
"It's Monday," wide receiver Roy Williams said. "I'm pretty sure they've got other things to do, but instead they come here to cheer us on -- and boo and coach us. I love it."
While the Cowboys practice, ads flash on the Alamodome big screens. Vendors walk the aisles. To watch a man sell cotton candy to people who paid $10 to watch a football practice is to be optimistic about the future, to believe America can do anything.
Every year I wonder when the appetite for every single aspect of pro football -- training camp performance, exhibition games, merchandise, whatever else you've got -- will begin to wane, or at least level off. Now, after watching that many people watch practice on a Monday afternoon, I don't think it's ever going to happen. The UFL? I'm in.
But looking at the people enjoying themselves at a football practice -- stretching, individual drills, team stuff, more stretching -- had me thinking of a recent trend among coaches in the NFL.
• San Francisco quarterback Alex Smith was put in timeout by coach Mike Singletary last week after he threw an interception. He was sent from the field and forced to watch practice from a nearby hill.
• The Cowboys pull offensive linemen out of practice and put them in timeout when they screw up by jumping the snap count.
What do those two instances prove? To punish their players, coaches force them to watch practice. Short of going all Cable on them, it's the worst thing they can imagine.
This Week's List
• Good news for those of you who enjoy the view from the corner of Idiocy and Decay: A Twitter war broke out the other day between Arlen Specter and Chuck Grassley over health care.
• I know it makes sense for Michael Vick to talk to kids and community groups, but here's a task that would be much harder but perhaps more helpful: He needs to make a point of telling all his NFL buddies who defended him -- the it's-no-big-deal contingent -- that dogfighting and gambling is a big deal.
• Two things you know if you follow the Cowboys: (1) Backup center Cory Procter and backup quarterback Jon Kitna have had significant difficulty with their exchanges, and someone has compiled a stat that shows Kitna has had seven poor exchanges in training camp, four of them with Procter; (2) special teams coach Joe DeCamillis, who was injured when the team's practice bubble collapsed in the offseason, took a pain pill at halftime to get through the first preseason game in Oakland.
• Immediately, Grassley and Specter signed up to follow Mark Sanchez: The Jets have embraced Twitter for all their social-networking needs.
• Just for the heck of it: Dexter Carter.
• Someday we'll all find out it was the subject of a doctoral thesis titled "Irrefutable Proof They'll Eat Anything": Der Wienerschnitzel is proudly advertising the chili cheese fries burrito.
• Oh, and if you're not busy: I just saw a commercial telling me I can follow Howard Johnson's on Twitter.
• The Little League World Series means three things: (1) curveball after curveball; (2) coaches trying real hard to say the right things because they are acutely aware they're wired up; (3) Tony the Tiger, dormant for 51 weeks of the year.
• And finally: Brett Favre, because you knew it couldn't last.
ESPN The Magazine senior writer Tim Keown co-wrote Josh Hamilton's autobiography, "Beyond Belief: Finding the Strength to Come Back," which is available on Amazon.com. Sound off to Tim here.
SPONSORED HEADLINES
ESPN TOP HEADLINES
MOST SENT STORIES ON ESPN.COM