Commentary
Losing in Extra Innings
Originally Published:
September 2, 2009
By
Tim Keown
| Page 2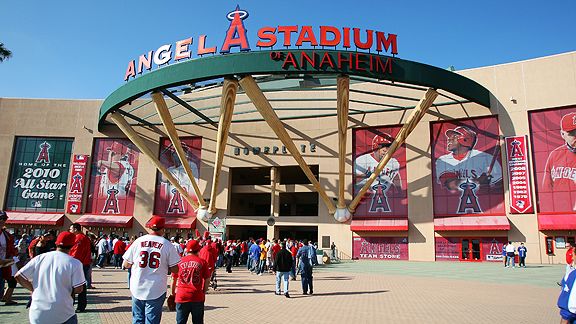 Paul Spinelli/Getty ImagesFor many fans, showing up at the stadium is the only way to see their team.
Blackout and blackout policies are in the news. After last week's column about the NFL blackout policy, and how self-defeating it seems in a time of record foreclosures, near-record unemployment and high ticket prices, along comes the Sports Business Journal with news that NFL owners were recently told that fans from as many as 12 teams could be blacked out from some home games this season (and, in one case, from all home games).
Three teams were affected by blackouts last year -- the Raiders, Rams and Lions. This year, the Jaguars have already conceded: None of their games are expected to be telecast locally this season, even though they are the only team in the NFL that doesn't have to sell out to lift the blackout. A crowd of 50,000 does the trick in Jacksonville, but it likely won't happen this year, not even once.
The Jags' eight expected blackouts this year will be one short of the nine total blackouts last year by the three most unwatchable teams in recent memory.
But the attention given to the NFL blackout policy has caught the attention of another group of sports fans -- those who bought Major League Baseball's Extra Innings package only to find a large and seemingly random amount of games unavailable because of MLB's local broadcasting "territories." A big group of fans wrote to complain about not getting the service they paid for.
Chris Boyle from Las Vegas wrote: I live in Las Vegas and purchase the MLB package through my cable company. We are currently blacked out by 6 teams. We get to watch about half of the Dodgers and Angels games on the two Fox sports stations and we receive about 75% of the Padres games. But we are totally blacked out of all D-Backs, A's and Giants games, Oakland and San Francisco are upwards of a 9 hour drive from Las Vegas. It is both annoying and idiotic to be blacked out of all those teams. It doesn't affect me very often because I am a Tigers fan but when they are playing I get quite upset about the situation. I have written letters to MLB asking about this problem but have never received any answers about their outdated policies.
Take a look at this. That's the MLB blackout map, and if you aren't prone to vertigo check out Las Vegas, where Boyle lives. It's a colorful swirl of blackouts -- the kaleidoscope of no. No Giants, no A's, no Diamondbacks. No Angels or Dodgers or Padres through the package that he bought at the beginning of the season with the idea of watching whatever game he wants.
And now look at the major league standings. As of Sept. 2, there's not a whole lot that hasn't been decided. However, if you could choose a handful of teams to watch, it would include the Dodgers, Giants and Angels. Add in the times you are blacked out when the Dodgers and Giants play the Diamondbacks or Padres, or the times you're blacked out of the A's and Angels, and you've pretty much got to be a Tigers fan to make you feel like you didn't waste the money you spent at the beginning of the year. That way, you're only frustrated when the Tigers play the A's and Angels (half the time).
Las Vegas is not alone. Buffalo is Yankee territory, but since the YES Network has not been able to come to an agreement with the local cable company, fans who bought the Extra Innings package can't watch the Yankees at all.
No YES, but a whole lot of no.
North Carolina has issues related to the Braves and Orioles, and Iowa ... wow, go back to that map and take a look at Iowa. Iowa is a mess. Iowa reminds me of a pair of pajamas I had in first grade. I might not be reading that map correctly -- the room is spinning -- but it looks like the Reds, Royals, Cardinals, Cubs, White Sox, Mariners and Seibu Lions have broadcasting rights to Iowa. What do Iowans get for their money? An endless loop of Astros-Braves?
If it's any consolation -- and if you're wearing those pajamas, there is no such thing as consolation -- the folks in the commissioner's office feel your pain. The issue has been raised repeatedly at owners' meetings, but the solution is more complicated than you might imagine.
I know what you're thinking -- it's an easy solution. Just don't be stupid enough to think that someone who is a nine-hour drive from a ballpark ought to get in the car rather than watch it on television. You're thinking the money that you pay to MLB ought to be exchanged for the service you thought you were buying.
However.
The NFL is a much simpler issue, since the only regular-season television contract is a national contract. Baseball deals with individual contracts on a team-by-team basis, and some teams might have a contract with a cable channel, which might show 140 games a year, and a local network affiliate, which might cherry-pick 22. If either of those entities holds rights to a certain area -- Vegas, for instance -- then Boyle is blacked out, even if the local cable operator opts against airing the game.
"Teams that have local rights buy that entire area," said MLB spokesman Pat Courtney. "They aren't likely to give that up without some givebacks."
In this scenario, a city such as Las Vegas -- huge, filled with sports fans, without its own team -- becomes a valuable commodity. Under the current system, though, the premise is destroyed. How do you market to a market that can't see 20 percent of your games?
Commissioner Bud Selig and right-hand man Bob DuPuy have been pushing to bring some sanity to the blackout policy, but so far the complications have exceeded their ability to overcome them.
There is hope, however. MLB is close to imposing a rule that would eventually turn the package into a true package for the fans in the candy-striped areas of the country. Under the proposal, MLB would tell teams and their broadcast partners they have a year to get the games on in the markets they control.
If a year passes and the games still aren't on television, MLB will lift all blackouts and air the games on the Extra Innings package.
It hasn't been enacted, and it isn't perfect, but it's something. It's not going to bring any immediate satisfaction to the Chris Boyles of the world, but it's good to know the people in power understand the insanity of the current system and are attempting to make it right.
If nothing else, they need to do it for the poor people of Iowa. Anything to get them out of those pajamas.
ESPN The Magazine senior writer Tim Keown co-wrote Josh Hamilton's autobiography, "Beyond Belief: Finding the Strength to Come Back," which is available on Amazon.com. Sound off to Tim here.
MOST SENT STORIES ON ESPN.COM