Single page view
By Tim Keown
Page 2
Listen closely as you watch the NBA draft and ask yourself: What would we do without the easy comparison?
Deron Williams is Andre Miller.
Gerald Green is Tracy McGrady.
Danny Granger is Shawn Marion.
Francisco Garcia is Tayshaun Prince.
Nobody, it seems, can be his own man.
The comparisons are always consistent. Black players remind us of other black players. White players remind us of other white players. Personally, I think Travis Diener and John Lucas III are the closest comparison you can make of any two players in this draft, but that crosses lines that aren't supposed to be crossed.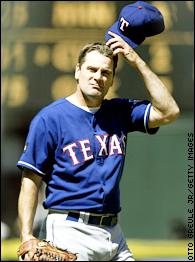 Maybe a few rejection letters would straighten Kenny out.
It's better to say, as someone actually did, that Mile Ilic's game looks a lot like Nenad Krstic's game. And isn't that enough to make you buy season tickets?
Another rule about comparisons: They must be positive. Nobody is billed as the second coming of Jon Koncak. Nobody is said to have the potential impact and longevity of Frederic Weis. Nobody is "Chris Washburn without the stability."
But just when you conclude that nobody has any imagination anymore, along comes something that renews your faith in the power of the mind. I forget where I read this tidbit, but some newspaper's mock draft made a proclamation regarding Roko Ukic, a 6-foot-5 guard from Croatia. Ukic, word has it, "has been touted as a better version of Zoran Planinic."
This, we are to assume, is a compliment. You can see every sportswriter who's ever been granted an expense-account junket to Eastern Europe to write about the next frontier of talent nodding his head in appreciation. He remembers seeing Planinic go off big-time against some team in some little town in a little gym where everybody was smoking and the building had no air conditioning.
The rest of us? This brings up the down side of globalization. If our team drafts Ukic in the first round, as some mocks suggest, we're going to need a better reason than a comparison to Planinic and a few grainy video clips from Croatia.
Just tell us he's McGrady and leave it at that.
This week's list
• Headline writers unite! The biggest and best news to hit sports copy desks in the last 30 years came Sunday when Birdie Kim's birdie won her the U.S. Women's Open.
• It's kind of like Byung-Hyun Kim changing his name to "Save," only different: Birdie Kim changed her name from Ju Yun Kim last year to separate herself from the South Korean rank and file on the LPGA Tour.
• Soon we might need to ask the question, "How will Larry Brown's decision not to leave the Pistons affect the Pistons?" It looks as if the Cavaliers have chosen Danny Ferry over Brown to run their organization, unless Brown made the decision for them.
• eBay item of the week: Doug Frobel 1984 near-mint condition Donruss baseball card, buy it now for $1.
• A look into Brown's list of story ideas reveals: Somebody needs to do a major expose on the impact Bill Laimbeer's possible move to the Knicks has had on the psyches of the Detroit Shock.
• The week's most troubling but predictable story: A Washington Post article by Mike Wise described the lack of respect accorded Manu Ginobili and the Spurs by some black NBA players who believe the foreign players are taking away too many jobs.