Since spring training started last week, we've been subjected to the usual blaring headlines. Who's on the juice? Who's reporting to camp in the "best shape of his life" (and possibly on the juice)? And of course, the gripping custody battle between Jeter and A-Rod over Alex's teddy bear, left at Jeter's apartment during a 2002 sleepover and never returned. (Come back soon, Mr. Snuffles!)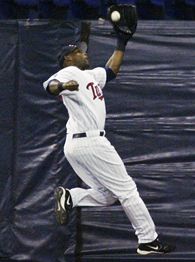 AP Photo/Paul Battaglia
Before signing with the Angels this past offseason, Torii Hunter played the first nine years of his career with the Twins.
Then there's this old yarn: Your favorite team plans to let Big-Name Player X serve out the last year of his contract, then lose him to free agency. It's a move that can send fans and reporters alike into fits of despair, wondering how management could show so little loyalty to a star player, and how the team can possibly compete if it keeps losing bodies to free agency.
The Minnesota Twins look likely to make this heartless decision with star center fielder Torii Hunter, having him play out his $12 million option, then likely letting him walk at year's end.
This isn't a good decision by the Twins. It's a great one.
Baseball's free-agency system grants players their freedom after six full major league seasons. By the time most players reach that threshold, they're pushing 30, or older. The clause that binds them to one team those first six seasons also keeps their salaries down, allowing teams to pay the minimum for the first two or three years, then paying far less in arbitration than they would on the open market.
A few Bonds and Clemens exceptions aside, baseball players most often peak in their mid- to late 20s. Yet teams routinely give players huge, multiyear contracts to lock them up into their mid-30s and beyond. They're banking on the player who just hit 40 homers at age 29 doing the same at ages 33, 34 and 35.
CACTUS LEAGUE STOP
Join Jonah Keri and Derek Zumsteg, author of the soon-to-be-released "The Cheater's Guide to Baseball," for a day of spring training baseball on March 3 in Peoria, Ariz. Mariners general manager Bill Bavasi and Padres GM Kevin Towers will be on hand to talk baseball and take questions from fans. Signed copies of the newly updated paperback version of "Baseball Between the Numbers" and "The Cheater's Guide to Baseball" will be available for sale. A game between the Mariners and Padres will follow.
For more information, and to learn how to RSVP, click here.
More often than not, this strategy fails. When Jeff Bagwell signed a massive five-year extension in 2001 to stay in Houston, he was coming off a huge year and was widely considered one of the game's best players. An arthritic shoulder soon began to wear him down. By 2006, the Astros were filing insurance claims to recoup most of the $17 million they owed their DL'd former star; they shelled out another $7 million to buy out his contract this year, even though Bagwell stopped being an above-average player four years ago.
In 1998, the Yankees signed Bernie Williams to a seven-year, $85 million extension, just as he was turning 30. Williams had his last strong season in 2002, only to decay into scrubdom. Having committed to Williams too long in the past, the Yankees now have their own PR nightmare to muddle through this spring.
Hunter turns 32 this season. Long considered one of the game's best defensive players, his range in center field has slipped over the years. He's never been an elite hitter, mixing some decent power and speed numbers with a lousy .323 career OBP. The Twins also have bigger fish to fry, with defending MVP Justin Morneau about to get more expensive, and the game's best pitcher, Johan Santana, eligible for free agency after next year. As strong a reputation as the Oakland A's have for churning out winners after letting top talent go, the Twins have been just as effective, replacing more expensive, older Twins veterans with grade-A minor league talent and not missing a beat.
Branch Rickey used to say that teams are better off getting rid of a player a year early instead of a year late. The Twins have learned this lesson, even if many teams still haven't.
Jonah Keri is a regular contributor to Page 2 and the editor and co-author of "Baseball Between the Numbers." You can reach him at jonahkeri@gmail.com.