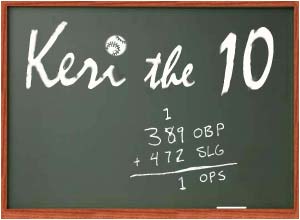 As fun a time as I had in Vegas last weekend,
last week's column
about watching baseball in the sports book didn't sit quite right with me. No matter how many caveats I offered about luck playing a huge role in my 6-1 performance, I kept coming back to the column's self-congratulatory tone, even though it was unintentional. As a good Canadian boy, I was raised on the virtues of humility and politeness, where self-deprecation is your best friend.
So sitting here in my hometown of Montreal writing my second-half MLB preview, I thought it only fitting that I call myself out for some of the ludicrously off-base predictions I made at the start of the season.
• Kei Igawa will help the Yankees.
• The Mariners should and probably will let Ichiro walk.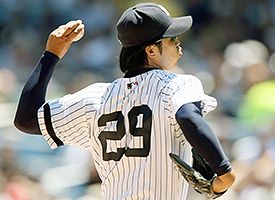 Al Bello/Getty Images
The Kei Igawa experiment hasn't exactly worked out for the Yankees, needless to say.
• Anthony Reyes (0-10, 6.42 ERA), Ryan Shealy (.221/.286/.308), Terrmel Sledge (.224 average) and Chris Iannetta (.198 average) will have breakout seasons.
• And my personal favorite … Pat Burrell is underrated.
Ah, now I feel better. Enjoy these second-half predictions, which were forged through hundreds of hours of watching games, perusing box scores, studying trends and checking my gut. And when many of those calls fall completely flat, rejoice in knowing that baseball remains impossible to predict -- and impossible to resist.
1. The trade deadline will be a dud.

Every year, teams learn more about the ridiculous inefficiency of the free-agent market. Players routinely go for twice as many dollars for every win they add to their teams' ledgers. To combat this problem, several teams have moved to sign their free agents-to-be to long-term contracts, avoiding the bidding wars that can ensue on the open market. The recent signings of Mark Buehrle and Ichiro are the biggest examples of this trend. But many other big names aren't going anywhere, either. The Braves won't trade Andruw Jones in the middle of a pennant race. Every Scott Boras client is going to balk on signing an extension, drastically lowering his trade value. Players such as Dontrelle Willis, Jermaine Dye and Akinori Otsuka are dealing with ineffectiveness, injuries or both, making them less desirable trade targets. And as we saw from the Nationals last year, potential sellers are becoming more willing to stand pat and grab compensatory draft picks at season's end when their walk-year players leave, rather than taking 50 cents on the dollar in a midseason trade.
All these factors make the pool of potentially tradable players shallower. With two weeks to go until the deadline, we've seen practically no deals of note so far, which is already unusual. Don't expect a huge flurry of deals between now and July 31 either. A Miguel Cairo trade could appear epic in scale, given how little action we're likely to see.
2. The Twins will be a factor in the pennant race -- again.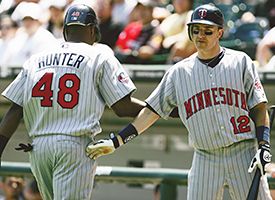 Jonathan Daniel/Getty Images
A career year from Torii Hunter has helped the Twins overcome Jason Tyner and other power-challenged teammates.
The low-budget team that's won four division titles in the past five years with tiny payrolls but
hasn't
had a New York Times best-seller written about it is back in the race. The Twins have won four in a row since the All-Star break, sweeping the "Moneyball" darlings in Oakland. Johan Santana is a leading contender in the Cy Young race for the 98th year in a row, and the back of the bullpen is lights-out again. Will Terry Ryan finally loosen the purse strings and trade for a big bat? For once, he might not need to. The Twins are no longer the run-deprived "Piranhas" who need to scratch and claw for every run. Torii Hunter's career-best season (.300/.343/.549) makes him a fourth big threat this year alongside Justin Morneau, Joe Mauer and Michael Cuddyer. The Twins are sixth in runs scored in MLB this year, compared to 13th last year, 25th in 2005 and 17th in 2004.
Still, this is a lopsided lineup, with Nick Punto and the Jasons (Kubel, Tyner and Bartlett) all being below-average, Punch-and-Judy hitters. Six games off the pace in the AL Central and moving up, few teams would benefit more from an upgrade or two than the Twins.
3. The Mets will get Pedro Martinez back in the next month. He won't make a difference.

At the start of the season, I pegged the Mets and Diamondbacks as the two strongest teams in the NL. Both have disappointed a bit, with the Mets in first place by a narrow margin, having scored just 24 more runs than they've allowed, and the D-backs in third in the NL West with a minus-28 run differential that suggests they've been lucky to hold up this well. Now both teams are hanging their hats on big returns from their veteran stars, Pedro Martinez and Randy Johnson. While each pitcher has seen recent success (Unit this year, Pedro last), each team's biggest weakness remains, surprisingly, its offense. The Mets rank 22nd in MLB in runs scored, the D-backs 26th. Meanwhile, they're fifth and seventh, respectively, in team ERA.
But at least Arizona has somewhere to put Johnson, with Micah Owings struggling after a hot start. The Mets' worst starting pitcher this year has been Tom Glavine, the nominal staff ace with a still-solid 4.15 ERA. Bolstered by a league-best defense that gobbles up balls in play, John Maine, Oliver Perez, Orlando Hernandez and Jorge Sosa have cobbled together microscopic hit rates. The Mets are the most talented team in the NL and might well hold on and make the playoffs with nothing more than their current roster. But to improve their odds of success, they'll need a healthy outfield and a productive Carlos Delgado a lot more than another starter. Even when it's Pedro.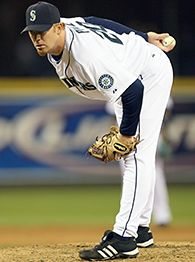 Otto Greule Jr/Getty Images
Seattle's J.J. Putz, perfect in 26 save opportunities this season, deserves consideration for the
AL Cy Young Award.
4. The Mariners' Cinderella story will last all the way to midnight.
The Brewers have been leading the NL Central for so long, they're no longer seen as underdogs. Meanwhile, the Mariners have a better record, despite a roster seemingly filled with ineffective, who-dat players. An MVP-caliber season from Ichiro and a relief performance so dominant from J.J. Putz that it deserves Cy Young consideration have placed the M's within striking distance of both the AL West lead and wild card. But Safeco Field will stay full well into September because of what's to come: a healthy, dominant Felix Hernandez and the arrival of top prospect Adam Jones, a player who'll instantly provide a big improvement both offensively and defensively in left field.
5. The Cubs won't win the NL Central.

They're going to win the wild card instead. The Cubs came from behind to win Sunday, completing a three-game sweep of the Astros. That hiked the team's record to 15-4 since June 22, the best mark in baseball during that stretch. But while Milwaukee is sweating the chances of the Brewers' first playoff berth in 25 years, I don't see the Brewers folding. Instead, look for the Cubs' run to continue, with them eventually passing the runners-up in the NL East and West to claim the wild card. Seven weeks into the season, the Cubbies owned the worst record in the majors in one-run games. As I noted at the time, good teams usually don't maintain that kind of futility for long, and most indicators suggested that the Cubs were a good team. With electric call-up Carlos Marmol shoring up the bullpen, Carlos Zambrano back to ace form and the offense heating up, they're looking good for a playoff spot.
6. The Yankees will make a run of their own -- but fall short of the postseason.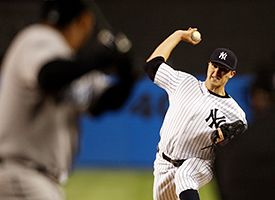 Nick Laham/Getty Images
Even when 21-year-old phenom Philip Hughes returns, the Yankees might have too steep a hill to climb.
Super rookie Phil Hughes is due back soon, Bobby Abreu's on-again, off-again offense is on again, and the Yankees' schedule over the next three weeks is straight out of Little League. The Bombers don't even need to point to the future to generate optimism: Only the Red Sox and Tigers own better run differentials in all of MLB. A few games into the season, you could chalk up that kind of divergence to a couple of blowout wins. But 89 games in, that trend takes on more meaning, suggesting the Yankees are a good team that's been the victim of bad luck. They'll fall short because the Indians and Tigers are too good, with leads too big to be overtaken. But a 90-win season should be in the cards in the Bronx, setting up an offseason fraught with what-ifs.
7. The AL award winners will be:

MVP: Alex Rodriguez -- beats out playoff-bound Vlad and Mags, and the most deserving candidate, Ichiro
Cy Young: Johan Santana -- by a hair over 20-game winner C.C. Sabathia
Rookie of the Year: Daisuke Matsuzaka -- by a landslide
Manager of the Year: Eric Wedge -- division title will seal the deal
8. The NL award winners will be:

MVP: Prince Fielder -- 50 homers on first-place team equals MVP
Cy Young: Jake Peavy -- Petco's friendly confines help, but Peavy is the best in the league regardless
Rookie of the Year: Ryan Braun -- his numbers would be gigantic had he gone north with the Brewers on Opening Day
Manager of the Year: Ned Yost -- first division title in 25 years equals MoY
9. The AL playoff teams will be:

East: Red Sox -- too many weapons, too big a lead on the Yankees
Central: Indians -- one-two punch of C.C. Sabathia and Fausto Carmona, second-half surge by Travis Hafner give Tribe narrow edge over Tigers
West: Angels -- improved offense will get a boost when Mike Napoli, Howie Kendrick and Juan Rivera return from injuries
Wild card: Tigers -- a healthy Joel Zumaya would make this team a World Series contender
10. The NL playoff teams will be:

East: Mets -- have shown impressive depth this year in support of front-line talent
Central: Brewers -- Yovani Gallardo is a valuable X factor if starting pitching wavers
West: Padres -- a healthy Brian Giles and improving Kevin Kouzmanoff will give offense the lift it needs
Wild card: Cubs -- not an ideally constructed roster, but rising offense gives them leg up on NL West contenders
Jonah Keri is a regular contributor to Page 2 and the editor and co-author of "Baseball Between the Numbers." You can contact him here.