By John Kruk
Page 2
Forget all the analysis, the breakdowns, the special microphones and cameras. I'm telling you: You can see as much as you can see on television, and you still don't know what it's like to be a player at the All-Star Game.
I know that sounds crazy. Of course, TV can't bring you the full experience; but what I'm talking about is all the behind-the-scenes stuff that no one gets to see.
First of all, every second of your time is mapped out by MLB. Now, I'm not a real "schedule" kind of guy. I'm more of the roaming-free-spirit-get-home-at-4-in-the-morning kind of guy. And that's great ... but not when you're doing an event at 9 a.m.
Sure, MLB gives you some time to sleep at night, but that was never on my schedule. And neither were the clinics, FanFest and signing my life away.
Everyone loves to practice their autograph. We've all done it. Okay, now try doing it for four hours. That's no joke. How long do you think it takes to sign over a 100-dozen baseballs? Not to mention all the caps, helmets, jerseys ... you name it; we sign it.
Most of this stuff goes to charities, which is great. But I'm sure the corporate sponsors get some, too. And why not? There's more than enough to go around.
The other big thing on your agenda is the gala after the Home Run Derby. It's a big event filled with sponsors, executives ... basically, a bunch of guys who gave tons of money to be there. So MLB wants all the players to be there, too. Right, they "want" you to be there.
I went to three All-Star Games as a player, and I'll tell you: I only went to one of those galas. And that one wasn't even my idea. I had a room next door to the late Darryl Kile, and somehow we hooked up. Well, Darryl gets it in his head that if we don't go to this gala, we'll be in trouble. So we went. I stayed for about an hour, tops. Why? Because like every year, only a dozen or so players actually show up.
Houston was no different. I saw Clemens there, but he was everywhere in Houston during the break. Tom Glavine stayed, and so did Curt Schilling. But the rest of the guys? Yeah, let's just say for them that ... uhh, something suddenly came up.
Don't get me wrong. It's still great to represent the fans when they vote for you. But I'll tell you -- when you get a look at that schedule, you're pretty damn jealous of the guys who are at home watching the game on TV with their families.
RIGHTEOUS ROCKET
When people look back at this year's All-Star Game, they'd better not remember it as the night Roger Clemens got shelled.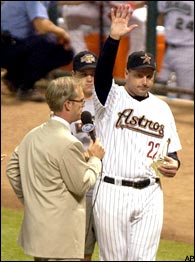 Roger Clemens was rightfully honored during the All-Star Game in Houston.
If that's what you think, then you don't know the half of it.
The Rocket was the host for the whole damn town.
He did everything. He was everywhere.
You think hanging out with corporate types until at least midnight is part of Clemens' pre-start routine? Hell, no.
But that just shows what he was trying to do this weekend.
I tip my hat to him. I couldn't have done it. I grew up in a town of a few thousand people, and I'd be kidding myself if I thought I could entertain even half of them for a weekend.
More than any guy I've ever seen, Clemens went out of his way to make everyone in Houston happy. Houston isn't even a great baseball city. It's a good baseball city, but not a great one.
Clemens tried to make it great for one weekend. And he did. He did more for baseball in the city of Houston than anyone not named Nolan Ryan ever has.
Now, with the trading deadline coming up, it's this kind of contribution that teams need to remember -- because they should give him a shot to win it one more time.
Clemens falls into that category -- guys who should be given a shot to win it all, out of respect for what they've given to the game. You honor them with the offer.
What I've heard from Houston is that if the Astros come back from the break and stink it up, management is willing to let Clemens go to a contender. If he wants.
Clemens' take? Like he's done all year for Houston, he puts the team first. Clemens says if the Astros can get something for him, then they should go ahead and trade him.
Despite what some people say about the Rocket, I'll tell you this: You don't have that kind of attitude if you're not a class act.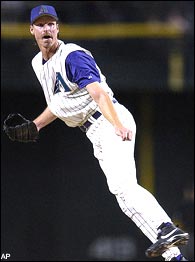 Randy Johnson, like Roger Clemens, deserves a shot at the World Series.
Still, how great would it be if he went back to Boston. The prodigal son returns home, twice in one season. That would be unreal.
Randy Johnson falls into this category, too. If a team pulls the trigger and trades for Johnson, it's definitely a sacrifice for the Diamondbacks. Who do you think Arizona fans are coming to see every five days?
I know Clemens and Johnson are the two biggest names being thrown around this season, but there are plenty of other guys who should get this consideration, too.
Like him or not, Barry Bonds definitely fits into that category. Same thing for Bonds as for Randy: You think fans are coming to see J.T. Snow and A.J. Pierzynski?
You just want to see guys -- the ones who've given the fans so much -- get a shot at winning on their way out. No one deserves a ring. You have to earn it. But these guys have earned a shot.
Whether Clemens and Randy get traded or not -- this year has definitely been a success story for both of them.
Especially the Rocket.
ALL-STAR NOTES
If you were looking around for your favorite players in the dugout after they came out of the game, and couldn't find them ... I can tell you where they were. Halfway home.
Clemens didn't even stick around. Well, he did for that lifetime achievment thing; but after that, he was gone. He'd more than done his time.
Now, I was never rich enough or smart enough to think of this for myself, but most of these guys have private planes waiting for them to take them back home. Can you blame them?
If you're an A's fan, when would you want Mark Mulder back home? Wednesday afternoon, or Tuesday night? Forget about the pitchers -- how about the position players who have to play ball on Thursday?
I know these guys are supposed to give their all, but not at the expense of being less than 100 percent for a regular-season game. Especially if they're on a team in the hunt for a playoff spot ...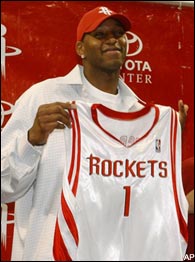 Tracy McGrady's an All-Star all right, but not at the plate.
A small controvery was brewing in Houston on Monday.
Seems that newly-minted Houston Rocket Tracy McGrady wanted to take batting practice.
Now, he didn't want to do it when either team was in the cage. He just wanted to get a few swings in.
I guess Jason Giambi didn't mind too much, because he offered to throw to him.
Major League Baseball ... well, that's another story. They said no.
And I have to say I agree with them.
Having someone like McGrady be a fan of the game is great. MLB can use all the help it can get. But actually being a part of the All-Star Game should be a tad off-limits.
If McGrady wanted to play that badly, someone should've told him to call Kenny Mayne. I'm sure Kenny would've put him on the celebrity softball roster ...
Now let me start this next item off by saying I hope this isn't true. Okay, here it is: My sources tell me that Pedro Martinez had the Red Sox shift their rotation ever so slightly so he could get a week off. Why? Well, to go home to the Dominican Republic!
That also means that he missed last weekend's series with the Rangers. That's a first-place team, and it was a huge test for Boston.
I can't fathom how any team would let this happen, ever. Forget the fact that my sources tell me Pedro does this every year.
If this is the way you're going to run your organization, don't ever stop and wonder why you haven't won it all -- because you've got the answer right in front of you ...
Coming back from Houston, guess who I sat in front of on the plane?
"American Idol" Ruben Studdard, larger than life in more ways than one.
This guy's a star now, I guess. He gets the "last on the plane" treatment. And he is met by a bunch of handlers who take his luggage and whisk him away in a limo. So I guess that means he's a star.
I tell you one thing that shouldn't be a shock: Ruben is a big dude. They say the camera adds 10 pounds when you're on TV. Well, Ruben doesn't need the help.
John Kruk is an analyst for ESPN's "Baseball Tonight."