By John Kruk
Page 2
When the pennant races heat up every September, it doesn't just mean that a few teams are kicking it into a higher gear. It's also a sad reminder to some of the fans out there that their favorite team -- the one that started the season with big plans for the playoffs -- is actually going to have plenty of time on its hands in October.
And when a team that was supposed to contend for the playoffs doesn't, that means one thing -- somebody didn't deliver like he was supposed to.
A couple of months ago we had the All-Star Team. Now we have the Non-Star Team.
FIRST BASE: Carlos Delgado, Toronto Blue Jays -- First of all, what is this guy thinking? The Blue Jays tell him he's about to be traded to the Dodgers, a contender, and he basically says, "No thanks, it's more fun being 20 games back up here in Canada." That just doesn't make any sense. There's your first sign that Carlos wasn't using his head this year. Second, this guy used to be an offensive force. Now? Well let me ask you this: Outside of the trade talk and that story about the national anthem, have you even heard of Delgado this year?
SECOND BASE: Bret Boone, Seattle Mariners -- The Mariners thought Bret would be a solid contributor to the middle of their lineup this season. Not even close. Bret isn't the only one who disappeared on the M's this year, but come on -- a .250 average with 112 strikeouts? Seattle might have been better off with Bret's brother Aaron -- and he blew out his knee.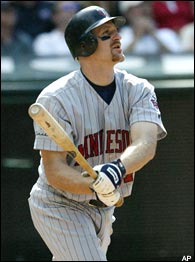 Koskie's lucky his teammates have stepped up this season.
THIRD BASE: Corey Koskie, Minnesota Twins -- Unlike most of these guys, Corey will get another shot in October. But so far, he hasn't done much for the Twins. Corey is only hitting .249 with 59 RBIs; and at $4.5 million per season (that's quite a bit of money by Minnesota standards), there's little doubt that they expected more of him.
SHORTSTOP: Rich Aurilia, Seattle Mariners -- Right, the Mariners again. Hey, they aren't in last place by accident. Well, Rich is out in San Diego now -- he wore out his welcome in Seattle after 73 games. The M's didn't trade him, either. Outrighted him. Kicked him to the curb. He wasn't that expensive ($3 million per), but when you hit .241 with four homers and 28 RBIs, any price is too much.
CATCHER: Mike Piazza, New York Mets -- I know Mike has been hurt, but that doesn't mean he hasn't been a disappointment. I mean, 45 RBIs and 18 homers for one of the greatest-hitting catchers of all time? I'll tell you, stats like that don't just hurt you -- they can kill your team. Especially a team like the Mets, who have been building around Piazza for a few years now. Mike might only be 36, but he got old pretty fast.
LEFT FIELD: Pat Burrell, Philadelphia Phillies Pat is doing better this year than last, but that doesn't mean Philly fans should be happy with it. Are these the numbers we should expect? A .266 average, 20 homers, 112 strikeouts? I think when management gave him his $50 million contract, they were expecting a little more.
CENTER FIELD: Vernon Wells, Toronto Blue Jays The Blue Jays were definitely expecting a better year from Vernon than they're getting. He's a guy who's hit 40 homers and knocked in 100 runs in the past. This year? 16 homers and 53 RBIs? At least no one notices what he's doing, or not doing. Remember, he's on the Blue Jays.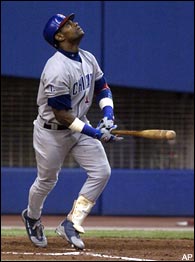 Sammy's down year hasn't helped the Cubs' playoff chances.
RIGHT FIELD: Sammy Sosa, Chicago Cubs -- If someone had told you that Sammy would only hit about 35 homers for the season and bat about .250, you know you wouldn't believe him. Now, there are other guys on the Cubs who have been struggling, too. And that's tough, because after last season, there were plenty of people picking them to go far in the playoffs. Now their leader for the last few years isn't producing, and Chicago might be home in October yet again.
RIGHT-HANDED PITCHER: Esteban Loaiza, New York Yankees -- What a difference a year makes. Last season, second place in the Cy Young Award voting. This year? Esteban is coming out of the bullpen on a team with a rotation that's shaky at best. If that doesn't tell you the kind of year he's having, I don't know what does.
LEFT-HANDED PITCHER: Barry Zito, Oakland A's -- Does anyone even remember that Barry won the Cy Young Award a couple of years ago? Okay, he says he's finally found his curveball. That's great, but it's September. Isn't that a little late? He should thank he teammates for keeping the A's in the playoff hunt. Barry's 10-10 record certainly hasn't created any distance in the AL West.
CLOSER: Arthur Rhodes, Oakland A's -- I know Rhodes got hurt, but the A's haven't had any confidence in him all year. It only took until June for Oakland to trade for the Astros' much-maligned closer, Octavio Dotel. Dotel was killing Houston with his inability to close out games, but he was still a better option for the A's than Rhodes.
MANAGER: Larry Bowa, Philadelphia Phillies -- I love Larry. He's a friend and I hope he doesn't lose his job, but look at the numbers. Not just the win-loss numbers, but the number of people (myself included) who had Philly taking the NL East. Some people had them in the World Series. No one has underachived more this season than the Phillies.
John Kruk is an analyst for ESPN's "Baseball Tonight."