Commentary
Jon Bon Jovi on football, music, more
Originally Published:
October 26, 2009
By
Laura Lane
| Special to Page 2
On Thursday, it was announced that Bon Jovi will be the first band to play the new stadium at the Meadowlands, on May 26, 2010. Before the band played a free concert in the parking lot to celebrate the announcement, Jon Bon Jovi sat down with Page 2's Laura Lane to discuss football, music and more:
[+] Enlarge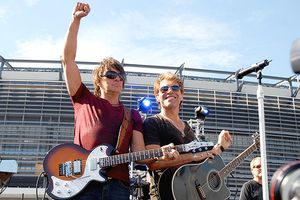 Michael N. Todaro/Getty ImagesBon Jovi performed right outside the new stadium at the Meadowlands on Thursday.
Laura Lane: This new stadium doesn't have a sponsored name yet. Bon Jovi Stadium has a pretty nice ring to it, right?
Jon Bon Jovi: I thought of that this morning myself. You know, Jimmy Buffett's got Land Shark Stadium -- why not Bon Jovi Stadium, until they get another name? It fits nice.
I'm on board. What's your first memory of being at Giants Stadium?
Giants games in the losing years before the '86 Super Bowl -- coming on that odd occasion when a ticket would trickle down from my uncle to my dad to me. My first time playing here was a momentous occasion, obviously. I have a lot of memories, 'cause I'm a season-ticket holder. I mean, I go every Sunday I can. I was at the last game two weeks ago, when they played the Raiders. I go to games. It's great.
What was that like, when you first played at the stadium you grew up in?
This was the stadium you'd call "baby" when you'd go by. You go, "Hello baby, hello baby. I'm coming home baby." You know, 'cause this is where you go to games. If it was a Giants game, on occasion a Jets game, New Jersey Generals games, a rock show -- you'd come here to the complex, and this was the pinnacle. Playing here -- this is a place that not too many people have ever played, let alone played as many times as we have. … Anytime you come here, it's a big deal. And then being asked to open the new place is an even bigger deal, 'cause you're the first.
You also opened the Prudential Center in Newark, and now you'll open the new Meadowlands stadium. They should proclaim a Bon Jovi Day in New Jersey next. What does this mean to you, opening two historic places in your home state?
It's good luck. You know? Get us to open up your business for you. We could do birthday parties. Why not?
The Giants are your team. They started off pretty well this year, 5-0, but they had some trouble last week against the Saints. [This interview took place before the Giants' Week 7 loss to the Arizona Cardinals.]
They got a spankin'.
Yes, they did. How does the rest of the season look to you?
I don't think last week should have them too worried … they saw what was wrong and how that guy [Marques] Colston burnt them. And Drew Brees, dang he looked good. So, um, we got a spankin'. And that's OK. That's why the season's 17 weeks long. I have a lot of confidence in the Giants. I think they're going to go far this year.
Being an owner [of the Arena Football League's Philadelphia Soul], how has that affected how you watch games as a fan?
It has affected me. I built the Soul on one adage, which I think other people have since adopted. I wanted men of character, not characters. … And affordability -- that was something I advised seriously, affordability in this economy. Sometimes the big guys get a little out of touch.
What do you see for the future with the AFL?
We've worked very, very hard to try to bring it back in a bigger and better fashion. It's becoming increasingly difficult, and I don't want to sound too down on it, but we have worked harder in the last year than we did in the first five years. … I don't know. I don't know if there's a future for the way we wanted it to be.
Do you have future plans in the sports world if the AFL doesn't pan out?
Ideally, I'd love to get into the NFL, but unless you have a billion dollars laying around … you know, the right partnership in the right organization, I could really bring something unique to it. But the Giants have 14 owners.
You could always go back to being the team mascot again. You've said you were the Giants' mascot back in the day. What did that entail?
I laugh when I say that, because I was lucky enough that [Bill] Parcells allowed me, as a football fanatic and a guy that would stay out of the way, entrée. And if you remember back in the '80s, MC Hammer would be on the sidelines at the Atlanta Falcons games, with the bright suits on and sunglasses. Even with my long hair, I would tuck it up in a hat and I would look like the water boy, never drawing attention to myself, just really loving and appreciating the game and the business of the game. So in turn, I was allowed more and more and more entrée, and got to be on the sidelines at the Super Bowl and got a ring. So I remain close with Parcells, Bill Belichick, Charlie Weis -- subsequently that whole family tree.
Laura Lane is a contributor to Page 2 and ESPN The Magazine. She is also a host of the "ESPN Inside Deal" video magazine.
SPONSORED HEADLINES
ESPN TOP HEADLINES
MOST SENT STORIES ON ESPN.COM