Commentary
Chuck Liddell's dancing diary, Week 2
Updated:
October 5, 2009, 3:38 PM ET
By
Chuck Liddell (as told to Laura Lane)
| Special to Page 2
Editor's note: UFC Hall of Famer Chuck Liddell is taking his skills from the octagon onto the dance floor by competing on ABC's "Dancing with the Stars" (Mondays at 8 p.m. ET and Tuesdays at 9 p.m. ET on ABC). While knockouts might not help Liddell with the samba, if there's one thing the MMA legend knows how to do, it's win. Liddell will be checking in with Laura Lane and Page 2 every week he's still on the show, which -- if he has anything to say about it -- will extend all the way to the finale.
We had to get to the show pretty early [last] Monday. We were actually a lot busier than I thought. I was nervous most of the day. I'm not used to being nervous. I was bouncing around to get warmed up. It's not the same as getting ready for a fight. I was nervous until I started. I don't get nervous before fights. That's the difference. I go out and get kicked in the head and punched and I don't get nervous. But I go out to do a dance for a minute and a half in front of people, and I had so much adrenaline going. Dress rehearsal went OK. I made a couple mistakes, so I was like, "Aw, man." I knew I could make it through the dance, but I still wanted to do real good. I think I was more worried about disappointing Anna [Trebunskaya, dance partner] than anything. I didn't want to mess up because we had been working so hard at it.
My tuxedo fit great. They like it kind of tight and fit for dancing. It was Anna's idea to use the hat. She choreographed everything and that was her thing. My daughter and my son came out to watch me. I had quite a few friends who came out. Dana White and Frank and Lorenzo Fertitta came out. They're busy people, but they wanted to come. It was good to see them in the audience. They were impressed and thought I did a good job. Now I just need to find a way to impress the judges, too.
[+] Enlarge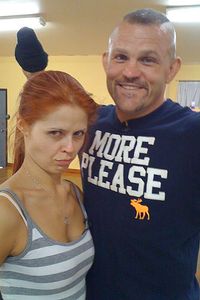 Courtesy of Chuck Liddell Chuck Liddell was kind enough to share this photo from dancing practice. He offers the caption "mean dance teacher."
Len [Goodman, judge] told me I need to get in touch with my feminine side. You know, I'm not all too sure what he meant by that. I'm going to try to do the dances the way I think they're supposed to be done and the way Anna tells me to do them. You know, you can still be masculine and dance well. In interviews, Anna was saying, "I've been with this guy for five weeks now, and I don't think he has a feminine side."
I got a score of 16 out of 30. I thought the scores were a little low for everybody. But they're talking technical stuff, which I don't know anything about. I mean, Len gave Mya a 5. I thought I could do better, but I didn't think I did as bad as the judges thought I did. It was funny, the judges were surprised at how well I did and then the guys gave me 5s. They were both really shocked I did that well. What did they expect me to do? Fall down? I don't know if they get to see the footage of the earlier stuff of me doing stuff, but if they saw some of that, I can see why they were surprised.
I didn't think [former Dallas Cowboys wide receiver] Michael Irvin did as bad as they thought he did, either. I thought the other athletes did great. It's easier for me to relate to them because they have the exact same issues I have, ya know? I thought Michael Irvin got picked on. I thought he was great. We want to get bent over into the athletic position when we move. Michael and I were talking about how we're so used to telling our body what to do and it does it. We keep telling it to do these steps and it just doesn't want to do it. The crowd was great. I think part of it was they weren't expecting much from me, either.
It was a relief to hear my name called at the results show. I wasn't too worried because there was nothing I could do, so I don't get that nervous there. I go back to being me at that point. I was sad to have anybody go [actor Ashley Hamilton and singer Macy Gray were eliminated]. I was talking to Ashley for a little bit. It just kinda sucks. Macy's partner was Jonathan [Roberts], which is Anna's husband, so I was kind of bummed out for her. After the results show, I went to practice for a couple hours that night. It was a long day. We've got another six or seven hours of practice today. There's a couple different areas that I'm not used to working. I'm a little sore in my hips, but I'm doing fine now and it's getting better and better.
Next week is the tango. I like the tango so it should be fun. We've got a good routine. I'm getting better at staying in frame and doing some of that other stuff that you need to do. I don't have to worry about smiling in this one too much. It's a little but easier of a look for me. It takes one more of the layers off that I don't have to think about as much. It's not bad now to remember steps. It was when we first started. You tell me five steps and I'd be like, what? What were those five steps again? Now, I'm like, OK, I got it and I'm practicing on my own. I get a little nervous about seeing the costumes. Anna's kind of conservative when it comes to dressing the men so I don't think I can get too flashy yet. They gave us a bag of makeup and stuff but I gave it away to some people. I'm trying to get out by the pool and get a little tan.
I was happy to get through the first week. Hopefully I can get my scores up enough, and if I get a lot of votes I can maybe stick around and have a shot at winning it … but I'm going to need a lot of votes.
To check out more updates from Chuck follow his Twitter feed and to vote for him check out the "DWTS" Web site.
MOST SENT STORIES ON ESPN.COM