Single page view
By Jeff Merron
Page 2
George Steinbrenner vs. Arn Tellem. It's not likely that last weekend's spring training battle, The Boss vs. The Agent, will go down in baseball history as even a footnote. Heck, it probably won't even crack "the worst of George" list.
But it reminds us that our thoughts of spring training as the timeless pastime on the most bucolic fields is, in large part, a delusion.
Because spring is the time of some mighty battles, and not just for starting positions and roster spots.
10. Connie Mack vs. Clark Griffith
Orlando. April 4, 1948. The challenge: Phillies manager Connie Mack, 84, vs. Senators owner Clark Griffith, 78. The contest: a 90-foot race from third base to home, before an Athletics-Senators exhibition. The scene: an ambulance delivered the two contestants, along with a doctor and two nurses, to the start. Commissioner Happy Chandler officiated. Senators coach Nick Altrock fired the starting gun. The race ended in a tie. The AP described Griffith's style as "sprightly," and reported that "the long-limbed Mack, his arms flailing at his side, skipped along in stride."
9. Kirk Gibson vs. Jesse Orosco and company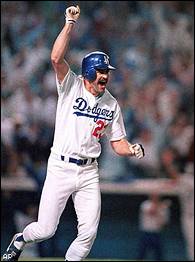 Kirk Gibson -- on one of his happier days as a Dodger.
New Dodger Kirk Gibson had an early chance to demonstrate his clubhouse presence. Warming up in the outfield about an hour before the first spring training game of 1988, Gibson took off his cap and wiped his brow. And this action was accompanied by much laughter. Because Jesse Orosco, his new teammate, had coated the inside of Gibson's cap with eyeblack, and Gibson had managed to get it all over himself.
If this hadn't come a few days after Kirk had fallen for the old shaving-cream-on-the-telephone prank, maybe he wouldn't have popped. If there hadn't already been about 1,000 fans in the park, maybe he wouldn't have popped. But pop he did, storming off the field, with some choice words flung about, and leaving the ballpark before the start of the Dodgers-Chunichi Dragons game.
"That hat really was a mess, and he had to go clean it up," Dodgers player rep Dave Anderson said. Another Dodger, who asked the L.A. Times to keep his name out of it, said, "I guess we [learned] that you don't mess around with Kirk Gibson, or else."
Gibson's message was clear: He was in L.A. to win. And he did -- he won the MVP award and the Dodgers won the World Series.
8. Reggie Jackson vs. Charlie Finley
Reggie showed up for spring training in 1972 with a mustache, which was a controversial move -- MLB was still reeling from allowing players to wear hair that crept out of their caps. A's owner Charlie Finley, who liked that kind of stuff when he thought it up himself, didn't like Jackson's mustache and told A's manager Dick Williams to tell Jackson to shave it off.
Jackson didn't comply. Teammates Bob Locker and Rollie Fingers decided to grow soup strainers in support. Finley knew how to turn a loss into a win, and was soon asking (and, if necessary, bribing) other A's to grow cookie dusters. On April 15, 1972, Jackson became the first major-leaguer to take the field in a regular-season game with a bristled boomerang since 1936, when Frenchy Bordagaray of the Brooklyn Dodgers sported sub-nasal carpet.