By Jeff Merron
Page 2
Ken Lucas, former Seahawks CB: six years, $37 million contract with the Panthers.
Jonas Jennings, former Bills OT: seven years, $36 million from the 49ers.
Kareem McKenzie, former Jets OT: seven years, $37 millions from the Giants.
LaMont Jordan, former Jets second-string tailback: five years, $27.5 million from the Raiders.
That's just a sliver of the big-bucks action that's been happening since the NFL free agent signing period began on March 2. Some teams have paid a whole lot for very little – only they don't know it yet. Will any of the above be on a future list of worst NFL free agent signings? Chances are.
10. David Boston (Chargers, 2003)
In March of 2003, the Chargers signed Boston to a seven-year, $47 million deal. That was the highlight of his year in San Diego, which included a couple of injuries, arguments with teammate Reche Caldwell and strength coach Dave Redding (the latter landed him a one-game suspension), a dispute with head coach Marty Schottenheimer, and so on. The Chargers finished 4-12. After the rocky start the suspiciously bulked-up Boston had a decent year, leading the Bolts with 70 catches for 880 yards and seven TDs. But that wasn't good enough to justify the trouble and money still to come (the Chargers blew $12 million on Boston that one year alone). He was shipped off to Miami in March 2004, and San Diego exhaled.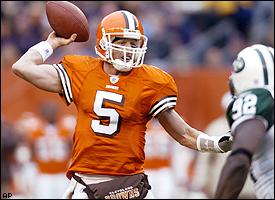 It was clear in 2004 -- No T.O, no chance for Garcia.
9. Nate Odomes, (Seahawks, 1994)
In 1993, Odomes, a cornerback in his seventh season with the Buffalo Bills, led the league with nine interceptions and was named to the Pro Bowl team for the second straight season. The Seahawks enticed him with a four-year, $8.4 million deal and the prospect of roaming the defensive backfield with free safety Eugene Robinson.
Odomes was only 28, but he'd played 108 consecutive games and, of course, had gone through the rigors of four straight long playoff runs. In June, just a few months after signing, he injured his right knee and was out for the 1994 season. He injured the knee again at the beginning of training camp a year later; good-bye, 1995 season. He never played a game for the Seahawks. Seattle finally released him two years after his celebrated signing. "Odomes left a legacy of valiant rehabilitation but non-existent production," wrote Larry Stone of the Seattle Times.
8. Jeff Garcia (Browns, 2004)
The 34-year-old Garcia was a three-time Pro Bowler for the Niners, which is why the Browns gave him a four-year deal worth $25 million last March. Garcia complained in training camp about not getting enough playing time, about head coach Butch Davis and about offensive coordinator Terry Robiskie. In the second game of the season, he became only the fifth QB since 1970 to achieve a 0.0 QB rating. In Garcia's 10 starts in Cleveland, the Browns netted a 3-7 record. Before the marriage hit the one-year mark, Garcia was released.
7. Dana Stubblefield (Redskins, 1998)
Stubblefield, 27, was a three-time Pro Bowler in his first five seasons with the 49ers. The 1993 NFL Defensive Rookie of the Year matured, by 1997, into the NFL Defensive Player of the Year. And then he became free.
The Redskins pounced, giving Stubblefield a six-year, $36 million deal that included an $8 million signing bonus. He injured his knee after the Skins' 0-7 1998 start, and missed the rest of that season. He put in two more seasons of good, but unspectacular play in Washington before he was released, totaling only seven sacks in 37 starts.
6. Andre Rison (Browns, 1995)
Art Modell shelled out a $5 million bonus as part of a five-year, $17 million contract to sign the ex-Falcons star wide receiver. "From what the experts tell me," Modell said, "he's every bit as good as Jerry Rice, and he's worked with 13 different quarterbacks. Even Jim Brown said he's the best in the NFL. I'm not worried about history. We're confident we can handle Andre Rison."
No go. Rison, who'd caught 423 passes for 56 TDs over the previous five seasons and was selected to play in the Pro Bowl four times, was a complete bust in Cleveland. The highest-paid receiver in NFL history snared just 47 tosses and was released at the end of the season.
5. Dale Carter (Broncos, 1999)
Carter, the 20th overall draft pick in 1992, was a four-time Pro Bowler before signing with the Broncos, who gave him a $7.8 signing bonus as part of a four-year, $22.8 million deal. It looked like a great move for Denver, even though it made Carter the NFL's priciest defensive back.
Carter, then 29, had quite a history off the field, including three arrests and a 15-day jail term. The Broncos thought that was all over, and that his on-field skills made up for his off-field, um, "mistakes."
Didn't work. Carter played poorly in 1999 and then was suspended for the 2000 season for violating the NFL's substance abuse policy for the fourth time. By that time, Carter had firmly established himself as a cancer in the Broncos locker room, with one ex-teammate calling him a "miserable human being," full of hatred. Another said he was a major partier who consistently slept through team meetings. This may be why, as the rumors went, that the team flew in his Kansas City psychologist twice a month.
The Broncos released him in the middle of the 2001 season. Since then, he's played a total of 24 games over four seasons with the Vikings, Saints and Ravens.
4. Larry Brown, (Raiders, 1996)
Brown picked off two passes in the Cowboys' Super Bowl XXX win over the Steelers, capturing the game's MVP award and putting himself in a perfect spot going into free agency. Al Davis bit, signing Brown to a five-year, $12.5 million contract. What a disaster: In the following two years, Brown started only one game, didn't bother studying the playbook, was suspended for four weeks for "conduct detrimental to the team," and finally let go. His departure came without sugarcoating. "He needs to go back to where he's from," said head coach Jon Gruden upon Brown's release.
3. Deion Sanders (Redskins, 2000)
Sanders was an All-Pro in 1999, but the Cowboys cut him loose to free up some salary cap space. Three days later, Dan Snyder, calling Sanders "the ultimate weapon in football" handed him an $8 million signing bonus, the front end of a seven-year, $56 million deal.
Sanders played well for the Skins, but didn't come close to earning his keep, and his side of the field was no longer off-limits. He was ineffective in his secondary role as a punt returner. After the season ended he made it clear he didn't want to play for Marty Schottenheimer, the new head coach, and that he wanted to make it in baseball.
Sanders retired from football in July 2001, and his baseball career ended, too, as he batted a meager .173 for the Reds in 32 games.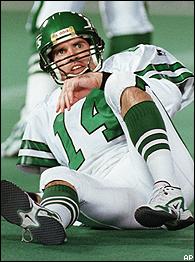 O'Donnell can be seen wandering the streets of Jersey in this outfit.
2. Neil O'Donnell (Jets, 1996)
O'Donnell seemed like a decent pickup when the Jets signed him to a five-year, $25 million deal in 1996. Under his guidance, the Steelers had made the playoffs four years in a row, and won the AFC title in 1995. But in his first Jets season he separated his shoulder, and started only six games; the Jets went 1-15. In 1997, Jets head coach Bill Parcells benched him in the middle of several games – including dreadful mid-season performances against the Pats and the Bears – and O'Donnell watched as his backup, the immortal Glenn Foley, turned those games around.
O'Donnell and Parcells never hit it off, and the Jets let O'Donnell go in June 1998.
1. Scott Mitchell (Lions, 1994)
Mitchell was a hot property in the spring of 1994, courted by the Rams, Vikings, Saints and Lions. Everyone wanted the former Dolphins backup. The Lions lost by winning the sweepstakes, signing Mitchell to an $11 million, three-year deal. "I can't believe all these teams lining up to overpay a guy who's started seven games," one AFC scout told SI's Peter King at the time.
The scout knew of what he spoke. Mitchell was sub-mediocre from the get-go, ending the first half of the 1994 season as the 24th-ranked QB in the NFL. His four full seasons as a Lion were lousy, and in his fifth, he lost his starting job to Charlie Batch. Twice the Lions made the playoffs, and twice they bombed out in the first round thanks, in large part, to Mitchell's terrible performances. If Mitchell had been simply above average, the Lions' offense – featuring Barry Sanders and wide receiver Herman Moore – could have been hard to beat.
Footnote: Before Brian Billick became a genius, he was thrilled to pick up Mitchell for the Ravens in 1998. He played a grand total of two games in Baltimore, completing 24 of 56 passes with 1 TD and 4 INTs.
Also receiving votes:
Sean Gilbert, DE, Panthers, 1998
Bert Emanuel, WR, Buccaneers, 1998
Alvin Harper, WR, Buccaneers, 1995
Warren Sapp, Raiders, 2004
Kerry Collins, Raiders, 2004
Gabe Wilkins, DE, 49ers, 1998
Desmond Howard, WR/KR, Raiders, 1997
Yancey Thigpen, WR, Titans, 2000