By Jeff Merron
Page 2
Everybody loves a bargain, a hidden gem. So while most of the speculation about Thursday's NBA draft revolves around Shaun Livingston, Dwight Howard, Emeka Okafor, Siberian giant Pavel Podkolzine and the other big names on the draft marquee, we're going to look the other way -- toward the increasingly important second-round picks. Who's going to be this year's Nick Van Exel or Michael Redd? We don't know. But we're pretty good at forecasting the past. So we give you the best second-round (or third-round, in a couple of cases here) picks in the past 25 years -- the ESPN Era, in other words.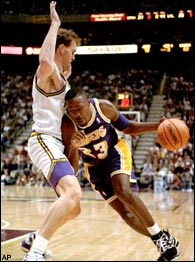 When healthy, Cedric Ceballos was quite a prolific scorer.
10. Cedric Ceballos (1990, Phoenix)
He may be best known for the blindfolded "hocus-pocus" jam that won the 1992 slam dunk contest. But Ceballos, despite an injury-riddled career (he played only 609 games in 11 seasons), proved an excellent selection for the Suns -- especially considering that the 6-foot-7 forward was the 48th selection overall.
Ceballos, who'd been traded to the Lakers in 1994, was named to the All-Star Game in 1995 (he didn't play due to injury), and led the league in field-goal percentage in 1992-93. His career averages of 14.3 points and 5.3 rebounds don't reflect what he could do when he was able to put in the minutes. In three straight seasons beginning in 1993-94 with Phoenix and then with the Lakers, he averaged 30-plus minutes, 20.8 points, and 7.1 rebounds.
9. Jerome Kersey (1984, Portland)
Kersey was picked 46th overall by the Blazers. He was a 6-foot-7 forward who starred at Division II Longwood College, and he played for 11 seasons in Portland before bouncing around the league for another six on the downside of his career. He excelled in the Blazers' fast-break offense, enjoying a great six-season span starting in 1986-87, when he averaged 15.4 points and 7.6 rebounds a game. He also made it to two NBA Finals as a Blazer, before picking up a ring while with the Spurs in 1999.
8. Michael Redd (2000, Milwaukee)
Redd, a 6-foot-6 guard drafted by the Bucks out of Ohio State, just keeps getting better. After appearing in only six games in his first season, he emerged as a scorer, averaging 11.4 points per game coming off the bench in 2001-02, and then 15.1 points per game the next season, again mostly as a reserve. This past season, Redd started every game, averaging 21.7 points (10th in the NBA) and 5 rebounds, and played in the All-Star Game.
7. Cutino Mobley (1998, Houston)
The Rockets took Mobley, a guard out of Rhode Island, with the 41st pick overall in 1998, and found their current co-captain. During his six seasons, he's averaged 17.1 points per game. Over the past three years, he's averaged more than 40 minutes per game.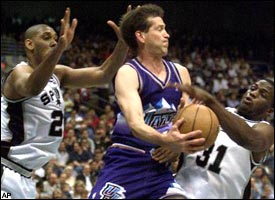 If you didn't D up Jeff Hornacek, he could hurt you.
6. Jeff Hornacek (1986, Phoenix)
Hornacek was the ultimate underrated player. The 6-foot-3 guard was a walk-on at Iowa State, and didn't go until late (46th overall) in the second round even after becoming an All-conference player. In 1992, he made the All-Star team, then turned into one of the league's best free-throw and three-point shooters. In 14 seasons, he averaged 14.5 points and 4.9 assists per game playing for the Suns, the Sixers, and -- for the last six years of his career -- the Jazz, where he teamed with John Stockton in one of the NBA's best backcourts.
5. Mark Price (1986, Dallas)
The Mavs were smart: With the first selection in the second round in '86, they drafted Price, a three-time All-American at Georgia Tech and the only freshman to lead the ACC in scoring. Then they got dumb fast, trading the 6-foot guard straight off to the Cavs. He went on to average 15 points and 6.7 assists over his 12-year career, making the All-NBA first team in 1993. Three times, Price led the NBA in free-throw-shooting percentage; and he is the league's all-time leading free-throw shooter, with a percentage of 90.7.
4. Nick Van Exel (1993, Lakers)
Van Exel, a 6-foot-1 guard out of Cincinnati. was good right out of the gate, making the 1993-94 All-Rookie second-team by averaging 13.6 points and 5.8 assists. Since then, he's solidified his position as one of the best passers in the league, and also one of the best three-point shooters -- he's now fifth on the all-time list in total treys. In 11 seasons, he's averaged 15.3 points, 3.0 rebounds and 7.1 assists playing for Los Angeles, Denver, Dallas and, most recently, Golden State. Van Exel made the 1997-98 All-Star team.
3. Dennis Rodman (1986, Detroit)
Rodman was the Small College Player of the Year at Southeast Oklahoma State, and the 27th selection overall. When the Pistons picked him, head coach Chuck Daly called him "the quickest 6-8 guard I've ever seen." He won five rings -- two with the Pistons and three with the Bulls -- and was a two-time Defensive Player of the Year (1990 and 1991), a two-time All-Star, a two-time All-NBA Third Team choice (1992 and 1995), and a seven-time All-Defensive First Team selection (1989, 1990, 1991, 1992, 1993, 1995, 1996). Rodman played for 13 years and averaged 13.1 rebounds per game.
2. Drazen Petrovic (1986, Portland, third round)
Petrovic was a European superstar who once scored 112 points in a Croatian League game and led Yugoslavia to a silver medal in the 1988 Olympics before he reached the NBA. The 6-foot-5 guard was traded to the Nets after his first season; he played four seasons in the NBA, averaging 15.4 points per game. Petrovic died at the age of 28 in a car crash after enjoying his best year: He averaged 22.3 points per game and made the All-NBA third team in 1992-93. A great three-point shooter who converted almost 44 percent of his shots from behind the arc, Petrovic was inducted into the Basketball Hall of Fame in 2002.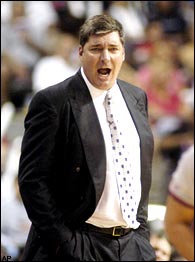 Bill Laimbeer also led the Detroit Shock to a WNBA championship as a coach.
1. Bill Laimbeer (1979, Cleveland, third round)
The bruiser was such a low priority for the Cavs that by the time they got around to offering him a contract in August, 1979, he had already agreed to play in Italy. After a year in Europe, he played two so-so seasons with the Cavs before they dealt him to Detroit, where he became one of the best centers in the NBA. Despite his reputation as a thug, his effectiveness is indisputable -- he led the NBA in rebounds twice, was a four-time All-Star and, most important, helped lead the Pistons to consecutive titles in 1989 and 1990. In 14 seasons, Laimbeer averaged 12.9 points and 9.7 rebounds per game.
Also receiving votes:
Rashard Lewis (1998, Seattle)
Gilbert Arenas (2001, Golden State)
Eric Snow (1995, Milwaukee)
Kevin Duckworth (1986, San Antonio)
Antonio Davis (1990, Indiana)