By Jeff Merron
Page 2
Donovan McNabb and Terrell Owens have quickly become one of the few quintessential Philly combinations; at this pace, they'll be as inseparable as Rocky and Adrian, cheese and steak, hot pretzels and mustard, the mayor's office and corruption.
In terms of NFL history, give 'em another four years, and they could turn out to be the best pass-catch combo ever. But for now, they've still got some extraordinary duos to beat.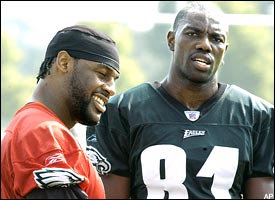 McNabb and Owens are off to a flying start in Philadelphia.
10. Don Meredith to Bob Hayes
Before Bullet Bob joined the Cowboys as the World's Fastest Wide Receiver in 1965, Meredith had elevated his game -- he'd become a good NFL QB. With Bullet Bob, he became a great one, with an 83-53 TD-INT ratio between 1965 and 1968, a very nice set of numbers in those days. Meredith made the Pro Bowl in 1966, 1967 and 1968. (Hayes was a Pro Bowler from 1965-67.) The Boys went 38-17-1 over that four year span.
Hayes and Meredith dominated the headlines as the Cowboys' leading combo, and each had their best years when the other was around (Meredith retired after the 1968 season). Hayes could outrun any cornerback, and Landry's motion offense baffled defenses. No other QB/WR combo could have made so many new, unique elements mesh as well as those two. And both belong in the Pro Football Hall of Fame.
9. Sonny Jurgensen to Charley Taylor
Jurgensen and Taylor were one of the NFL's most potent aerial teams from 1964, when the Redskins acquired the Red Roach in a trade from Philly and Taylor in the draft out of Arizona State, until 1971, when both quarterback and receiver were felled by injuries. During that time, each fashioned out the primes of their Hall-of-Fame careers. Taylor led the NFL in pass receptions in both 1966 and 1967, and Jurgensen led the league in completions and yards both seasons. Both were Pro Bowlers many times over. Taylor, originally a running back (and a good one at that) became a wide receiver in 1966 and proved he could break open some big plays.
Both retired with a a slew of records, and each other to thank for their pro football immortality.
8. Ken Stabler to Fred Biletnikoff
There were other great receivers (Dave Casper, Cliff Branch) during Biletnikoff's 14-year NFL career, and one Daryl Lamonica, an excellent QB, preceded Stabler as the stickum man's tosser. But Stabler and Biletnikoff -- a small and slow athlete who did so much through sheer hard work and precision -- were the key combo in John Madden's powerhouse teams of the 1970s. This duo's No. 1 hit: Super Bowl XI, when they connected four times for 79 yards, the Raiders trounced the Vikings 32-14, and Biletnikoff got the SB MVP nod.
"We've been together so long we know exactly what to expect from each other," said Stabler after that game. "I know where he's going before he gets there and he knows where I'll be throwing almost before I do."
7. Johnny Unitas to Raymond Berry
The laser passes from Unitas to Berry, which led to a game-tying field goal in the final 1:56 of the famous OT championship game against the Giants, are just one telling example of how these two meshed to form the best air-to-air team of their era. During that game, Berry set a record with 12 catches for 178 yards.
The bond between Unitas and Berry, which began when they were both very young, in 1956, was very special.Together, they helped lead the Colts to four playoff appearances (back when that meant something) and two NFL championships between 1956 and Berry's retirement in 1967.
6. Troy Aikman to Michael Irvin
In the five seasons between 1991 and 1995, Aikman and Irvin both made the Pro Bowl every season, and, as you probably already know, formed the primary aerial connection for a team that won three Super Bowls during that span. In Feb. 1996, SI's Peter King ranked Aikman, Irvin, and Emmitt Smith as the second-best QB-RB-receiver trio in NFL history, just a tad behind Otto Graham, Marion Motley, and Dante Lavelli of the 1940s-1950s Browns dynasty.
5. Dan Fouts to Kellen Winslow
When did Dan Fouts, decent QB, become Dan Fouts, All-Pro? In 1979, Kellen Winslow's rookie season with the Chargers. When did Fouts retire? After the 1987 season, coinciding with Winslow's last NFL season.
During that nine-year period, Fouts was a six-time All-Pro, and Winslow a five-timer. Winslow, a tight end, could do it all in the Air Coryell offense -- sometimes he was a wide receiver, sometimes defenses saw him in the slot. Wherever he was, Fouts found him. And they found each other again at Canton -- both are in the Hall of Fame.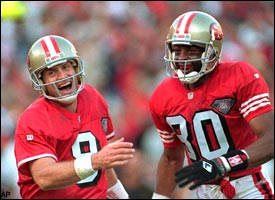 Young and Rice were quite a duo -- but Montana and Rice was an even better combo.
4. Steve Young to Jerry Rice
This isn't just about how great Rice is; it's also about how both Young and Rice were able to make the adjustment -- Young from the bench to take over for Joe Montana, and Rice with another passmate. The two barely missed a beat in the 1991/92 QB changeover, which means, quite simply, that they were a tremendous pair.
3. Dan Marino to Mark Clayton
Touchdown! That was the biggest story of this Dolphin dyad between 1983 and 1992, when they connnected for 79 TDs, the most of any QB-receiver pair in NFL history. We'd be remiss if we didn't mention Mark "Super" Duper -- during Marino's record-setting season in 1984, Clayton and Duper combined for a sick 2,695 yards receiving, and during the two receivers' nearly simultaneous careers in Miami they formed the perfect combo for Marino's cannon arm. But if I have to stick with one connection, I'll take Clayton and his peerless footwork: during his 11-year career, Clayton caught 538 Marino throws for 8,468 yards.
2. Daunte Culpepper to Randy Moss
If this has to be explained to you, then you need to make yourself into a couch potato and watch these two bake.
1. Joe Montana to Jerry Rice
A no-brainer -- Joe Cool and Jerry put the ice in Rice. In their six seasons together, between 1985 and 1990, the duo was unstoppable, combining for 68 TD passes. Nobody ran precise pass routes like Jerry Rice, and nobody could take advantage of that skill better than Joe Montana. During those six years, the Niners made the playoffs six times and won the Super Bowl twice.
Also receiving votes:
Peyton Manning to Marvin Harrison
Jim Kelly to Andre Reed
John Hadl to Lance Alworth