By Jeff Merron
Page 2
Running backs, more than any other offensive players, can come in as rookies and immediately look like veterans, as we discovered last year when we compiled our list of the greatest rookies in NFL history. A list that (d'oh!) failed to include ... the greatest rookie in NFL history.
2004 doesn't look like a great season for rookie running backs; the only projected starter out of the gate is Detroit's Kevin Jones. But who knows?
10. Jerome Bettis (1993 Rams)
Despite being surrounded by a terrible offensive unit, Bettis was named to the All-Pro team (the only Rams offensive player to be so honored) after running for 1,429 yards, an average of 4.9 per carry. His total was the second-highest in the league.
9. Bo Jackson (1987 Raiders)
Bo got a late start and was sidelined by an ankle injury at the end of the season, but in his seven rookie games he was, naturally, spectacular. Jackson ran only 81 times, but racked up 554 yards, for a spectacular average of 6.8 yards per carry. He could catch, too: he caught 16 passes and scored two TDs. Bo's incredible performance on Monday Night Football late in November (221 yards, 3 TDs, including a 91-yard run) put an exclamation point on his spectacular half-season debut.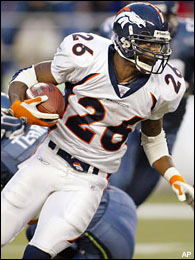 After two 1,500-yard seasons, the Broncos traded Portis to the Redskins.
8. Clinton Portis (2002 Broncos)
Portis finished strong, averaging 134 yards in the final five games of the season. By the end of the season, he was fourth in the NFL in rushing with 1,508 yards while averaging 5.5 yards per carry. He was also fourth in rushing TDs with 17.
7. Curt Warner (1983 Seahawks)
In the two seasons before Warner joined the fray, Seattle had a combined 10-15 record. He rushed for 1,449 yards, caught 42 passes, and scored 14 TDs in leading the Seahawks into their first postseason with a 9-7 record.
Warner wasn't done, though: he ran for 212 yards in Seattle's first two playoff games before being stopped by the Raiders in the AFC title game. L.A. ended the Seahawks' Super Bowl hopes by holding Warner to only 26 yards.
6. Earl Campbell (1978 Oilers)
With Campbell in the backfield, the Oilers, who had never made the playoffs since joining the NFL, went 10-6 and then triumphed in their first two playoff games before losing to the mighty Steelers in the AFC title game. Campbell made all the difference in the world: he led the league in rushing with 1,450 yards, and was second in the league with 13 TDs. He was also impressive in the playoffs, rushing for 264 yards in the Oilers' three-game postseason run.
5. Gale Sayers (1965 Bears)
Sayers electrified the NFL his rookie year: he averaged 5.2 yards per carry, caught 29 passes for 507 yards, and scored an NFL-record 22 TDs, including two in returns. He also delivered one of the most remarkable single-game performances in NFL history on Dec. 12, when he scored six TDs and gained 336 yards total yards. Sayers finished second in the UPI's MVP voting, behind Jim Brown, and led the Bears' turnaround: Chicago went 5-9 in 1964, and 9-5 in 1965.
4. Edgerrin James (1999 Colts)
Here's the key stat: Colts backs ran 382 times in 1999. James: 369 carries for 1,553 yards. Keith Elias: 13 carries for 28 yards. James also caught 62 passes for 586 yards, and led the NFL in rushes, rushing yards, TDs (with 17). Even sweeter: the Colts, who'd gone 3-13 in 1998, had traded Marshall Faulk to the Rams for two draft picks, which was partly a salary dump (Faulk wanted a new, much richer contract). The Colts also hinted that they'd pick Heisman Trophy winner Ricky Williams in the upcoming draft, and he'd do just fine.
The Colts shocked by picking James over Williams, and looked doubly smart: they'd effectively replaced Faulk and saved lots of money.
3. Barry Sanders (1989 Lions)
Maybe Barry knew he'd walk out the door in 10 years, because he didn't waste any time when he stepped in. His first run from scrimmage was an 18-yarder; his fourth, a TD. By the end of the season, he'd run for 1,470 yards and 14 TDs, finishing second in each category. And the Lions jumped from 4-12 in 1988 to 7-9 in Sanders' first season.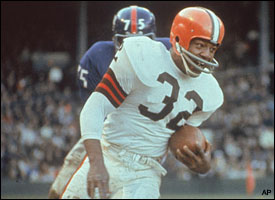 Brown led the NFL in rushing yards in eight of his nine seasons.
2. Eric Dickerson (1983 Rams)
Dickerson set a rookie record by running for 1,808 yards, and led the NFL in rushes, yardage, and, thanks to his 51 receptions, yards from scrimmage. He was named NFL MVP by the Sporting News.
1. Jim Brown (1957 Browns)
Both the AP and Sporting News named Brown the NFL MVP his rookie season. He was so superior to his elders that he led the NFL in rushing with 942 yards, 242 more than any other back. On Nov. 24, he ran for a record 237 yards and scored four TDs as the Browns trounced the Rams, 45-31. Cleveland went 9-2-1 and faced the Lions in the NFL title game, but got clobbered, 59-14.
Also receiving votes:
Mike Anderson (Broncos, 2000)
Jamal Lewis (Ravens, 2000)
John Brockington (Packers, 1971)
Corey Dillon (Bengals, 1997)
Ottis Anderson (Cardinals, 1979)
Blogging The List:
In-depth NFL history is tough to come by, especially considering it's the most popular pro sport in the U.S. Even when you let go of the Web and embrace the bookshelf, the pickings are slim. Exhibit No. 1: Total Football II hasn't been updated in five years, a mystery considering the recent makeovers of Total Basketball (2004), Total Baseball (2004), and even Total Tennis (2003).
Maybe the historians have figured that there's no way to top the breadth and depth of NFL Films.
For up-to-date stats, head over to Pro Football Reference, Doug Drinen's heroic attempt to bring the kind of order (and massive linkage) to football stats that Sean Forman has brought to baseball. As Drinen notes, it's an uphill struggle. But it's a very good place to start. Not as well organized, but almost as deep, John M. Troan's Football @ JT-SW.com provides a good cross-check, box scores going back to 1994, and some stats not available at Pro Football Reference.
The Pro Football Hall of Fame, whose business is football history, has had a historically weak site (pun intended), but it's getting better: who knew that Jim Brown threw three TD passes his rookie season?