Single page view
By Jay Lovinger
Page 2
When I decided to write a couple of columns on my relationship with my father and how it is affecting my poker game, I figured the response from readers would be mixed – about half chastising me for failing (yet again) to stick to the subject, and the other half acknowledging some powerful common ground with me.
That's pretty much how it turned out. Typical of the naysayers is Eric of Los Angeles, who writes, "Jay, I usually enjoy your column when you are talking about the current affairs of your card-playing. However, this column about your dad may have been best suited for Oprah, or some other crap. Albeit a very honest and touching piece, I could care less about anything you wrote in this article. Please stick to your online and live poker stories and leave the mushy crap to Dear Abby."
In a slightly wittier vein, Bill of Rhode Island writes, "Jay, great article about your dad. Sincerely, Jay Lovinger's dog, family tree and grass growing."
On the positive side, I got the following e-mail from Charley Miller of San Diego (no relation), the kind of reaction that makes a project like this seem worthwhile.
"The insights into the roots of your poker life, and, more importantly, into much of the rest of your life, are more than entertaining – they are memorable. Like many people since the debut of ESPN's WSOP table-cam coverage, I have become interested in poker – and for reasons that were far from clear to me. I don't want to make too much out of an online poker column, but your willingness to analyze yourself in the context of the game, and also to look outside the game, is downright brave.
I guess my point is that looking deep inside oneself isn't easy for anyone. And being able to share what you find with the entire world (not to mention with people who have written you what amounts to hate mail) is exponentially more difficult. I have realized that poker is interesting because there is so much challenge and analysis. Reading your latest columns, as you take the poker-as-life simile and turn it around into a life-as-poker simile, I couldn't help but think that life's challenges and ways to analyze them reach far beyond green felt."
STEALING ESPN'S MONEY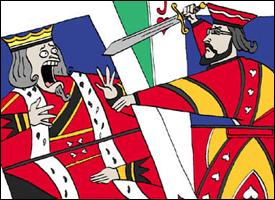 Are you still cashing the Worldwide Leader in Sports' check? If this was "American Idol," you would have been voted out weeks ago. Why hasn't your editor been fired, too? The one thing you should know from reality TV is, if you suck one week (even two), you have to make a strong comeback the next week or you're gone. We were dragged through the mud of your losing streak (epic, maybe, but we are tired of self-pity), now we are being subjected to deep psychological ramblings. When you started, you were like the Good Doctor on a gonzo poker adventure, and now the wheels have fallen off.
– Cletus, Longmeadow, Massachusetts
Cletus, I can really understand your reaction, which is similar to the reactions of quite a few readers. Many players took up poker in the first place so that they wouldn't have to think about unpleasant parts of their real lives, like a dysfunctional relationship with a parent. Also, as you rightly point out, the adventure has changed course in midstream.