Single page view
By Jay Lovinger
Page 2
The vast majority of instructional poker books, no matter how technically proficient, suffer from at least one of three major flaws:
1) The author, presumably born with perfect poker knowledge, imparts wisdom with the same godlike gravitas with which Moses delivered the stone tablets with the Ten Commandments etched upon them.
2) Though the acquisition of poker knowledge, perfect or otherwise, is a long and arduous process, the author of a poker instructional manual acknowledges this only by implication, if at all. For example, the author might warn the reader that one time through his book will not be enough, or that he might have an occasional setback even if he follows the poker advice herein to a T, or that he ought to start his road to certain fame and fortune in small-limit games where he can master those hapless and ill-advised competitors before successfully moving up to the $4,000-$8,000 Bellagio games of Phil Ivey, Doyle Brunson and Chip Reese. Rarely do we see The Master struggle himself as he glides inexorably toward the mountaintop.
3) The writing style of most instructional books tends to range from desert-dry scholarly to Hollywood pompom, with very little in between. For example, the books of David Sklansky and Mason Malmuth, probably the most knowledgeable theorists writing today, make paint drying seem ribald by comparison. And some of the more recent let's-take-advantage-of-the-boom-while-it-lasts efforts, such as Mike Sexton's "Shuffle Up and Deal," read like loosely strung-together PR handouts from the World Poker Tour.
So what, you say?
So nothing, if the reader happens to be a disciplined, fearless player with complete self-knowledge.
But if, as seems more likely, the reader is a normal human being with the usual boatload of fears, insecurities, psychological tics and leaks, well, then, he might find himself terminally discouraged when he hits those inevitable walls. Hey, he might think, I read that damned book from cover to cover -- twice -- and I'm still getting blown out in my weekly game by my wife's personal trainer. What's wrong with me?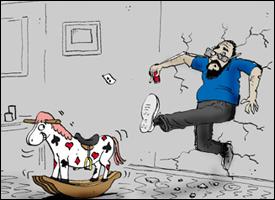 And it's a lot easier to move alertly from cover to cover when an author's writing style doesn't suggest a you-can-save-money-by-making-your-own-living-will manual.
For a soothing counterpoint, you might want to try "The Making of a Poker Player: How an Ivy League Math Geek Learned to Play Championship Poker" (Lyle Stuart Kensington, $14.95), by Matt Matros.
"The Making of a Poker Player" follows the poker career of Matros – who graduated from Yale with a degree in math and from Sarah Lawrence with a master's in writing – from its humble and easy-to-relate-to beginnings through his unexpected third-place finish at last year's World Poker Tour Championship, for which he took home a cool $700,000 -- life-changing money for a mere graduate student.
"The Making of a Poker Player" has a lot going for it, not the least of which is an accessible but complex understanding of what modern poker is all about. But the core of the book – the thing that makes it different and better than the usual how-to manual – is the brutal honesty with which Matros demonstrates that the path to poker greatness is not a one-way street.
REASON NO. 578: WHY WOMEN AND POKER DON'T MIX
Consider, for example, the chapter "Playing as a Maniac." It's March 2000. Matros' longtime girlfriend has just broken up with him, and he's trying to decide what to do.
The day before Mylene broke things off, I had made a spur-of-the-moment decision and booked a flight to Hartford and a room at Foxwoods for the next weekend's New England Poker Classic. When the day came to depart, my insides were still a mess. I had thought I would be spending the rest of my days with Mylene, and suddenly she was out of my life completely. Her reasons for the breakup were cerebral, like her. There was no one else, nothing in particular that happened, and no obvious change in the way things were between us. She simply felt it was best to end things because she couldn't see herself with me forever.