By Jay Lovinger
Page 2
It's the first anniversary of when I hit the road for my poker-playing journey. So, theoretically, the odyssey, which was billed as "yearlong," should be over.
Fortunately – or unfortunately, depending on your perspective – this particular poker year, officially measured from the 2004 World Series of Poker through this year's WSOP, is 14 months, plus a smidgeon.
So instead of the customary What I Learned wrap-up, here's my first annual How My Hopes and Dreams Have Shifted column.
When I first started out, back in April of 2004, my "Over the Rainbow" dream was to appear on TV – not as a poker commentator, or an MSNBC expert on the play of Ben Affleck (astute readers will remember that I already "accomplished" that rare feat), but as a member of a final table ... any final table, even of a WPT "Bad Boy" event.
My more realistic goal was not to lose too much money. Getting acquiesence from my long-suffering wife to be away most of the year while she was basically single-handedly raising our two teenage daughters involved some sophisticated groveling – namely, I had to promise to limit my losses to my book advance, which, after taxes, agent fees, etc., came to about $50,000. My worst fear was that I would lose all the money during my first trip to Vegas, and then would have to spend the rest of the year playing online (play money only) trying to accumulate free gifts that I could sell to unsuspecting ESPN employees to raise money to get back into the game.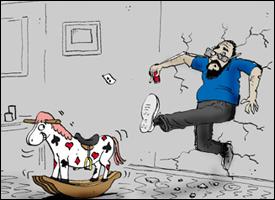 Luckily, it never came to that.
In fact, thanks to a great run of Act III cashes at Foxwoods – four in all, which, given how the rest of my year has gone, competitively, is beginning to look like the biggest stroke of luck since James Gandolfini got the lead role in "The Sopranos" – I managed to win a seat in the $10,000 buy-in WPT event at the world's largest casino in November, not to mention running my bankroll up to almost plus-$40,000.
This, of course, required a whole new set of hopes and dreams, the most fantastic of which was that I could actually "make a living" at this game. More to the point, I actually came to believe I could do some damage in the WPT tournament. Was I really that delusional? Judge for yourself: I actually got irritated when I had to sign a non-disclosure agreement to play in the tournament, because I resented the fact that I would not be able to write about it if I won until after the event aired on the Travel Channel months later.
<!––––––––––-INLINE TABLE (BEGIN)––––––––––->
The ESPN Poker Club!
Now you can visit the Poker Club, a brand new section of ESPN.com that includes content, coverage and analysis of the poker world. And when you're feeling lucky, join in our new Poker Game, which provides poker fans a new way to play. Check it out!
<!––––––––––-INLINE TABLE (END)––––––––––->
(I guess I'm a slow learner on this front. Back in the late-'50s, when I first began – underage – to attend harness races at Monticello Raceway in upstate New York, I made my first parimutuel wager, a $2 place bet on a cheap claimer whose name I've long forgotten. Soon after the nag, a heavy favorite, staggered across the finish line in second place, the tote board lit up, showing a $3.20 payoff to place on my pick. Theoretical mathematicians among my faithful readers will immediately recognize this as a 60 percent profit for little more than two minutes of labor and worry, which, extrapolated into an average work week of 40 hours is roughly the equivalent of almost $150,000 in annual compensation. My tempered reaction? I turned to my equally underage companion and shouted, "Hey, they're giving money away here!" Needless to say, in the subsequent four-plus decades, I've paid dearly for that remark, returning that $1.20 many thousandfold to horse racing ovals throughout North America.)
Needless to say, the whole non-disclosure agreement thing turned out to be a tempest in a teapot. I busted out of the WPT tournament a few hours into Day 1, whereupon I discovered online poker and watched, with horror, as my bankroll dwindled to less than a third of its once-majestic size over six months of bad luck, bad play and even worse memories. A big part of the problem was that I discovered high-stakes, short-handed, high-speed limit hold 'em on the site I frequent – Captain Cooks – and was too stubborn to recognize that I was, and am, ill-suited to compete in that form of the game at that level.
During this period, my hopes and dreams evolved once again. This time, I began to wish for – to pray for – just a single winning session at $10-20 limit hold 'em.
<!––––––––––-INLINE TABLE (BEGIN)––––––––––->
<!––––––––––-INLINE TABLE (END)––––––––––->All in vain.
Don't you just hate when that happens?
So now the poker world is ramping up for the 2005 WSOP, which begins in Vegas in about a month. And I'm ramping up along with them. My new realistic dream is to win a "free" seat into the $10,000 buy-in championship event. (My far-fetched fantasy – can you guess? – involves doing some damage once I get in.)
There are a lot of ways to win your way into the championship event, which is why some people are predicting that there will be something like 5,000 players (twice as many as last year's record crowd), vying for what should be a $10 million first prize, or something in that neighborhood. Every online site is offering several ways to get in – a series of step-up events (similar to the Act I-Act II-Act III progression that Foxwoods is famous for), plus multi-table super-satellite tournaments. At the Rio in Vegas, you can play in one-table winner-take-all satellite events with buy-ins ranging from $100 or so up to $1,000, thereby accumulating enough "tournament chips" to buy your way in; or super-satellite re-buy tournaments; or $1,000 buy-in multi-table events, in which the top 10 percent of finishers get seats in the Big One.
Since I now realize that my talents, such as they are, lie, first, in one-table satellite play and, second, in multi-table events where the top 10 percent, regardless of chip count, all "win," I'll be concentrating on those types of competitions.
My theory on why I'm good at the one-tables and Act III-type tournaments is:
I'm patient. (Or, at least, I was before I became addicted to the fast-paced world of online poker.) Most experts – and books written by experts – will tell you that the best way to win one-table events is to gamble early on, try to double up, then bully the table ... or get eliminated quickly and go on to another, more promising, event. I respectfully disagree. Because so many players are not patient – plus, many love to chase with gambling hands like K-10 unsuited and small-suited connectors, which they half-hit and then have trouble getting off – I think the best way to approach one-table satellites is to play conservatively at the beginning (don't stubbornly chase down persistently betting opponents when you are holding only second and third pairs, don't call with junk, don't bluff unless conditions are just right), and make sure that, most of the time, you are still alive when it gets down to the Final Four or the Terrible Three. By that time, blinds will be so high that you'll most likely wind up all-in with something like that K-10 you folded early on against an A-3 or a Q-J or something. In other words, even if you're up against two of the best players in the world, at that point it's pretty close to a crapshoot. And anybody, even a mug like me, can win a crapshoot one out of three times or so.
<!––––––––––-INLINE TABLE (BEGIN)––––––––––->
Jackpot Jay's Poker Glossary
Confused by some of the terms Jay uses in his poker columns? Get their definitions right here.
<!––––––––––-INLINE TABLE (END)––––––––––->Think I'm fooling myself? Lord knows, it wouldn't be the first time. But in this case, the evidence suggests otherwise:
(1) I actually showed a profit on one-table satellites during my first trip to Vegas last year – though I lost about $1,500 on the trip, thanks to a few too many forays into small-stakes no-limit ring games, re-buy super-satellites and relatively small buy-in ($1,000, $1,500 and $2,000) tournaments that, at that stage of my career, I had absolutely no chance to win.
But in the one-tables, I more than held my own, even though I played against experts like the Devilfish, Chip Jett, Ron Rose, Linda Johnson, Chris Moneymaker, Tony Ma, Men the Master, Alan Cunningham, Mike Laing and Marcel Luske, among others. In fact, I played in one-tables against Luske at least five times – 7-card stud, as well as no-limit hold 'em – and outlasted him all five times. As I said, the quickly rising blind structure is a great leveler.
(2) Of course, by far the high point of my career – at least so far – has been my great run in the Foxwood Act III tournaments.
(3) Even online, where I've struggled for months, I've more than held my own in the $100-, $50- and $20-buy-in sit-n-go events (mostly five players). Now, if only I could learn to lay off the middle-limit hold 'em ring games ...
Alex Hawkins, a great wide receiver for the old Baltimore Colts way back in the day, was even better known as a serial carouser – drink, women, you name it. Early one morning, after a long evening of drinking and womanizing, he staggered into bed, waking up his long-suffering wife, who loudly and bitterly accused him of, once again, treating her callously.
"Dear," Hawkins protested, "I got home before midnight. But I know how you need your rest, and I didn't want to disturb your sleep, so I napped on the hammock out on the porch."
"You are a liar, Alex Hawkins," his wife said with disgust. "I took that hammock down a month ago."
Hawkins never missed a beat. "That's my story and I'm sticking to it," he said.
Well, despite all evidence to the contrary, there are a couple of aspects of poker that I think fit my game – one-table satellites, and Act III-type supers. Anyway, that's my story, and I'm sticking to it.
HEY, IRS: HOW JAY IS DOING IN HIS NEW CAREER
Last week: won $400
Career-to-date: plus $11,522.25
Jay Lovinger, a former managing editor of Life and a founding editor of Page 2, is writing on his poker adventures for ESPN.com and also writing a book for HarperCollins.