Single page view
By Jay Lovinger
Page 2
We live in an all-in world, and I'm not just talking about poker. "American Idol," Martha Stewart, winner-take-all reality TV, Barry Bonds, Omarosa, whoever was responsible for the John McEnroe talk show, Andrew Toney, Tom DeLay, Enron execs, Jayson Blair, Jim McGreevey, all those people who voluntarily voted for The Terminator – everywhere you look, there are people and institutions willing to gamble everything on the very next second … never mind what happens tomorrow.
And you know what? We love it – and them. We always have.
To honor all those zealous believers – past and present – in the credo "Live fast, die young and leave a beautiful corpse," here are the first (and probably last) Jackpot Jay All-In Awards.
Please remember, before you send in all those e-mails complaining about how I left Doyle Brunson, Abraham Lincoln, Babe Ruth or the Beatles off my various awards lists, these awards are not necessarily for the best of their class – or the brightest – but rather for the true desperados, who live (or lived) only for the moment. Reckless disregard for the future, in many cases verging on self-destructiveness, is a prerequisite for winning All-In honors – not genius, though many award winners do, in fact, possess both qualities.
MODERN-DAY ALL-IN PLAYERS
(1) Gus Hansen
<!––––––––––-INLINE TABLE (BEGIN)––––––––––->
The ESPN Poker Club!
Now you can visit the Poker Club, a brand-new section of ESPN.com that includes content, coverage and analysis of the poker world. And when you're feeling lucky, join in our new Poker Game, where you can win great prizes! It's FREE, check it out!
<!––––––––––-INLINE TABLE (END)––––––––––->
(2)
Layne Flack
(3)
Antonio Esfandiari
ALL-TIME ALL-IN PLAYERS
(1) Stuey "The Kid" Ungar
(2) Jack "Tree Top" Strauss
(3) Nick the Greek
MODERN-DAY ALL-IN SELF-PROMOTERS
(1) The Donald
(2) Michael Moore
(3) P. Diddy
Honorable mention: Geraldo Rivera, Lizzie Grubman, Anna Nicole Smith, Terrell Owens, Phil Hellmuth, Christo, Britney Spears
<!––––––––––-INLINE TABLE (BEGIN)––––––––––->
Rock the Vote
After reading Jackpot Jay's All-In Awards, cast your vote for the top picks in several categories!
<!––––––––––-INLINE TABLE (END)––––––––––->ALL-TIME ALL-IN SELF-PROMOTERS
(1)
Muhammad Ali
(2)
John DeLorean
(3)
Minnesota Fats
Honorable mention: Henry Kissinger, Howard Cosell, Don King, Amarillo Slim, Kato Kaelin
ALL-TIME ALL-IN UNION LEADERS
(1) Jimmy Hoffa
(2) Joe Hill
(3) Marvin Miller
MODERN-DAY ALL-IN CELEB BAD BOYS
(1) Michael Jackson
(2) Bill Clinton
(3) Suge Knight
Honorable mention: Robert Blake, Phil Spector, Colin Farrell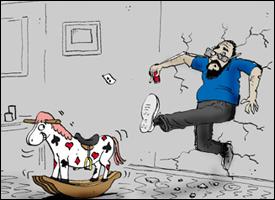 ALL-TIME ALL-IN CELEB BAD BOYS
(1) OJ
(2) Ted Kennedy
(3) Fatty Arbuckle

Honorable mention: Oscar Wilde
ALL-TIME ALL-IN MILITARY LEADERS
(1) Joan of Arc
(2) Alexander the Great
(3) Gen. George Custer

Honorable mention: Sun Tzu, Mao Tse Tung
ALL-TIME ALL-IN PEACENIKS
(1) Jesus
(2) Mahatma Gandhi
(3) Martin Luther King
ALL-TIME ALL-IN U.S. PRESIDENTS
(1) Harry S. Truman
(2) Richard Nixon
(3) Bill Clinton
<!––––––––––-INLINE TABLE (BEGIN)––––––––––->
<!––––––––––-INLINE TABLE (END)––––––––––->
Honorable mention:
Warren G. Harding