By Jay Lovinger
Page 2
The exclusive on the front page of today's New York Daily News -- the one about A-Rod being "warned" by the Yankees not to visit illegal poker clubs -- is Shakespearean in scope.
No, not Shakespearean as in "Hamlet" or "King Lear." Shakespearean as in "Much Ado About Nothing." As a former celebrity journalist (I put in a couple of stints at People, the uber-celebrity journal, in the 1980s), a lifelong New Yorker and Yankee fan and a poker columnist for ESPN.com (part of a company, I should acknowledge, that has a very vested interest in poker right now), all I can say is, "Must have been a slow news day."
According to the News piece, quoting the usual ubiquitous "team and baseball sources," the Yankees warned their best player not to frequent illegal city poker parlors back in early October, about the time the News reported that A-Rod had been spotted in a lower Manhattan joint playing no-limit hold'em with Phil Hellmuth, "professional card shark."
When contacted by ESPN.com on Wednesday, a Yankees official said the club has never brought up the topic of Rodriguez's attendance at poker games. Of course, this would be much ado about nothing even if the team had, since there is nothing illegal about
playing
in illegal card rooms in New York City. It is only illegal to run one for profit, a point made clear in the story itself and in an accompanying sidebar about the fact that many celebrity poker players frequent these establishments. The story also acknowledges that the Yankees -- and Major League Baseball, which is said to be "keeping an eye" on A-Rod -- are powerless to stop him from playing in these "underground poker dens." (For the record, A-Rod's agent, the much-loved Scott Boras, denies that anybody has warned his client about playing in the clubs.) As somebody who has wasted many hours in illegal New York City poker clubs, I'm wondering what the fuss is all about. The club I used to play in -- before it was busted this past summer -- was on the second floor of a building just off Broadway on Manhattan's West Side. It was a clean, well-lit establishment with three rooms: two medium-sized areas that could accommodate about six card tables each, separated by a smaller room with a refreshment table (non-alcoholic drinks and coffee cake), a large-screen TV and a couple of comfortable easy chairs. The clientele was … well, you know that saying about how the meek shall inherit the Earth? Though the occasional celebrity would show up, along with a handful of the kind of dangerous street wiseguys you might find hanging around a speed chess match in Central Park, the typical player was a twentysomething college student, often from nearby Columbia. Contrary to urban legend, becoming a club member was about as far from secret-password-Joe-sent-me as you could get. I knocked on the door, was buzzed in, gave my name and address and phone number to the guy selling chips, and that was it … I was a full-fledged member.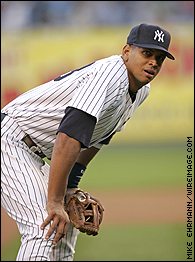 Why does A-Rod like poker? Rumor has it he digs bracelets.
"Anything else I need to do?" I asked the chip guy. "References? Credit rating? Photo ID?"
"Just remember to bring American money," the guy said. Of course, since this is New York, and the story involves the Yankees, conspiracy theories are bound to arise. Here are a couple of possibilities:
(1)
The Yankees know A-Rod has a gambling problem, a la Michael Jordan, and they are trying to head it off by putting public pressure on him.
Seems unlikely. For one thing, according to previously published reports, A-Rod has been playing in $5-$5 no-limit games, where the most money you could possibly win or lose is a few thousand dollars. And even that would be some kind of maniacal $5-$5 game. For somebody with A-Rod's income -- in the neighborhood of $30 million or more a year between salary and endorsements -- that's the equivalent of you or me losing 20 bucks or so. For another thing, if the Yankees are trying to pressure A-Rod through a newspaper, it would be the New York Times.
(2)
For some reason, the Yankees are trying to slime A-Rod.
Always a possibility, though they prefer to use that kind of strategy on pitching coaches. But who knows? Historically, players who range in ability from none (Hideki "Fat Pussy Toad" Irabu) to Hall of Fame (Dave "Mr. May" Winfield) have received the slime treatment during the reign of The Boss.
(3)
The Yankees and MLB are scared stiff that one of their biggest stars is going to get involved in some kind of 21st Century version of the Black Sox Scandal, just when the world champion Chicago White Sox have effaced that stain.
The Black Sox stars were making less than $10,000 a year; in some cases, a lot less. A-Rod makes $30 million a year. He'd have to spend the rest of his life, 24/7, in illegal poker clubs playing at the highest stakes those clubs offer and never win a single hand before he even began to approach a debt he couldn't easily afford to pay off. No, folks, this is the sports equivalent of Cameron Diaz being "caught" canoodling with Justin Timberlake on a surfboard. And what happens when we get hold of a juicy "Romeo and Juliet" story like that? We turn it into "The Tempest." But as that old poker player Macbeth said, this one's "a tale told by an idiot, full of sound and fury, signifying nothing."
Jay Lovinger, a former managing editor of Life and a founding editor of Page 2, is writing a book on his poker adventures for HarperCollins.