Single page view
By Erica Lucero
Special to Page 2
EDITOR'S NOTE: Erica Lucero, a sophomore at Southern Cal, will provide Page 2 with periodic updates from campus this season as the Trojans attempt to win their third consecutive national championship.
They really shouldn't have done that to us Saturday. I mean, honestly, that first half up in Eugene was way too harsh.
I watched the game with a group of friends. We were buoyant heading into the experience. We had the complete setup: tons of takeout, drinks of our choice, big-screen plasma television. And even for an away game, we were sporting the cardinal-and-gold. We were ready for a nice, relaxing evening of football.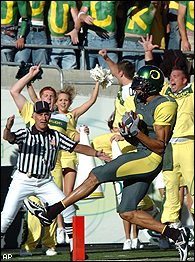 AP
The Oregon fans had plenty to celebrate early.
After all, it was Duck-hunting season.
And then it all began to go wrong.
I can't speak for the entire student body; but for me, things seemed a bit alarming even before kickoff. First, there was that sea of ultra-bright yellow. Then the first disquieting thought of the season arose: This is the guys' first true test. I searched hungrily for a patch of red or even a hint of gold; anything to ease my eyes and lighten my mood.
It never came.
Either the cameramen refused to give us our Trojans Kodak moment, or the few Trojan fans, very far from home, had been swallowed up by the glaring yellow. Either way, it was disconcerting.
It wasn't just that there were no Trojans visible, however. Quite a few things seemed off the mark.
The President seemed to be having some issues. His usual graceful body movements were choppy, and he seemed hesitant. I thought about the beautiful touchdown he made the first time he touched the ball against Arkansas; it just didn't make sense. One theory around campus has it that the coaches are overplaying him, trying to demonstrate his worthiness as the next Heisman winner. Yes, we're less than a third of the way through the season, and we're already at the conspiracy theory stage.
Whatever it was, it didn't seem to be Reggie's day … at first.
There was also some obvious miscommunication going on. USC is very proud of the fact that the players do not wear their names on the backs of their jerseys. We hear constantly that they are part of a team, not individuals. I couldn't help thinking in my little corner of the sofa, though, "They still have to play like one."
And poor Sarkisian and Kiffin. In a recent article in the Los Angeles Times, David Wharton revealed the behind-the-scenes effort that has gone into installing the new offensive system for the Trojans. He described the two coaches as working in perfect concert, Kiffin high up in a booth in the press box communicating via headset with Sarkisian, who pounds the sidelines. Between the two of them, with Carroll interjecting every so often, they call the offensive plays, many of which are mapped out in advance. However, now that Norm Chow has departed, Wharton makes a good point: If something goes wrong with the Trojans this season -- especially a failure to make in-game adjustments, which was one of Chow's specialties -- Kiffin and Sarkisian will receive the lion's share of the blame.