By Erica Lucero
Page 2
The game against Cal this past Saturday wasn't just any game.
It was the official, one and only Weekender, a game very close to the hearts of all Trojans.
I'll bring all those of you so sadly ignorant of this great tradition up to speed. Each year, we play either Stanford or Cal in an away game, alternating years. We invade whichever campus is playing host to our football team that year.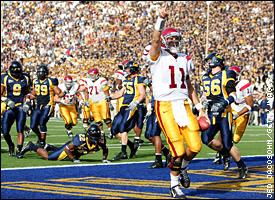 AP
Matt Leinart -- and the USC fans --- were doing plenty of celebrating during USC's 35-10 win at Cal.
This year it was Cal. So, on Friday afternoon, throwing classes and work schedules to the wind, a few friends and I piled into a car and we were off.
A few hours later found me keeping company with one of the great loves of my life since I was about 5: fruit snacks. Listening to my iPod, I watched the golden hills and verdant fields of Central California rolling by. Everything seemed peaceful.
And then came the Trojans.
A few zoomed by in big trucks, USC banners waving. A Beamer had its entire back windshield filled with red-and-gold pompoms and a T-shirt that screamed, "Fight On!" Students roared past, honking and yelling out their car windows. The more staid alumni made appearances, as well. We kept pace for a while with a stately gentleman and his wife in a luxury sedan that sported a "Marshall School of Business Alumni" license plate frame. My favorite was an old man in a new red T-Bird. Beside him was someone not too much older than me. Something told me she wasn't a student.
Famished, we stopped at In-N-Out, a burger joint so good that I pity East Coasters who haven't had one of the chain's hamburgers. The place might as well have been my freshman year cafeteria. There was so much bright red and gold reflecting in the setting sun that I felt compelled to put on my aviators while I munched some french fries.
At the halfway point, I took the wheel. I knew NorCal hella better than anyone else in that car, and we were anticipating some challenging city traffic.
The official headquarters of The Weekender: San Francisco.
After checking into our hotel, we headed toward Union Square. I felt like I was back at school. Trojans were everywhere. It's all part of our plan of intimidation. If we can take over a city like San Francisco, then the team we are about to play has to realize it has no chance.
On Saturday, game day, we almost died walking up the hill to Cal's stadium. We hoped that upon reaching our seats we'd have a little peace.
No such luck. We were in the Cal season-ticket section.
I'm not quite sure where I got my love for arguing from. It could have been from when my cousin argued with me while we were playing, I promptly wrapped him up in a telephone cord … and I didn't get punished.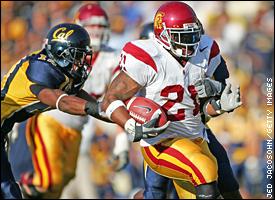 AP
Beating Cal on its turf was nice ... but there's nothing like running wild at home.
It could have come from my diehard handball phase in grade school, when it was not uncommon for me to throw it all down for a "do-over." I usually got one.
Maybe it sprang from my love of driving my poor parents crazy. They'd probably vouch for that.
Whatever the source, I had a blast, egging on those senile old Cal hippies. And before everyone starts protesting, allow me to paint a little picture.
To my right were two Cal lawyers. Their way of coping with the numerous points our players were scoring was self-pity. Suddenly, they were the poor little lawyers and we were the offspring of billionaires with a personal support battalion.
"So is your chauffeur going to pick you up after this?" one asked. I asked him where his VW van was parked.
"Are you going out to eat after this or is your cook going to take care of the meal?" his friend asked. I'll refrain from recording my response to that one.
To my left was a couple, both Cal alumni. As soon as we sat down, the woman informed us, "Don't expect me to be a gracious host." I complimented her on her superb grasp of the English language.
Her husband yelled at the drop of a hat. A little kid stumbling over his ratty fleece blanket sent him over the edge.
I particularly enjoyed the 50-year-old man in bad need of a haircut who, early on, screamed profanities at anyone who would listen. By halftime, the guy was as meek as a mouse.
By the end of the third quarter, I had an uncharacteristic itch to head out. There were the obvious reasons. The snack bars were completely out of food, a very serious transgression in my world. The novelty of cheering for the other team in a sea of the home team's fans had faded. We had done what we had to do -- embarrassed them thoroughly and left no question about our superiority. But there was another reason, one I couldn't quite put my finger on. I had been looking forward to this game since the last game ended at Stanford and now I wanted to leave.
It took awhile for me to figure it out. Another day passed of greeting friends in The Gap at Union Square, at my hotel, and again on the road.
Sunday afternoon at 2 p.m. found me at a gas station, performing the last gas reload of the trip. I was decked out, head to toe, in USC gear, busy with choosing the gasoline grade and getting a receipt.
And there he stood.
He was middle-aged, with graying brown hair, in jeans and running shoes and a navy T-shirt emblazoned in gold with "California Golden Bears."
We both froze. My hand felt like it was glued to the tank's cap. He stood with the gas pump handle poised over his Saab sedan.
He certainly didn't look formidable, more like a dad than anything. And I certainly didn't look scary by any stretch of the imagination. If anything, at 5-4, I was looking stupid, dwarfed by the huge Acura SUV I was filling up.
It was only a moment, but it brought a huge realization: There was nothing there but pure hostility.
The Weekender is a fun tradition. But there is no sense of belonging. We are strangers in a strange land, voyeurs who are not in any way welcomed by the many strangers we encounter.
We might be able to descend upon and easily conquer those strangers, and have a hell of a time doing it. But in the end, there's no place like home.
EDITOR'S NOTE: Erica Lucero, a sophomore at Southern California, is writing updates from campus this season as the Trojans attempt to win their third consecutive national championship.