By Paul Lukas
Special to Page 2
They'll be announcing the Oscar nominations soon out in Hollywood, but Uni Watch can't be bothered with those movies. Like, did "Brokeback Mountain" have uniforms? Or "Good Night, and Good Luck"? "King Kong"? Uni Watch didn't think so.
Fortunately, there have been plenty of films over the years where the unis have been front and center. So last month, Uni Watch put out the call: Which movies have had the coolest uniforms? Scores of readers responded, citing several dozen flicks. In this column, Uni Watch presents the 10 most popular nominees and gives you a chance to vote for the ultimate winner.
Here, then, are our 10 finalists, presented in alphabetical order, along with some choice commentary from the readers who nominated them. Drumroll, please …
"Any Given Sunday" (1999)
Easily the most controversial film among this column's readers, garnering almost as many nods for worst uniforms (which Uni Watch hadn't even asked about) as for best. Although some respondents mentioned the Miami Sharks' black-on-black combo, most of the analysis, pro and con, was reserved for the Dallas Knights, thanks to their black/mustard color scheme (or "vomit-colored," as one reader put it), cross-adorned jerseys and leggings, and eyeball-themed helmet logos (fore and aft). "The Dallas uniforms had to be the most imaginative ever in a movie, because you'd never see a real team wearing something like that," says Derek Bredeson, a backhanded compliment that captures this film's yea-or-nay conflict. Whichever side of this debate you fall on, we should all be able to agree that the movie deserves credit for its complete absence of logo creep on the jersey sleeves.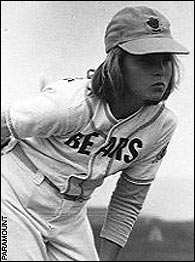 Everyone loves those old school Bad News Bears uniforms.
"The Bad News Bears" (1976)
"I don't even have to think about it," says Joe Fiorill, and neither does Uni Watch. The cotton flannels, the yellow belts, the classic rear-jersey sponsor, the real stirrups (scandalously lacking from the 2005 remake) -- it's a uni-cinematic masterpiece from start to finish.
"The Bingo Long Traveling All-Stars & Motor Kings" (1976)
Uni Watch was pleasantly surprised to see this underrated tale of an all-black barnstorming team draw so much support. "Doesn't get any cooler than those uniforms with the team name broken up across all the jerseys," says Pat Jordan, and it's hard to argue with that. "Notice how the uniforms form a rainbow when they're lined up," adds Glenn Tanner. "If only the Astros had tried that!" Indeed.
"The Fish That Saved Pittsburgh" (1979)
Naturally, Uni Watch strongly approves of the Pittsburgh Pisces' striped tube socks, and the little fish on the jersey is a nice touch. But it's tempting to think that many of the people who nominated this movie were more into the court design than the unis.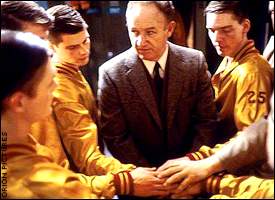 Gotta love those shiny warm-ups.
"Hoosiers" (1986)
"This flick has it all," says Robert Andrejczyk. "Satin shorts, mismatched tops/bottoms, belts, you name it." And as Jeffrey Rerick points out, the warm-up suits aren't too shabby either.
"A League of Their Own" (1992)
OK, so the short skirts aren't exactly ideal for sliding, but you've gotta like the sleeve patches and the chest insignia, especially when it was all so faithful to the originals.
"The Natural" (1984)
"Coolest of the cool," says Mark Roberts, which pretty much sums up many other readers' sentiments about the 1939 New York Knights. "The lightning bolt sleeve patch is great," says David Newhall, "but what I really like is that they put the centennial patch on the other sleeve [just like the one worn by real big league teams in 1939]." Hell, even the dugout jackets look sharp. First-rate.
"Rocky" (1976)
This one earns points for Apollo Creed's star-spangled trunks and for Rocky's meat-market robe. But the best part is the very Uni Watch-esque moment when Rocky complains to the promoter that his portrait on the big arena poster is wrong because it shows him wearing red trunks with white trim, when in fact he's going to be wearing white with red trim. "Does it really matter?" asks the promoter. Duh -- of course it matters! Brilliant uni-centric scene.
"Rollerball" (1975)
Let's face it, if you're doing a movie featuring a fictitious, futuristic sport, you're free to do anything you want, so there's really no excuse not to have great unis. So how come the "Rollerball" uniforms ended up being, as Mark Emge explains, "a hybrid of hockey, football, and even baseball with catcher's shin guards"? Still, it's sort of an endearing mishmash. And as Emge adds, "You have to love the digitized number font."
"Slap Shot" (1977)
From the Charlestown Chiefs to their assorted opponents and rivals, this one's a uni-lover's visual feast. And don't forget the red-striped ref with the blue nameplate. "Best sports movie, best jerseys, plus you've got Micheal Ontkean's hockey-equipment striptease," says Scott Steinberg. "If anyone else answers any different, I'll send the Hansons over."
So there you have it -- 10 strong contenders for the title of best movie uniforms ever. Since it's hard to choose just one from this field, Uni Watch has decided to let you vote for your top three choices. Cast your ballot here.
And in case you're wondering, other films receiving votes in the nominating round included the following: "All the Right Moves"; "Baseketball"; "Bull Durham"; "Cool Runnings"; "Dodgeball"; "Eight Men Out"; "Field of Dreams"; "Friday Night Lights"; "Gus"; "Jarhead"; "Kansas City Bomber"; "The Longest Yard" (original version); "The Mighty Ducks"; "Mr. Baseball"; "Mystery, Alaska"; "Necessary Roughness"; "North Dallas Forty"; "The Program"; "Rad"; "Remember the Titans"; "The Replacements"; "Revenge of the Nerds"; "Rudy"; "Semi-Tough"; "Teen Wolf"; "Varsity Blues"; "Victory"; and "The Waterboy." Additional photos from many of these movies, and also from lots of uni-based TV shows, are showcased here.
Big thanks to everyone who participated in the nominating round. Vote early and often, and pass the popcorn.
Super Bad
Calamitous news out of Pittsburgh, where Bill Cowher announced on Tuesday that the Steelers will be wearing their white jerseys in the Super Bowl.
Some quick background: The AFC is the designated home team this year, which means the Steelers get first choice of what to wear. They'd normally choose black, since that's their home color, but there was a ground swell of support for them to wear white, because that's what they've worn during their current playoff run. A Pittsburgh TV station even ran a poll, which showed Pittsburgh fans preferring white over black by roughly a 3-2 margin.
Of course, the reason this is so important has nothing to do with the Steelers -- it's all about the Seahawks. If Pittsburgh had chosen black, the Hawks would've dressed like this. But with the Steelers wearing white, we're all going to be subjected to Seattle's solid-color scuba suits, which will surely give new meaning to the term "Super Bowl wardrobe malfunction."
Look for full coverage of all this in Uni Watch's annual Super Bowl forecast column, coming next week.
Uni Watch News Ticker
Sometimes a simple uni detail, like a torn sock, really captures everything that went wrong for a team during a game, y'know? … Add another quarterback to the two-towel team: Jake Plummer, who sported twin towels on Dec. 31 (with thanks to Scott Unrein). … Latest NBA players to join the Men in Tights brigade: LeBron James (home, road) and Dwyane Wade. … Turns out there's a Women in Tights movement too, spearheaded by Tennessee's Sade Wilsey-Gatewood. "Her look really takes the cake," says J. Todd Krevanchi. … Fantastic article here about West Virginia's Mike Gansey, who routinely wears two T-shirts under his jersey (with thanks to Nicole Gilkeson). … Logo Anti-Creep Alert, courtesy of Bryan Farris, who writes: "LSU's Sylvia Fowles has been wearing her headband upside-down, so her swoosh is clearly inverted. Dyslexia? Or a subtle form of protest against the Oregon outfitter?" … Brilliantly nitpicky observation from Ryan Kelly, who writes: "Since 1990-91, the names on the backs of Rangers jerseys have been vertically arched (like the names on the backs of Atlanta Braves jerseys). But when they retired Mark Messier's number, the name on his banner was inscribed in a regular arch (like the names on the backs of Mets jerseys). I noticed the same thing two years ago when Mike Richter's number was retired." … Boston University alum Haig Panossian reports that BU's hockey team, which normally dresses like this, wore 1958 throwbacks two weekends ago -- sort of a reverse-field version of the throwbacks they wore last spring. "I meant to write to you about the red jerseys last March but never found the time, what with school and all that," says Panossian. "Now that I have a job, I have all the time in the world." There you have it, people: Uni Watch, proudly lowering productivity all across America. … Nice article here about Seahawks equipment manager Erik Kennedy, full of uni-related details (with thanks to Markus Kamp). … Outraged communiqué from soccer fan Jimmy McCumber, who writes: "With the World Cup coming this summer, designs for the new jerseys are starting to come out. Puma's jerseys, though mostly very similar, look pretty nice, like the ones for the Czech Republic [home, road]. But look at the hideous design they came up with for Italy. C'mon, there's a reason no one has ever used a V-neck like that before -- it looks ridiculous! Those numbers way up on the shoulders and the big Italy logo right in the middle look weird, too. And is it one shirt, or two shirts? I honestly can't tell." … Speaking of the World Cup, interesting article here about FIFA's logo requirements at participating stadiums. Key excerpt: "In the case of the Berlin Olympic stadium, this means that the fan shop of local team Hertha Berlin must be completely emptied out because it's dominated by the logos of U.S. sporting goods manufacturer Nike, which supplies uniforms and equipment to Hertha, but also happens to be the biggest competitor of adidas, a FIFA sponsor" (with thanks to Michael Konopka) . … Still more soccer news, courtesy of reader John Yeager: "Lost in all the hoopla of the NFL conference championships and Kobe's 81 was the atrocity of the Bolton Wanderers (English Premier League) uniforms. This is worse than VaTech any day. The one thick stripe just kills any notion of symmetry." … And if you've been waiting your whole life to redesign a British soccer team's uniform, here's your chance. … Hockey players routinely wrap thin strips of clear or off-white tape around their legs to keep their shin pads from shifting around underneath their leggings. But Tim Smith has noticed that Donald Brashear of the Flyers uses wider, color-coordinated tape and always places it over his leggings' calf stripes, essentially creating a different uni pattern. At home, Brashear uses black tape to cover the team's white stripe, so while the rest of the Flyers look like this, Brashear looks like this. On the road, here's the team's normal look, and here's Brashear (he also stands out from his teammate in this shot). And for the team's alternate uni, compare the standard leg stripes to Brashear's. … The Thrashers have stopped selling other teams' jerseys at Philips Arena. Not only that, but fans who bring in a used jersey from any other NHL team can trade it for a new Thrashers jersey. Details here. … Nice contribution from Uni Watch information architect John Ekdahl: "I know you've touched on the fact that many of the Nike basketball uniforms look alike, but after watching the 'Nova game today, I realized Nike had extended their 'team' concept to identical warm-up outfits too. Check out the designs: Villanova, Ohio State, Kentucky, Michigan -- you get the idea." … Uni Watch would like to think that everyone has better things to do than watch the East-West Shrine Game. But the game does feature a noteworthy custom: Players are permitted to mix and match helmet decals with each other, resulting in an oddball mélange that adds visual interest to an otherwise meaningless game. … Classic moment in the NFC Championship Game, as Seahawks TE Jerramy Stevens' left-shoulder uni numbers came partially detached (with thanks to longtime Uni Watch contributor Joe Hilseberg for the photos). … Meanwhile, Joe Vergnetti and Uni Watch both want to know what Darrell Jackson has been wearing around his waist during the past few games. … Uni Watch has complained for years about the disappearance of football jersey sleeves. But have you ever wondered what these sleeveless jerseys look like on their own, without a person or pads filling them out? It's not pretty (kudos to J. Todd Krevanchi). … LSU wore late-1960s throwbacks on Jan. 25, complete with striped tube socks! … Good catch by Anne Tynan: "When the Nuggets played the Cavs on Jan. 18, Carmelo and all the other headband wearers on the Nuggets wore white bands the first half. But during the second half, everyone except Melo switched to yellow bands." … Fascinating factoid from Jeremy Brahm: "The Yomiuri Giants have added a line of piping on their right sleeve, 15 millimeters wide and 80 millimeters long, to designate who the captain is. This is similar to volleyball, where the rulebook states, 'The team captain must have on his/her jersey a stripe of 8 x 2 cm under-lining the number on the chest.'" … Interesting report from sharp-eyed Charlie Dijak: "I believe the Iowa Hawkeye members of the Senior Bowl team are giving a sneak preview of pants they're going to wear next season. They're the traditional yellow but feature two or three black stripes on each side, which don't go all the way down the leg [as opposed to their previous design, which looked like this]. I noticed them on a televised Senior Bowl practice today." Not only does Uni Watch think the new britches look pretty sharp, but you've also gotta like a guy who'll admit to watching televised Senior Bowl practices just to get his name in the Uni Watch News Ticker. … Late-breaking soccer tidbit, courtesy of Paul Pereira: "Help! Nike plans on outfitting the Portuguese national team with red jerseys on red shorts, instead of the standard green shorts." He urges everyone to express their anti-Nike outrage by signing this petition.
Revis(or)ed
Uni Watch's recent look at football helmet visor screens brought in a flood of good info, much of it related to the lingering question of who was the first player to wear a visor.
Let's start with Jim McMahon. Uni Watch had established that he definitely wore the visor in 1990 with the Eagles, but it wasn't clear whether he'd worn one in 1989 with the Chargers (Uni Watch thought he had, but photos showed him playing visor-free). So big thanks to all who confirmed that McMahon did in fact wear the visor late in the '89 season, and especially to Steve Brightman, who came up with this photo as proof.
So McMahon's visor debut came in 1989. But it turns out there were several players wearing the visor prior to him, including (but probably not limited to) Bo Jackson and Rodney Holman in 1988, Gene Lang and Kevin Clark in 1987, and Steve McMichael way back in 1985 (with thanks to readers John G. Smith, Dan Arnold, Alan Topolski, Kurt Rozek and Dan Guerrieri, respectively). And John Arendshorst writes, "I have read a written account (I think in his autobiography) of Tony Dorsett wearing a visor in one game sometime during his last season, in 1988 with the Broncos. I'm not sure which game it was, but I remember reading that someone gave it to him before the game and he wore it during the first half. But it was raining, and the drops on the shield obscured his vision, so he removed the shield for the second half."
Then there's the matter of Buccaneers equipment manager Frank Pupello, who'd been anecdotally credited with inventing the first visor, although it wasn't clear when, or for whom. But thanks to a big assist from super-sleuth readers Rob Atkinson and Rick Milleman, Uni Watch can now report that Pupello created a visor for linebacker Hugh Green, who suffered an eye injury during a 1984 motorcycle accident. According to a discussion forum post (cached here), "Pupello took a motorcycle helmet visor and modified it to fit an NFL helmet for Hugh Green." Although Uni Watch has been unable to find a 1984 photo of Green wearing a visor, he's clearly wearing one in this 1985 photo, and he was also visor-clad while playing for the Dolphins in 1986. Assuming the Pupello story is true, that pushes the visor's debut back to 1984.
And that would appear to settle it, right? Wrong. Check out this communiqué from reader Alvin Kimman: "I attended the Chargers/Vikings preseason game on 8/26/05 at the Metrodome. The Vikings put a 24-page program on each seat before the game, and on the last page was an article about the Vikings' equipment manager, Dennis Ryan. It states: 'In 1984, Ryan designed the first eye shield to be worn by a player in an NFL game, creating a shield that would protect defensive tackle Mark Mullaney, who had suffered an eye injury.'" This same claim, it turns out, is listed on Ryan's Vikings.com bio page. Photographic evidence shows Mullaney wearing a clear visor in 1985 and a tinted model in '86, and additional Uni Watch research has confirmed that he did indeed begin wearing the shield in '84.
So now we've got two player/equipment manager pairs -- Green/Pupello and Mullaney/Ryan -- both supposedly developing the visor in 1984. But who was first? Pupello's been out of football for nearly a decade, but Ryan still works for the Vikings, so Uni Watch got on the phone and left a few messages for him, explaining the particulars of this highly crucial visor-history impasse. He never called back, but Vikes PR director Bob Hagan eventually did. "We've got a new coaching staff here, so people have been kind of busy," he explained, displaying the misplaced sense of priorities that no doubt led to the team's coaching turmoil in the first place. As if there could possibly be more important things to deal with than the oh-so-imperative question at hand!
Anyway: "We designed the shield here on our own," said Hagan, after checking with Ryan. "We certainly didn't copy it from Tampa, and we never thought they were copying it from us. If they were doing it at the same time, that was pure coincidence."
So the evidence is, as they say, inconclusive. For now let's call it a tie between the Tampa and Minnesota camps, with a final determination to be made if and when further info is presented.
Meanwhile, in other visor-related feedback:
• From Douglas Mulliken: "I can tell you one reason visors may not become ubiquitous: The damn things get dirty really easily. I don't mean the outside, either. The inside gets covered in sweat, snot, spit, you name it. Take the helmet off or rest it on your head and the thing gets all foggy, sweaty, disgusting. That's fine if you're a pro and can just get the equipment manager's helper to clean it out for you while the other team has the ball. But as a freshman playing both ways, I was screwed. By the end of a game the visor was so dirty I couldn't make out any details, just shapes."
• From Dave Fleming: "One problem you never hear about with face shields is that they make it a lot harder to breathe. When I played, I used to wear one because I have contacts. I thought I was in great shape, but I kept running out of breath. After I removed the shield, I was all right. If you don't believe it, put on a helmet and run 100 yards with a shield, then take it off -- you'll see the difference."
• From Eric Perez: "I wish your article on helmet visors had mentioned that in the high school football rules, visors must be absolutely clear. This is a safety rule, so a player's eyes can be examined in the event of a head or neck injury. As a high school football official, I have seen a number of players attempting to wear colored visors in games. The rules allow us to penalize teams for wearing illegal equipment, but usually we just remove the player from the game until the visor is removed."
• And we close out this section with a rather prosaic reminiscence from Carey D. York: "Former Indiana standout Vaughn Dunbar wore a dark and then silver visor in 1990 and '91. I'm not sure whether he had a medical issue that necessitated the visor, but I do know that he didn't wear one in the NFL or XFL (yes, he was an RB for the Demons). The reason I tell you this is that as a 9-year-old in Indiana, I thought Vaughn Dunbar was the coolest guy on the planet. A true slasher, Vaughn was a threat to break a big one on any play. Midway through his first season, I decided I needed to incorporate his look into my pee-wee league uniform. Soon I was speed-rushing from the left end, shrouded behind a layer of tinted plastic. I'm not sure why I'm telling you this except for my desire to bring a little light to Vaughn Dunbar, one of my all-time favorites. Like a pigskin-toting Darth Vader, Vaughn struck fear into Big 10 defenses. Moreover, he inspired me to protect my youthful eyes from the dangers of ultraviolet rays and wandering fingernails."
Deja Uni
Uni Watch readers continue to provide incredible follow-up info on a wide variety of subjects. Let's start with the topic of Villanova's Jason Fraser, who, as Uni Watch recently reported, had to switch from his usual No. 20 jersey to a generic No. 31 with no name on the back after getting bonked in the nose and bleeding all over his game uni. Josh Hirsch provides more background info on this phenomenon: "Each team has a designated 'blood jersey,' which is worn if someone bleeds on his uniform. It's a number that nobody else on the team has, and on teams that have names on the back of their uniforms, it has no name. There's an article about a famous 1999 example here."
Lou Castellano has had first-hand experience with this. "I was a student manager at UMass from 1992 to 1996, and since we only took one set of jerseys on a road trip, we always carried an additional nameless jersey of another number in our equipment bag," he writes. "We referred to it as the 'blood jersey.' I remember in my senior year, the blood jersey was No. 22, and in the first round of the NCAA Tournament, our star player Marcus Camby -- No. 21 -- was bleeding and was forced to switch to No. 22 for the rest of the game."
And Gregory Ventresca recalls a related story from the NHL: "When Theo Fleury was playing for the Flames, he got in a fight in a game (against Dallas, I think). His jersey got so bloody that when he came out onto the ice after his penalty, the refs sent him off to replace it. Instead of waiting for the equipment manager, he took a Fleury jersey from a fan sitting behind the bench. It was already signed, even. He tossed the fan the bloody jersey as a trade, I guess. But when he got back on the ice with the signed jersey, the refs sent him off again. It took him a good while to get a legit jersey on. One of my favorite uniform stories."
In other follow-up items, none of which involve blood:
• Uni Watch mentioned two weeks ago that Clinton Portis has been wearing shinguards, a habit that dates back to his Broncos days. That prompted Justin Brownlee to write, "When Ed McCaffrey came back from a broken leg in 2002, he began wearing the 'guards, as did fellow WR Rod Smith. That year was Clinton's first season with the Broncos, which has always led me to believe that Portis began wearing the shinguards because of his savvy veteran teammates." (As an aside, Uni Watch notes that McCaffrey was also among the first to wear his pants way above the knee, much like biker shorts, a style that's technically against the rules but has become increasingly common.)
• Uni Watch recently asked if anyone had photos from the 1981 Orange Bowl, in which Oklahoma seniors wore four orange helmet decals to mark the school's fourth straight Orange Bowl appearance. Kudos to Patrick Sterk, who came up with this shot.
• On the weighty subject of rickrack (that's the zigzag-ish pants piping seen here), uniform designer Tom O'Grady checks in with the following: "When I designed the USA men's and women's basketball team uniform, we used a rickrack trim. Ah, the old rickrack trick."
• And on the apparently inexhaustible topic of basketball tights, here's a note from Mike Benton: "I used to call basketball play-by-play for my alma mater, Azusa Pacific University (NAIA school in Southern California). There was a player on our archrival school, Biola University, named Christian Collazo. He wore color-coordinated tights for the last year or two, and our student section repeatedly taunted him with the following chants: "PE-TER PANNN! SPAN-DEX! SPAN-DEX!"
Paul Lukas plans to enter a write-in vote for the futuristic football uniforms that appeared in "Starship Troopers," which were sort of compellingly noxious (or was it noxiously compelling?). His answers to Frequently Asked Questions are here, and archives of his "Uni Watch" columns are available here, here, and here. Got feedback for him, or want to be added to his mailing list so you'll always know when a new column has been posted? Contact him here.