Commentary
Yankees' vexing memorial question
Originally Published:
July 13, 2010
By
Paul Lukas
| Page 2
The Bronx is mourning this week, as the Yanks have lost announcer Bob Sheppard and owner George Steinbrenner. But amid all the memories and eulogies, a practical consideration will have to be dealt with: How will the team memorialize these two men on the Bronx Bombers' uniforms?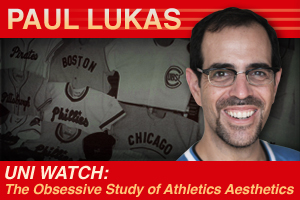 According to an article that ran on Monday -- before Steinbrenner's passing -- there had already been talk that Sheppard's uniform memorial would be "more than the usual black armband" and might involve a patch depicting a microphone. But those plans will probably change now, since the Yanks obviously can't have Sheppard's remembrance outshining Steinbrenner's.
That's the tricky thing about multiple uniform memorials -- you want to pay proper respect to each person, but you also want the visual gestures to be proportional to the deceased figures' statuses with the team. The last time a team had to deal with this kind of balancing act was in February of 2009, when Johnny "Red" Kerr and Norm Van Lier -- both important members of the Chicago Bulls' family -- died on the same day. The Bulls responded by coming up with one patch design to memorialize both men.
The last time the Yankees faced a dual-memorial situation was in 2007. Pitcher Cory Lidle had died just after the end of the '06 season, so the team wore a black armband for him in '07. Then Phil Rizzuto died in August of that season, so a black "10" was added above the armband.
A similar situation unfolded in 1999, but in reverse. Joe DiMaggio had passed away in March of that year, so the Yanks added a black "5" sleeve patch. Then, in September, came the death of Catfish Hunter -- a great pitcher, but clearly not on the same level in Yankees lore as Joe D. -- so the Yanks honored him by adding a black armband.
But how have other ballclubs handled multiple memorials? Here's a partial breakdown:
1976 Mets: a single black armband for Casey Stengel and Joan Payson.
1984 White Sox: a single patch for coaches Charlie Lau and Loren Babe.
1992 White Sox: a small diamond patch for four team employees who'd died over the previous year.
1993 Dodgers: two patches for three people -- one for Tim Crews and the other for Roy Campanella and Don Drysdale.
1993 Indians: a single patch for Steve Olin and Tim Crews.
1998 Cubs: two separate patches for broadcasters Harry Caray and Jack Brickhouse.
2001 Mets: a single patch, worn only on Opening Day, for Tommie Agee and Brian Cole.
2002 Cardinals: two separate patches for pitcher Darryl Kile and broadcaster Jack Buck.
2003 Indians: two separate patches for Larry Doby and Mel Harder.
2004 Mets: two separate sleeve embroideries for broadcaster Bob Murphy and pitcher Tug McGraw.
2004 Phillies: a single patch for Tug McGraw and Paul Owens.
2005 Blue Jays: a single patch for manager Bobby Mattick, broadcaster John Cerutti, and player Doug Ault.
2007 Braves: a single patch for Lew Burdette and Johnny Sain.
2008 Braves: two separate patches for broadcaster Skip Caray and coach Jim Beauchamp.
2009 Angels: two separate patches for coach Preston Gomez and pitcher Nick Adenhart.
Whatever the Yanks decide to do about Steinbrenner and Sheppard, at least they have a few days to think about it, thanks to the All-Star break plus a scheduled off-day on Thursday. While we wait to see what they come up with, it's worth remembering that Steinbrenner had one of history's greatest uniform-related quotes. It came in 1999, when most MLB teams were wearing those crazy futuristic uniforms. The Yankees were one of the few teams that declined to participate in the promotion, and at some point someone asked the Boss why the Yankees weren't wearing their uniforms of the future. His simple reply: "We already are."
Well said. RIP, George.
Paul Lukas writes about uniforms for Page 2. If you liked this column, you'll probably like his Uni Watch Blog, plus you can follow him on Twitter and Facebook. Want to learn about his Uni Watch Membership Program, be added to his mailing list so you'll always know when a new column has been posted, or just ask him a question? Contact him here.