INDIANAPOLIS -- Among the most charming and commendable of our persistent human delusions is organization. In a chaotic universe filled with sharp edges and dark corners, it is in our nature to seek the comforts of order.
In failing to find order, we create it. And we create it by sorting through the confusions of the unknown, and organizing a big, messy, unmanageable world into smaller, tidier, more manageable boxes.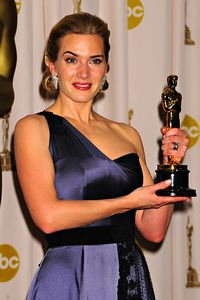 AP Photo/Jennifer Graylock
Kate Winslet gave the best performance of the year -- at least, according to a relatively small group of voters.
There was a great deal of sorting going on this week, in all sorts of places.
In Hollywood, the "Employee of the Year" awards were just handed out. This was done by comparing apples to oranges and sorting the results into boxes for best performance, best direction, worst evening gown, etc. That the voting for such prizes is done every year by a tiny handful of people whose only honest interest is that we all continue going to the movies in large numbers was left unexpressed. "Good" or "better" or "best" is, after all, entirely a matter of taste, and impossible to quantify. Such is the subjective nature of art. Even movie art. One man's "Milk" is another man's "Poison" and so forth. Still, the statuette is a handsome one and seems to have a satisfying heft, some of the dresses are very pretty and no one gains or loses much by the fiction that the evening means anything to anyone but the people invited to the Vanity Fair afterparty.
Here in snowy Indianapolis, the NFL has been busy sorting prospective employees into little boxes labeled "fast," "faster," "fastest" and "strong," "stronger," "strongest." This is the annual scouting combine, a weeklong prime-rib dinner and keg party for coaches, GMs and the media, which also gathers ambitious young football players from every corner of America. Apart from the very real dreams and hopes of those young men, it is a pretty silly exercise in wishful thinking, fortune-telling, deal-making, arm-twisting, elbow-bending and plausible deniability.
At its best, the combine offers college players one last chance to impress the men who hold an NFL future in their hands. Throw well, run fast, make a statement. Get noticed.
At its worst the combine creates a false hope that 32 reps on the bench press can overcome four years of inconsistent game tape. Or it makes a science of foolishness by putting young athletes through such tests as the shuttle run, the three-cone drill and the standing broad jump. While the first two of these look like a game you'd set up for your nephews in the living room on a rainy day -- "OK, kids, first one twice around that empty Sun Drop can and back wins" -- who knows how many NFL coaches over the years, caught in a tight spot in the Big Game, up against it in the closing moments of the fourth quarter of a Super Bowl, have squinted down their bench and thought, "Lotta good men here with guts or toughness or character. But damn it, I wish I knew which one of these guys had the best standing broad jump."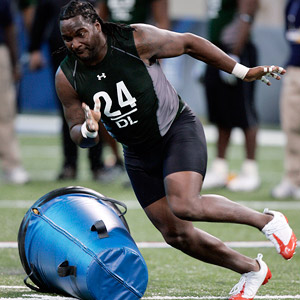 AP Photo/Michael Conroy
Does this really tell you how good an NFL player Tyson Jackson could be?
Why not ask which player can punch Ray Lewis the hardest then run away? Or run down a burning staircase carrying two bucketfuls of kittens? Both test strength, dexterity, poise and character and are likely much better television.
The combine exists mostly to corroborate opinions already held about players already known; to drum up some interest in the game's offseason; to engineer some pressure to see which players can stand it and which cannot (see "stress fracture"); to determine which recruits are willing to play ball with the NFL's go-along-to-get-along mission statement and which are not (see also "AWOL"); to make a few deals over an expense-account dinner and to offer football executives a little plausible cover down the road when a prospect goes sour. "Who'd have thought that kid couldn't hang onto a football? He ran a 4.28 at the combine!"
The combine sorts players into slightly smaller boxes, and -- like the Senior Bowl and "pro day" at your local land-grant college -- is another chance for the GMs and coaches and scouts to squeeze the produce before they walk it to the checkout counter.
Unlike an actual beauty pageant, the combine at least allows participants to opt out of certain portions of the contest. But saying you won't bench-press or throw or run the 40 is like saying you won't walk the runway in your swimsuit. The judges can only grade you down, because they know you're trying to hide something.
It would seem to me that the best way to judge a football player is to watch him play football. Even then, there are no guarantees. There are as many Heisman flameouts in pro football history as there are first-round draft busts and sixth-round success stories, and all the pseudoscientific sorting in the world won't change that.
Nor will crackerjack analysts writing scouting reports consisting entirely of the phrase "must stay healthy" add to the sum of human knowledge.
But the combine does reveal some deeper truths, however unintentionally. The first is that star power, a line of smooth patter and good looks are clearly valued by the host organization. There are three stages set up here in the media room at Lucas Oil Stadium from which young footballers can unburden themselves to the press. A display of charm, humor and a strong jaw at the podium results in fresh buzz that a player has "really helped himself" by being "good for the game." Any evidence of shyness, a sullen disposition or a weak chin creates an equal and opposite impression. Demure as debutantes, the players talk most avidly about their weights and heights and how they stay trim.
The combine is also conveniently timed to throw a little fear into veteran free agents, who go on the block in less than a week. Smart GMs might leverage a veteran by pointing out the imminent arrival of the latest combine phenom. "His time in the shuttle run was outstanding -- he was just a blur around that empty can of Sun Drop -- and you're not getting any younger, you know," being the operative thought.
And while the test itself remains a punch line, it's sort of a damning indictment of big college football that everyone at the combine is made to take the Wonderlic. Even though most invitees have spent the past four years enrolled in classes at an accredited university -- and presumably have a transcript and a GPA -- the Wonderlic is administered because those academic credentials can't be trusted to bear any relation to the player's actual intellectual life.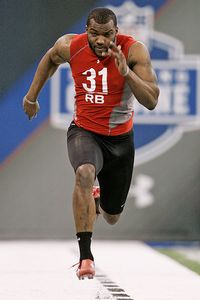 AP Photo/Darron Cummings
Speed is important, but so are a number of other things.
By such ritual does the NFL gather its confusions and uncertainties and fears together to be sorted into comforting, well-organized boxes.
In Dubai the sorting of tennis players into a series of boxes was of a more serious and common kind. The rituals that built those boxes are ancient and unbending, and the order they create seems to offer no one anywhere much comfort. The boxes we've made of religion and statehood are now more than ever unforgiving. Order can be deceptive that way.
And yet many of us have come to believe there's nothing in this world that can't be made better by organization. By printing life out on a spreadsheet.
In failing to find order, we create it. In failing to create it, we imagine it. Thus the organization of our preferences and prejudices becomes our reason for being, and the organizing principle of humanity becomes organization itself. We put the world in boxes and give the boxes a name. Good, better, best; fast, faster, fastest; cornerback, quarterback, best supporting actor; family, tribe, nation; Christian, Muslim, Jew.
Us. Them.
All the confusions of the world sorted neatly into boxes.
But into which box do we sort passion? What yardstick measures character? Which scale weighs bravery and which weighs faith? What's the algorithm for friendship? What's the calculus for love or empathy or fear?
What's the formula for hate?
Which of our instruments, which of our tests, reckons the limitless mystery of the human heart?
Jeff MacGregor is a senior writer for ESPN.com and ESPN The Magazine. You can e-mail him at jeff_macgregor@hotmail.com.