Commentary
This Sporting Life: If I Were (Larry) King
Good afternoon!
… Another tough week for American optimism …
… And Scott Pioli …
… Stayed up late to watch "60 Minutes" last night. Boy, that Andre Agassi is something, isn't he? Bald as a billiard cue …
… Whatever happened to tackling? … Or the "power" sweep? … Or J-E-T-S matinee idol Mark Sanchez? He burned so dreamy and brief. Like Frankie Avalon! …
… And my Giants don't look great, either, do they? Except for those uniforms -- still the best in football! Reminds me of the time Allie Sherman, Kyle Rote and I drove down the shore with those four stewardesses from Braniff! What a weekend! PG-13! And a story for another time! … Is it just me, or do you find it odd that "Sesame Street" and the fall of the Berlin Wall share an anniversary this week? Coincidence? I think not … And Wednesday is Veterans Day. So don't forget, please smooch a vet! … Is there anything better than a warm chocolate chip cookie? Yes, of course there is, but at the risk of offending ex-wives 1 through 7 inclusive, I can't mention it here …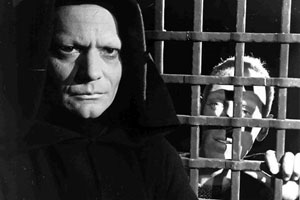 The Criterion CollectionDeath comes for us all. And wonders why Girardi won't pitch around Utley.
… Speaking of lucky sevens, that headline "27th Heaven" got quite a workout after the Yanks won the World Series, didn't it? It was everywhere. No love for "27th Samurai" or "27th Deadly Sin" or "27th Son of a 27th Son," either. Why not? Because they're all terrible. "27th Seal" might have worked, but most Ingmar Bergman fans I know follow the Mets. Weirdly, Ingrid Bergman was herself a huge Brooklyn Dodgers fan. Like me, she loved Duke Snider! Dook! It's in the history books! Ah, well. Life is a mystery, at least to me … And it's high time we stop complaining about how much the Yankees paid for their championship. That's the way capitalism works, amigo. Eventually that money will "trickle down" to all the other teams. Like Ayn Rand, Alan Greenspan and Tommy Lasorda, I still believe in those great American "supply side" economics. If you want socialism, there's always Hugo Chavez. Or the NFL …
… And we've all heard by now how manager Joe Girardi stopped to help someone on the parkway the very night he won the Series. That's great. Heroic. Just don't forget that even though Girardi was behind the wheel, Admiral Steinbrenner is the man who paid for the car. It's a metaphor! So heroes come in all shapes and sizes and tax brackets …
… Heard my dear friend LT is in trouble with the law again. Doesn't sound like the Lily Tomlin I know … There's a Hall of Fame for hockey? …
… Anybody see that "fight" the other night between Fedor Emelianenko and Brett Rogers? The irresistible force meets the unpronounceable object. Neither man looks like a fighter to me. In his trunks, the pale Russian looks like a Moscow parole officer in his underpants on summer holiday in Sevastopol. And Mr. Rogers needs to change his eating habits. In fact, when the Russki flattened him, it was likely because Rogers carried his left so low -- like a man fishing for change as he approaches a break-room vending machine ("Mmmmmmm, Funyuns!") … Cost him the match … but they are delicious! … Now Sugar Ray Robinson -- there was a real fighter. And that girl from the University of New Mexico soccer team …
… I was going to publish a sports quiz this week, but I realized there's nothing I know that you readers don't … except for a very great deal of secret stuff about Angie Dickinson and Natalie Wood … So remind me next week, please, to write up my Funny List of Funny Lists. This is an idea I had while sitting with the surviving cast of "Mannix" at Sardi's last week. Wrote it down on a napkin. "Five things I'd say to the president, if I could get him on the phone," or "Ten reasons to stay out of Kentucky," or "Three reasons Memphis shouldn't have a pro franchise." It's nice because you just need the premise, not the actual punch line. And the punch line is the hard part, trust me. I'll have one of my assistants type it up …
… Those college football polls don't seem to mean a helluvalot, do they? …
… Is there a bigger man in American college football these days than Charlie Weis? I mean that literally. Who's larger? Mark Mangino? They both go, what, four spins? Eat a piece of fish, fellas. A salad. Honestly. I worry about ya! It's not like your desk isn't 8 feet away from 30 million dollars' worth of taxpayer-funded exercise equipment, right? Hop the next outbound treadmill, for cryin' out loud! … German is such a rich and beautiful language. The words abound with subtle, complex and often multiple meanings. For example, did you know that in certain Black Forest dialects, the word "weis" translates as "it is possible to throw an American football 50 times in a single game, gain 450 yards -- nearly the length of five football fields! -- and still lose to Navy"? Es ist wahr! (It's true!) …
… General Curtis LeMay is the true father of the West Coast Offense … What the heck is "Pinkberry"? …
… My friend David Stern needs to disband the Knicks, before they poison the entire NBA with their existential despair … Is it wrong of me to love the idea of a Vince Lombardi musical on Broadway? … Is it correct to call Tim Tebow's approach to football a strategy of "Shock and Aw, Shucks"? … Is the Breeders' Cup a horse race just for heterosexuals? That seems like prejudice to me … Some days the Internet is just a dump truck full of stupid careening through your rumpus room, isn't it? … Donald Sterling is not a good person. But owning the Clippers seems punishment enough for any man … Is Mike Ditka still coaching? He should be … That picture the other day of the guy from Toyota in tears really broke my heart. Who among us cries for the multinational corporation, after all? They don't get nearly the sympathy they deserve …
… Still thinking of football, I like these new "Wildcats." But then I've always liked Goldie Hawn -- especially in "Private Benjamin," which I found oddly moving. She really discovered something about herself in that one, didn't she? … Talking drama, what's the story with this TV doctor, "House"? Seems unrealistic to me that so much would keep happening to one guy. But I said the same thing about George W. Bush, too …
… And speaking of our free-market government, I already have my tickets for next year's game between the Washington Nationals and those Harlem Globetrotters. Great fun! And always for a good cause. Love that Meadowlark Lemon! But the poor Nationals can never catch a break. Have they ever won even a single game? The Globies are just too much for 'em! … Be sure to bring the kids! And don't worry about your good clothes, because that bucket is filled only with confetti. Guess that's a spoiler. Sorry. Anyway, the best Globetrotters TV episode ever was when they got stranded on that island and Gilligan lost Mike's blueprints for the new shopping mall, and Carol and The Professor had to get the boss drunk on sherry while Endora went looking for Dr. Bombay. They don't make 'em like that anymore. Which is probably just as well … And speaking of that, these "video games" are really catching on, despite what I said about them some years ago … Boy, that Brett Favre is something, huh? Exhausting …
… Heard a great new line the other night over a slice of strawberry cheesecake at Lindy's: "Other than that Mrs. Lincoln, what did you think of the play?" What? Too soon? …
… If you could choose only one, whom would you pick? Glenn Beck? Or LeBron James? …
… I believe basketball star Allen Iverson is exactly whom Ray Bradbury had in mind when he wrote "The Illustrated Man." Except with a much higher lifetime assists total …
[+] Enlarge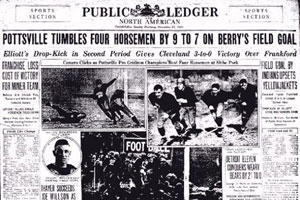 explorepahistory.comFor Joe Paterno's wedding announcement, see page C8.
… Now that I think about it, my friend and junior high classmate from the old neighborhood, Lenny Riefenstahl, has a new movie coming out. It's a documentary called "Triumph of the Bill." It's all about Scott Norwood's struggle with post-traumatic stress disorder. Or with an outstanding credit card balance. Something. Not sure, really. I haven't seen it, but Lenny's publicist told Norwood's publicist, who told my publicist, that she vouched for it, so how bad can it be? …
… Now that there's Twitter, the world really doesn't need a parody of Larry King's old newspaper column, does it? Sad … I could watch the Phillies play the Yankees every day for the rest of my life. It was that restful. But one question: Was Sabathia wearing jodhpurs? He looked like Otto Preminger walking the set of "Stalag 17" out there. His pants were like spinnakers! …
… Those Taliban really get my goat … and Caliban was no bargain, either … but I've always enjoyed the work of Bob Balaban. Go figure … And I'd vote for Jack Bauer for any office you could name. (If I were registered to vote. I don't believe I am.) …
… If I liked flavored coffees, I could get another paragraph into this column every week. Maybe two if I ordered a pastry or had more children …
… Instead of universal health care, which seems to me very complicated and expensive, what if we just gave every American a shiny red apple every morning? Problem solved! …
… I'll take the Pottsville Maroons and the points next weekend, if you please. Does that Sunday picnic train still run out to Minersville Park? Lord, but those rhubarb pies were tasty! …
Until next time!
Jeff MacGregor is a senior writer for ESPN.com and ESPN The Magazine. Please continue to submit your answers to his question: "What Are Sports For?" You can e-mail him at jeff_macgregor@hotmail.com.
Senior Writer for ESPN.com
Has written for Sports Illustrated and The New York Times
Author of the acclaimed book "Sunday Money"